An important Apple Pay feature used daily overseas by millions is heading to the states this year
16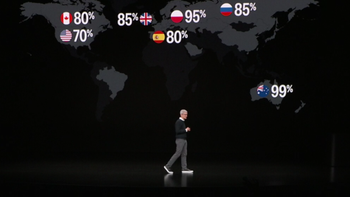 During this morning's Apple Show Time event
at the Steve Jobs Theater on Apple's Cupertino campus, Apple CEO Tim Cook took some time to discuss the company's mobile payment system, Apple Pay. In the U.S., 70% of retailers accept Apple Pay, and in Australia, an incredible 99% of merchants in the country allow their customers to pay with the service. In Britain, the acceptance rate is 85% and it is 80% in Spain.
Standing in front of a map that showed the percentages of establishments that accept Apple Pay in various countries, Cook told those assembled that Apple Pay is the "simplest, most secure, private way to pay." The executive noted that Apple Pay's growth "is off the chart" and that it is on pace to handle 10 billion transactions this year alone. "We're looking forward to a future where all payments are made this way," Cook said. The executive pointed out that by the end of this year, the mobile payment service will be available in more than 40 countries.
Cook also said out that in six countries (London, Moscow, Tokyo, Beijing, Shanghai and Guangzhou), millions of iPhone and Apple Watch owners use Apple Pay daily to quickly pay and board a mass transit vehicle like a bus or a train. And later this year, the same feature will be available in the U.S. Commuters in Portland, New York City and Chicago will be able to use Apple Pay to get to and from work a lot easier.
Apple reportedly collects 15 cents on every $100 rung up using Apple Pay

Apple Pay belongs to Apple's services unit, which the company is trying to take from the $25 billion in revenue it garnered back in 2016, to $50 billion in revenue next year. It is Apple's second highest grossing business unit and its most profitable. During the first fiscal quarter, services accounted for nearly $11 billion in revenue, and the announcement today of
Apple's news
, games and video subscription services
as well as the Apple Card
, should only help the company reach that goal. With iPhone sales struggling, Apple is smart to focus on the needs of the 1.4 billion iPhone units that remain active worldwide. Other businesses besides Apple Pay that are under Apple's services umbrella include iTunes, App Store, AppleCare+, Apple Music and more.
Reportedly, Apple receives .15% of the value of each transaction that is handled with Apple Pay. In other words, for each $100 rung up using the service, Apple gets 15 cents. That doesn't sound like a lot until you think about all of the people worldwide who use Apple Pay every time they shop.
Apple Pay requires an iPhone with NFC capabilities and either Touch ID or Face ID to verify the identity of the user. That means those with an
iPhone 6
or higher, the Apple Watch, all iPad Pro models,
iPad Air 2
and later, and the
iPad mini 3
and later can use Apple Pay.