64-bit processing will spread to mobile devices in 2015, ABI Research estimates
18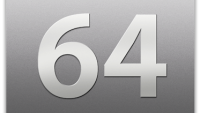 According to analyst agency ABIResearch, a large number of 64-bit mobile devices will likely startshipping in 2015. The very first batch of them, however, could appearby the second half of this year, running on Intel's 64-bit Atom"Merrifield" and "Moorefield" processors. This prediction goes nicely with the rumorabout Google introducing a Nexus 8 tablet with 64-bit Intel hardwareand a retooled Android this July.
Furthermore, ABI estimates that 182million 64-bit mobile chips will be shipped by the end of 2014, with20% of them going towards Android device manufacturers. By 2018,though, 64-bit processor shipments for smartphones and tablets couldreach 1.2 billion in total, with 60% going into Android devices, 30%into Apple devices, and up to 10% in Windows / Windows Phone devices.
At present iOS and Windows 8 (whichcould also be considered a mobile platform, as it runs on x64-poweredtablets) are fully 64-bit compliant, while 64-bit Androiddistributions only exist for x86 devices (thanks to Intel's efforts). It's up to Google tointroduce Android with full 64-bit support, which is expected in thenext milestone version of the platform. Currently, the Androidopen-source community is working on 64-bit Android tools, while a64-bit version of the Chrome browser is already in the works as well.Although the Android kernel has had 64-bit computing support for along time, Google have plenty of porting and optimizing to. You canread more about this in this article.
At present, the appeal of 64-bitprocessing is largely from a marketing standpoint, but this willchange. It's inarguable that 64-bit processors in mobile devices willbring faster multimedia and processing capabilities, in addition toRAM memory larger than 4GB.
source: ABI Research via MacWorld