64-bit, dual-core Nvidia K1 Denver chipset smashes the competition on AnTuTu
64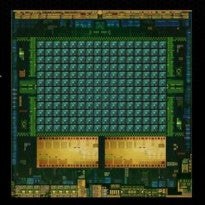 Back during CES 2013 in Las Vegas, Nvidia came out with an important announcement: the company is now laser-focused on mobile chipsets. The silicon slinger demo'd two new processors, both under the Nvidia K1 moniker, but they differed greatly in terms of their underlying archtitecture. The 32-bit, quad-core K1,
which has already been benchmarked
, is based on four Cortex-A15 cores from ARM. In comparison,
Nvidia is using two in-house Denver 'super-cores' i
n the second version, and we're now talking a 64-bit architecture.
As you gleaned from the title, we now have our first benchmark of the chip, even though its supposedly not due until the second half of 2014. The AnTuTu team, always on the lookout for unreleased goodies, has caught an instance of the chip taking a stroll through its territory, and has instantly sounded the alarm. The score, at nearly 44,000, is pretty amazing, and overshadows even the most potent chips currently on the market. Moreover, Nvidia appears to have worked some kind of RAM magic, as the score in that particular test is through the roof.
Now, before you jump to too many conclusions, there are tw disclaimers to keep in mind. For starters, Nvidia said that its Denver platform will peak at 2.5GHz, whereas the benchmarked chip is shown to be a 3GHz one, which definitely helps with the final scoring. Secondly, as great as these results are, this type of performance won't necessarily carry out to actual, real products, as there are numerous variables that manufacturers have to tweak, not least of which: power consumption. How well Nvidia has managed that oh-so-important aspect with the Denver remains unclear.
Before we go, we've gotta say that this situation reeks of irony. It was Nvidia with its Tegra 3 chip that first started the quad-core craze in mobile chips, that eventually even led to stuff like octa-core processors. It's funny to see that it is the very same Nvidia that is now taking a step back, and considering a different, less core-crazed approach.