6 great smartphones from 10 years ago (2016 edition)
33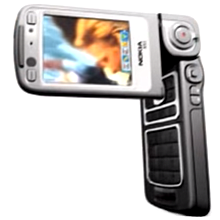 Right now, it's hard to imagine the world without iPhones and Android devices, but that's exactly what we did not have in 2006. Apple's
first iPhone
was still one year away, while the very first Android smartphone (T-Mobile G1 / HTC Dream) had to wait until late 2008 to hit the market.
10 years ago, Symbian was by far the most popular smartphone OS (Nokia being the largest handset vendor), while Windows Mobile, BlackBerry, Palm, and Linux completed the top 5. Like
2004
and
2005
, 2006 was a year when smartphones had all kinds of form factors - unlike now, when most devices adhere to a relatively similar approach when it comes to design (it's true that you can't be too creative when most of your phone
is
the display).
If you're hit by nostalgia, join us below to check out some of the greatest smartphones of 2006 (in alphabetical order). And, if you were a smartphone user a decade ago, tell us about your favorite handset from back then,
Evolved from the BlackBerry 7100 series, the BlackBerry Pearl 8100 did not offer a full QWERTY keyboard (essential for many BlackBerries), instead having a SureType keyboard: a 4-row arrangement with 2 letters per key (except for L and M, which were single letters on their respective keys). This keyboard, alongside a 2.2-inch non-touchscreen display with 240 x 260 pixels, made the Pearl 8100 more compact compared to the wide, full QWERTY BlackBerry devices of the time.
The Pearl 8100 was the very first BlackBerry to feature a rear camera (1.3 MP with LED flash), a media player, and microSD card support. Thus, unlike previous BlackBerries, this model attracted more young users - suddenly, owning a BlackBerry became cool. On the downside, the 8100 didn't have 3G, Wi-Fi, or GPS. At the time of its launch (September 2006), the Pearl 8100 was the thinnest BlackBerry smartphone ever: 0.57 inches (14.5 mm). Of course, by today's standards, the device is way too thick.
BlackBerry Pearl 8100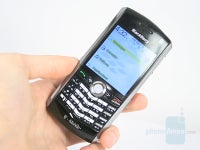 The HTC TyTN was one of the most appreciated Windows Mobile handsets of 2006. It ran Windows Mobile Professional 5.0, thus offering software like Microsoft Word Mobile, Microsoft Excel, DirectPush email, and Internet Explorer.
Besides Windows Mobile, the highlight features of the HTC TyTN included a well-made sliding QWERTY keyboard, 3G and Wi-Fi, a 2.8-inch resistive touchscreen display with 240 x 320 pixels, and a stylus pen (which was essential, since resistive touchscreens - now made obsolete by capacitive ones - weren't exactly finger-friendly). The smartphone - or Pocket PC, as many Windows-based handsets used to be called back then - also had a 2 MP rear camera, and even a front-facing camera (though this wasn't included on all versions). The TyTN was known under various names, including HTC Hermes, HTC P4500, Cingular (AT&T) 8525, T-Mobile MDA Vario II, and O2 XDA Trio.
HTC TyTN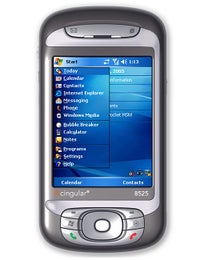 Although it was announced in June 2005, the Motorola Q (also known as Motorola Q8) didn't hit the market until mid 2006. Designed to compete with BlackBerry smartphones, the Motorola Q was a wide candybar with a full QWERTY keyboard and a 2.4-inch, 320 x 240 pixels landscape display (not a touchscreen). The display was positioned off-center, slightly towards the right of the Moto Q, this giving the device a goofy charm. At 0.45 inches (11.5 mm), the Motorola Q was regarded as a very thin and stylish smartphone (yup, thinness standards were low in 2006).
Like the HTC TyTN, the Motorola Q ran Windows Mobile 5.0, though this was the version made for non-touch smartphones (which still offered all the features of the touch version, minus, of course, the ability to operate it via the screen). The Moto Q had a 1.3 MP rear camera, and miniSD card support, but it lacked Wi-Fi and GPS (while 3G was available only on CDMA models).
Motorola Q GSM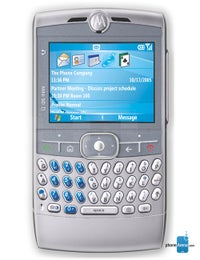 Succeeding the Nokia N90 and Nokia N92, the N93 hit the market in July 2006, becoming Nokia's most advanced camera smartphone to (that) date. The N93 was a high-end Nseries handset: a multimedia powerhouse featuring a 3.2 MP Carl Zeiss camera with 3x optical zoom, autofocus, and 640 x 480 pixels video recording at 30 fps. This was the first Nokia phone to feature optical zoom and such advanced* video recording capabilities.
Resembling the N90, he Nokia N93 was a clamshell with a swiveling 2.4-inch QVGA (240 x 320 pixels) internal display, and a secondary, 128 x 36 pixels external screen. 3G, Wi-Fi, and Adobe Flash Lite were on board, but there was no GPS. Thanks to Symbian OS 9.1 (S60 3rd edition), the N93 could multitask better than most smartphones on the market. Like all Nokia clamshells back then, the N93 was heavy and chubby, weighing 180 grams, and measuring 4.65 x 2.18 x 1.11 inches (118 x 55.5 x 28 mm) when closed.
*- for 2006.
The Treo 680 was Palm's first smartphone to come with an internal antenna, thus having a more modern look (compared to the company's previous handsets). The Treo 680 ran Palm OS, and offered a decent combination of full QWERTY keyboard and a 2.5-inch, 320 x 320 pixels touchscreen display (plus a stylus). The Treo 680 did not have Wi-Fi and 3G, but it was marketed as a somewhat affordable smartphone for email, web browsing, and texting. Offered in a variety of colors, including red and orange, the Treo 680 helped Palm in its attempts to attract a wider user base.
Part of Sony Ericsson's music-centric Walkman series of handsets, the W950 was a 3G-capable Symbian UIQ smartphone with a 2.6-inch, 240 x 320 pixels touchscreen display, and a stylus. The smartphone came with dedicated multimedia keys, an advanced Walkman music player, and stereo FM radio. The W950 had 4 GB of internal memory, which was a rarity for that time, but it didn't feature support for external cards. The handset was also notable for not having a camera at all.