10 great smartphones from 10 years ago
60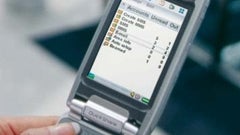 10 years is an eternity in the world of smartphones (and technology in general). Thus, although we don't have a special occasion for this, we decided to take a look at some of the greatest smartphones introduced 10 year ago - not just to see how far we've come, but also to take a moment and appreciate the precursors of the awesome handsets that we own today.
Back in 2004, we didn't have Android and iOS, the two platforms that dominate the smartphone market now. We didn't have Windows Phone, either, and yet Microsoft was an important player in the smartphone industry (thanks to Windows Mobile), alongside Palm, BlackBerry, and - of course - Nokia and its Symbian army.
Without further ado, here are some of the top smartphones that were advanced, expensive, and highly coveted a decade ago (in alphabetical order):
BenQ P50
BenQ (a Taiwanese company) is mainly known for LCD monitors and digital cameras, but it also makes phones from time to time. Introduced in the first half of 2004, the P50 is one of the few Windows-based BenQ smartphones. It ran Windows Mobile 2003 SE for Pocket PC, featuring a full QWERTY keyboard, a 2.8-inch resistive touchscreen display with 240 x 320 pixels, stylus, Wi-Fi, and a 1.3 MP rear camera. The device was powered by a 416 MHz Intel PXA270 processor aided by 64 MB of RAM. 64 MB was also the amount of internal memory, and you could expand that with an MMC, or SD card.
BlackBerry 7730 / 7750 / 7780
The 77xx series includes some of BlackBerry's first smartphones to use color displays (3-inches, 240 x 240 pixels). The 7730, 7750 and 7780 are identical, but support different connectivity bands (either GSM, or CDMA). If you can believe it, these BlackBerries relied on only 2 MB of RAM.
HP iPAQ h6300 series
In 2002, when HP bought Compaq, it also bought the iPAQ brand. Subsequently, various HP iPAQ handheld devices were released in the following years. The HP iPAQ h6300 series from 2004 ran Windows Mobile 2003 for Pocket PC Phone Edition, and included the following variations: h6310, h6315, h6320, h6325, h6340, h6345, h6360, and h6365. The handsets featured 3.5-inch displays with 240 x 320 pixels, Wi-Fi, VGA rear cameras, and attachable QWERTY keyboards. A 168 MHz TI OMAP 1510 processor was at the heart of things.
HTC Typhoon
The HTC Typhoon was never sold under this name, because, in 2004, HTC was still making devices for other companies. Depending on market, the handset was commercialized as the T-Mobile SDA, i-mate SP3, Orange SPV C500, Qtek 8010, Audiovox SMT5600, or Dopod 565. Running Windows Mobile 2003 SE, the HTC Typhoon featured a 2.2-inch display with 176 x 220 pixels, a 200 MHz TI OMAP processor, and a VGA rear camera. Measuring 108 x 46 x 17 mm and weighing a tad over 100 grams, the Typhoon was one of the smallest and lightest Windows-based smartphones at the time.
Motorola A1000
Launched in late 2004, the A1000 was Motorola's first handset to feature 3G (UMTS) connectivity. It was one of Moto's Symbian UIQ smartphones, sporting a 2.9-inch resistive touchscreen display with 208 x 320 pixels. Other notable features include a 1.2 MP rear camera, a VGA front-facing camera, and microSD card support.
Nokia 6630
2004 was a great year for Nokia, and the 6630 was one of its best smartphones at the time. Running Symbian S60 2nd Edition, the 6630 is Nokia's very first 3G handset, featuring a 220 MHz TI OMAP processor, and a 1.3 MP rear camera that made it one of that year's best performers when it comes to taking photos.
Nokia 9500 Communicator
The 9500 is the fourth smartphone from Nokia's legendary Communicator series (after the 9000, 9110, and 9210 models). It's a bulky Symbian clamshell with a small external display, and a 4.5-inch, 640 x 200 pixels internal display. A full QWERTY keyboard (also internal) complements the regular alphanumeric keypad. While it didn't have 3G, the 9500 Communicator was Nokia's first handset to offer Wi-Fi.
Palm Treo 650
The Treo 650 was one of Palm's most successful smartphones in the mid-2000s (being sold from late 2004 until 2008). Based on Palm OS, the Treo 650 brought various improvements over its predecessor (Treo 600), including a larger display with a higher pixel resolution (2.7-inch, 320 x 320 pixels), and a faster, 312 MHz Intel PXA270 processor.
Sony Ericsson P910
Sony Ericsson produced several Symbian UIQ smartphones over the years (before Sony took over to put an end to the joint venture), and the P910 was among them. Seen by many as one of the greatest smartphones of 2004, the Sony Ericsson P910 had an alphanumeric keypad that could be flipped to reveal a QWERTY keyboard. Other features included a 2.9-inch resistive touchscreen display with 208 x 320 pixels and 256K colors (a rarity at the time), stylus, a 156 MHz processor, 64 MB of RAM, 64 MB of expandable internal memory, and a VGA rear camera. Measuring 115 x 58 x 26 mm, the Sony Ericsson P910 is about 5 mm thicker than a stack containing an iPhone 6, a Samsung Galaxy Alpha, and a Sony Xperia Z3.
Samsung i700
One of Samsung's many Microsoft-endorsed handsets, the SGH-i700 / SPH-i700 initially ran Pocket PC 2002 Phone Edition, but models sold after July 2004 came with Windows Mobile 2003 on board. The i700 featured a 240 x 320 pixels resistive touchscreen display, a 300 MHz processor, 64 MB of RAM, and a swiveling VGA camera (you could use it both as a rear snapper, and a front-facing one).
Recommended Stories