6 everyday things that are tough to do with a 6" phone
73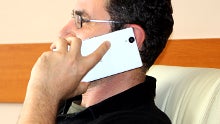 Love it or hate it, those behemoth 6"+ phones are here to stay, it seems, and no matter how excellent of a
screen-to-body ratio
they sport, with that screen diagonal they are proving to be quite problematic in many everyday interactions a typical handset goes through.
Samsung opened the floodgates with the gigantic
Galaxy Mega 6.3
last spring, then Sony one-upped it with the 6.4"
Xperia Z Ultra
, and instead of staying rather niche devices, the 6" and above crowd continues unabated for more than a year now. This trend is so entrenched now, that nobody bats an eye when LG's upcoming flagship for the year, the
G3
, is expected to arrive with a 5.5" display, which would have put it straight in the so-called "phablet" category not so long ago.
Speaking of phablets, the phone that warranted the coinage of that term, Samsung's
Galaxy Note
, featured an "only" 5.3" display when it launched. Today,
the phones with 5.5"+ displays are too numerous to list
, and phones encroaching on, or surpassing the 6" mark, are appearing left and right from most major manufacturers. Suffice it to mention HTC with its
One max
, Nokia with the
Lumia 1520
and
1320
, Sony with the
T2 Ultra
, Alcatel with the
OneTouch Hero
, Samsung with the
Note 3
, or LG with its
G Pro 2
, all of which have appeared since September.
Granted, nothing beats a large screen for web browsing and media consumption, but perusing a 6-incher on a daily basis is proving to be quite challenging, unless you live in Asia, where no screen seems to be too big for the local smartphone fans. We are listing a few situations that most of us encounter on a daily basis with our smartphones, which are getting quite awkward to do with those 6-inchers that are flooding the marketplace recently. Have you had such troubles, or do you think that lugging and using a 6-incher is a minor nuisance compared to the screen real estate gains that come with it?