What some 5G Pixel 6 Pro users say is a bug affecting charging speeds is actually a feature
8
We may earn a commission if you make a purchase from the links on this page.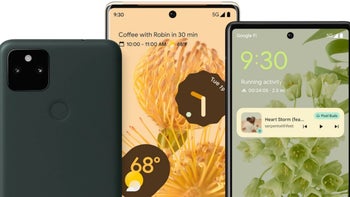 The
Pixel 6 Pro
and its 5003mAh capacity battery is now charging at a snail's pace according to a
Reddit
user. As if the line needed another issue to discuss on Reddit, the actual post reads, "Has anyone experienced a recent slowdown in their Pixel 6 Pro's charging rate? Was doing phenomenal till today and now it is charging at a snail pace. Restart did not help."
This user stated that he has tried two different chargers with his Pixel 6 Pro (since, of course, chargers don't come in the box). One combo he used consisted of a 30W charger with the USB-C to USB-C cable that comes with the Pixel 6 Pro. He also tried the charger that came with an unspecified MacBook Pro model and said that it charged at about the same speed as the 30W charger.
One Pixel 6 Pro user says that his phone shows a three hour charging time to go from 23% to 100%

To show how slowly his device is charging, with the battery at 23% and adaptive charging off, his Pixel 6 Pro shows that it would take him three hours to fully charge the battery. A reply from another Pixel 6 Pro user said that whenever he has under 10% battery life remaining on his Pixel 6 Pro, the battery will charge to over 50% in one hour, and be fully replenished in two hours.


Running through some of the Reddit posts on the issue, we can see that some users aren't familiar with the Adaptive Charging feature. One Reddit user writes, "Welp. Just know that the last 80-100 is extremely slow. Therefore the charge time estimate isn't that accurate xd." Another Pixel 6 Pro owner states that when his phone charges, it "Seems to work great until 80% which is when it starts to slow way down."
Those of you complaining about a slow down in charging from 80% to 100%, if you look at the settings on your handset, dollars to doughnuts that you have Adaptive Charging enabled. This feature uses AI and Machine Learning to figure out the time that you usually plug your Pixel 6 Pro out of the charger every day. In order to keep your battery in good health, the phone stops charging at 80% and computes how fast it needs to charge the remaining 20% to have the battery at 100% just when you unplug your device in the morning and commute to the office.
So for those of you who are complaining that your Pixel 6 Pro charges at a snail's pace, especially from 80% to 100%, you might want to see if you notice a big improvement with adaptive charging disabled. If you do turn it off, don't come crying to us when your Pixel 6 Pro needs a brand new battery after a year or so. Meanwhile, the author of the post that kicked off the thread says that he will continue trying different chargers to see if he can "fix the issue."
Some of you are unaware how Adaptive Charging works

Just remember that if your issue is merely a slowdown in charging from 80% to 100%, that is not a bug but is a feature. Those who say that the adaptive charging feature has nothing to do with their Pixel 6 Pro's slow charging are blaming the December update for the problem.
Switching up by using the charger from another phone seems to work in some situations. A Pixel 6 Pro user was noticing that the charging time on his Pixel 6 Pro was longer than usual, so he decided to use the 20W iPhone 12 charger that he paid $19 for from the Apple Store. The result? He says that it "works like magic."
Now is the time to buy the Pixel 6 or Pixel 6 Pro

Another suggestion that someone made was to make sure that the Pixel 6 Pro charging port was clear with no obstructions. We wouldn't suggest using anything but your eyes to check it out.
So to reiterate, if your issue is that charging slows between 80% and 100%, make sure that you have Adaptive Charging disabled. If that isn't the issue, you can get in touch with the
Google
Pixel community by going to
Settings
>
Tips & support
>
Contact us > Enter info about your issue > Next step > Chat or get a call.