57 freemium games from the Google Play Store come with as much as a 50% discount on in-app purchases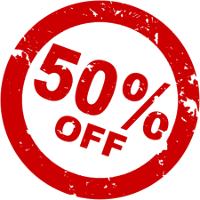 How would you like to save up to 50% on in-app purchases made from the Google Play Store? Right now, there are about 57 games that are included in this special deal. All of them are "freemium," meaning that they won't cost you a thin dime to install on your Android device. But these games and apps all come with in-app purchases. You can buy extra-lives, weapons, or other things to help you win the games you're playing.
Some of the apps and games that are covered by the 50% off deal include
SimCity BuildIt
,
Pac-Man 256
,
Doodle Jump DC Super Heroes
and many more. Google hasn't said when the 50% off savings comes to an end, so we would suggest that you take advantage of Google's largesse now.
How much could you save? Actually, 50% off in-app purchases can amount to a decent amount of money. Take Laura Croft: Relic Run for example. In-app purchases range from 99 cents to as much as $49.99 for each item; taking 50% off in-app purchases could save you as much as $25 at one time.
Check out all of the 57 freemium games in the Google Play Store that offer up to 50% savings on in-app purchases. Simply click on the slideshow below.
source:
Google
via
AndroidCentral