500 smartphones come together to make an awesome stop motion animation
8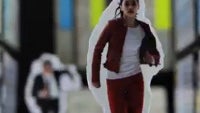 There are two ways two advertize - one is by pointing out how awesome your product is and doing creative things with it, and the other one is to bash your opponents. We for once prefer the first one. And while Pantech is not the first company you'd remember when thinking about being creative, it has put up a pretty awesome stop motion animation that catches the eye.
It puts to creative use 500 Pantech Vega 6 smartphones building a small Vega City with them and while you won't get to know much about the actual devices, the animation that came as the end result is definitely worth a look. The Pantech Vega 6 itself is a humongous 5.9-inch device with top notch specs like a S4 Pro chip, Adreno 320 graphics, a 13-megapixel camera and Android Jelly Bean.
Pantech decided to make the stop-animation movie in a little world built entirely out of its Vega 6 smartphones. Walls, streets, everything you'd see in the video below (except for the characters) is made out of Vega smartphones.
In the animation, an attractive young lady performs a Matrix-style escape from two men in suits. Got the popcorn ready? 1, 2, 3, action!
source: Pantech