5.5" LG G Pro Lite announced with stylus, dual speakers, dual SIM and modest specs
17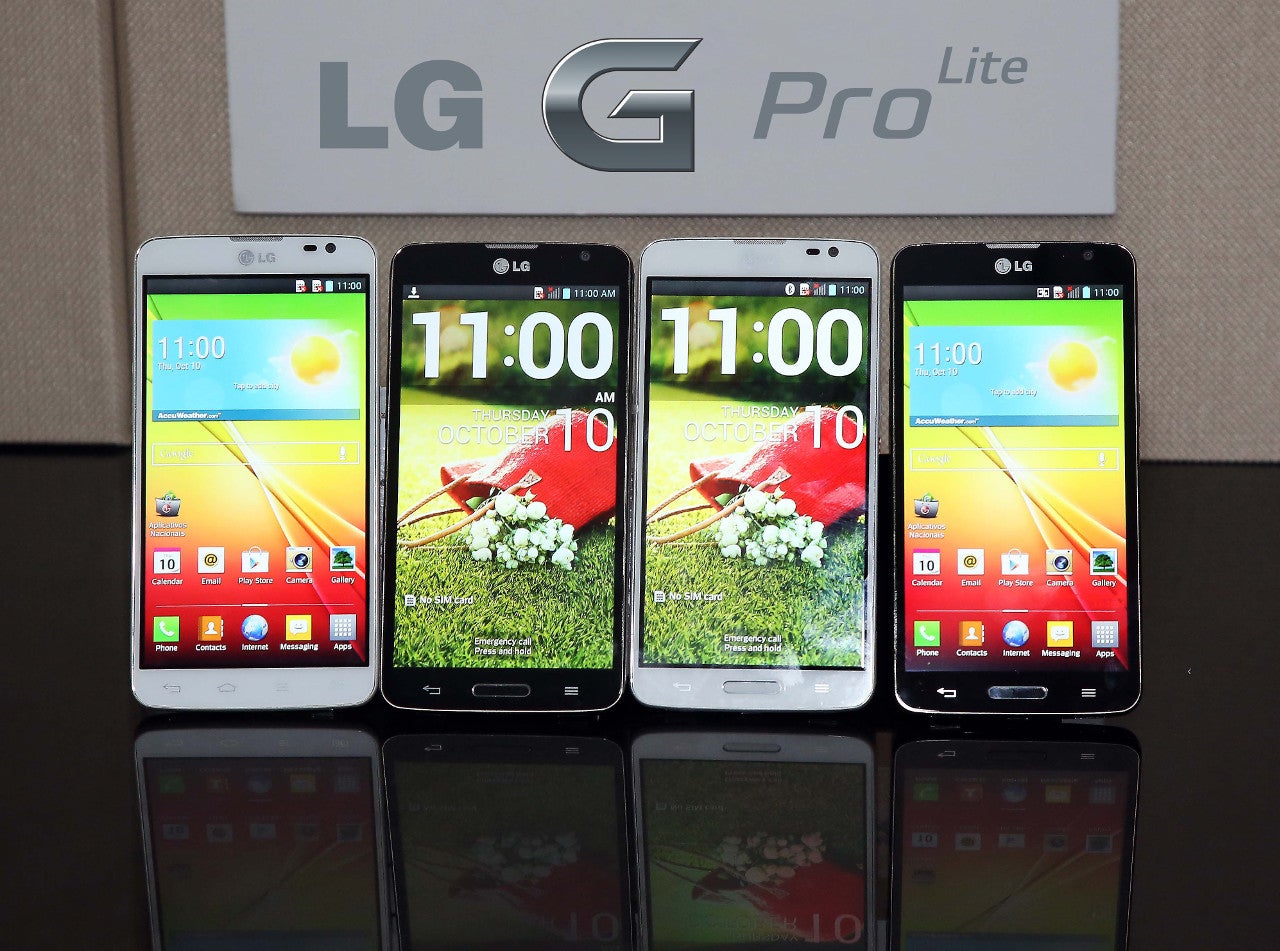 LG just lifted the veil from its rumored
G Pro Lite
phablet, which seems destined to battle with Samsung's Mega line. The phone keeps the screen size of its namesake at 5.5", but with much lower 540x960 resolution.
The processor is also slimmed down to an entry MediaTek level, dual-core and clocked at 1 GHz. The G Pro Lite sports 1 GB of RAM, 8 GB of storage plus a microSD slot, and an 8 MP rear camera. The beefy 3140 mAh battery should do endurance wonders with this screen and specs. The G Pro Lite is comparatively thin at 9.4mm, and weighs the reasonable for a 5.5" phone 164g.
A stand-out feature are the dual speakers "
for excellent audio performance with or without headphones
," which is not something you see on a phone every day, let alone an affordable phablet.
Not only that, but the phablet comes with an embedded stylus, similar to Samsung's Note line, and dual SIM capability, which hints that it is targeted towards emerging market customers which are jonesing for a phablet with two SIM cards and on the cheap. The stylus is tucked at the top, not the bottom like with the Galaxy Notes. but like them comes with dedicated Notes app for handwriting, and the dual SIM functions also gets an accompanying Hot Key for quick switch between networks.
The LG G Pro Lite is coming in Black or White to Latin America as soon as this month, followed by markets in Asia, Russia, China, India and the Middle East. What, you didn't think such a handset would make a cameo stateside, did you?
LG G PRO LITE MAKES ITS GLOBAL DEBUT

LG's Newest Smartphone Combines the Large Display and Large Capacity Battery of LG Optimus G Pro with the Newest Multimedia Features

SEOUL, Oct. 10, 2013 — To fulfill the needs of practical smartphone users who want to enjoy the convenience of a large display, LG Electronics (LG) today introduced to the world its latest device, LG G Pro Lite, with a 5.5-inch display and unique UX fea-tures.

In addition to its large IPS display, LG G Pro Lite features an equally large 3,140mAh battery, embedded Stylus Pen, stereo speakers and Dual SIM with a dedicated Hot Key. The phone is also designed with an ultra-narrow bezel for an incredible edge-to-edge viewing experience, slim design for optimal one-hand grip and convenient UX features shared with LG's other premium G Series smartphones.

"With LG G Pro Lite, we are introducing a competitive device to the masses in the growing large smartphone market," said Dr. Jong-seok Park, president and CEO of LG Electronics Mobile Communications Company. "The market for smartphones with displays over five inches will continue to grow and LG is in a great position to capture these new customers when they're ready to move up from their current phones."

The Stylus Pen that is included with the LG G Pro Lite increases the smartphone's usability. The Stylus Pen allows for quick and accurate handwriting and can be stored conveniently in a slot at the top of the phone. And for customers who are increasingly turning to their smartphones for entertainment, LG equipped the LG G Pro Lite with dual speakers for excellent audio performance with or without headphones. What's more, LG's latest smartphone maximizes user convenience with a Dual SIM feature and a dedicated Hot Key to make switching between two SIM cards easier than ever before.

LG G Pro Lite comes with LG's practical and convenient UX that features all the benefits of LG's premium G Series, G Pro and G2. KnockON powers on the G Pro Lite with two taps to the display, Pause and Resume Recording allows for the recording of short snippets of video which can then be viewed as one continuous file, QSlide controls up to three different apps in one window, QuickMemo gives users the ability to instantly jot memos or notes from any screen without having to open a separate application and QTranslator instantly translates words and sentences from images captured with the smartphone's camera.

LG G Pro Lite will make its world debut this month in Latin America followed by markets in Asia, Russia, China, India and the Middle East.

Key Specifications:
- Processor: MT6577 1.0 GHz Dual Core
- Display: 5.5-inch (960 x 540 pixels)
- Network: 3G (HSDPA: 7.2Mbps / HSUPA: 5.76Mbps)
- Memory: 1GB RAM, 8GB ROM, MicroSD
- Camera: Rear 8.0MP BSI / Front 1.3MP
- Battery: 3,140 mAh (removable)
- Operating System: Android Jelly Bean 4.1.2
- Size: 150.2 x 76.9 x 9.4mm
- Weight: 161g
- Connectivity: Bluetooth 3.0, USB2.0, A-GPS, Wi-Fi Direct
- Colors: Black, White

# # #