10 solar-powered USB chargers and accessories to take on your next camping trip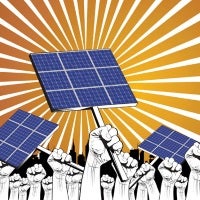 Are you one to frequently take camping trips? Or just the type who spends days and nights out in the field? You must know full well how difficult it is to keep the devices you carry with you all prime and charged up. We're not just talking smartphones, but pretty much everything USB-powered you have on you. Sooner or later, your devices' batteries dry up, and so do the portable battery packs that supply backup charge.
What's an adventurer to do in such predicament? Well, you can go hardcore and hopefully brag to your friends about how you survived in the wilderness with no signal. Or you can do the smart thing and invest in solar-powered equipment. Harnessing the sun rays, these gadgets of various shapes, sizes, and additional purposes other than charging are able to power your USB devices anytime, anywhere, as long as there's light to soak in (although that's not a prerequisite, either). Some of them will also let you cook a meal while charging, or come with extras such as built-in flashlights, FM radio, AA/AAA battery chargers, and other useful stuff.