5 things that could have made the Nexus 5 better than it already is
21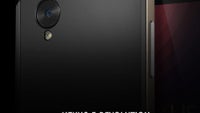 It's been a rather agonizing last month, with all the Nexus 5 rumors playing us fools and whatnot. Well, we finally got the chance to step back and take a deep breath, if for only for a moment, before we get right back into analyzing mode, as per usual.
Now that the Nexus 5 has been out for a short while, and especially considering that a very big chunk of the rumors actually panned out, we kind of feel like we've know the Nexus 5 all along. There have been no surprises, nasty or otherwise, and whether that's a good or a bad thing is up for you to decide in your own time.
As of late, we've gotten into the habit of being critical of new products that come out, especially those with a considerable fanfare. That's not to say that the geek in us isn't equally as excited (yep), or that we think lowly of the products that get into the kind of pieces like this one, rather we feel obligated to voice our concerns and views, if only for that aforementioned geek within. LG, Google, Apple or Samsung can then decide whether they want to listen, though history has shown that they eventually do.
So, without any further ado, the 5 things that could have made the Nexus 5 an even better smartphone than it already is!