5 smart connected blood pressure monitors that connect to Android and iOS devices
2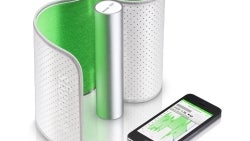 Smart technology has integrated quite successfully in the medical world, as evidenced by these connected blood pressure monitors. They sync instantly with bespoke applications over Bluetooth and Wi-Fi, letting you monitor and share blood pressure and heart rate condition information with your doctor.
Some of them also have built-in reminder systems that let you know when it's time to take a reading. Thanks to smart technology, they also support multiple user profiles, and are also very accurate in their readings. Check out our round-up and see for yourself whether these gadgets could prove useful to your needs.
PyleHealth PHBPB20 Blood Pressure Monitor

The PHPBP20 is able to wirelessly measure and record your blood pressure (with irregular heartbeat detection) while staying easy to use – just insert your arm and press the button. It connects to your Android or iOS device via Bluetooth 4.0 and displays the Pulse Rate, Systolic and Diastolic Pressures. The PHPBP20 also has the ability to be used as a standard heart rate blood pressure monitor as well. It has a memory capacity for four users, storing and showing up to 99 blood pressure readings per user. You are able to view average daily, weekly and monthly blood pressure readings and take advantage of the Alarm Clock reminder, auto turn off power saving feature, and the Low Battery indicator.




Blip Wi-Fi Blood Pressure Monitor

The Blip Wireless Blood Pressure Monitor apart works over Wi-Fi and doesn't need a paired smart phone to have its readings uploaded. Users can simply use their home Wi-Fi network for this task. The monitor can also remind users to take their readings with audible beeps, acting like an alarm clock. The Blip BP supports 2 user buttons and each user can track their data on the web. Some users even use this feature to take readings for their left and right arms.







QardioArm Blood Pressure Monitor

The QardioArm wireless blood pressure monitor measures your systolic, diastolic blood pressure, heart rate and heartbeat. It is FDA-approved and clinically validated to meet both US and European Standards. It boasts an elegant and compact design so you can always have it by your side, using it anytime, anywhere. There's even an unique function called Places that lets the monitor geo-track your readings across time and location. The QardioArm can set goals and reminders, track irregularities, or perform triple measurement averaging. You are also able to view your results against the World Health Organization chart and follow your trends using simple graphs and charts.







Withings Wireless Blood Pressure Monitor

Put on the cuff, turn on the Wireless Blood Pressure Monitor, and the Health Mate app will automatically launch. Following a brief set of instructions, you are ready to take your blood pressure. The connected app gives you instant color-coded feedback based on the ESH (European Society of Hypertension) and the AHA (American Heart Association) recommendations for hypertension. The Health Mate app also stores all your BP readings, syncs with the Withings Health Cloud, and creates an easily understandable chart.







iHealth Feel Wireless Blood Pressure Monitor

The iHealth WBPP supports one-touch automatic sync with the free iHealth MyVitals app over Bluetooth, assisting in tracking and sharing all your systolic, diastolic and heart rate trends with your doctor. The gadget features irregular heartbeat detection, multi-user support, reminders, iHealth cloud dashboard, notes, and more functionality. It's also fully integrated with the entire family of iHealth products.
ALSO READ