5 perfectly good screen protectors for the Moto Droid Turbo's 5.2-inch AMOLED display
8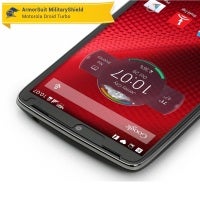 Own a
Moto Droid Turbo
on Verizon? Congratulations - that thing screams! Yes, it's neither THE most powerful flagship right now, nor is its display the most accurate out there, but that thing still packs a mean punch. Games fly, connectivity is fast, and everything looks sharp thanks to that
pixel
-busting QHD resolution.
Although the Droid Turbo is very well guarded by a tough kevlar-threaded back and a Gorilla Glass 3 front, you will do it a huge favor if you set some spare cash aside for
a decent screen protector
. G-Glass is great against scratches, but it offers no oil buildup, nor impact protection. A
screen protector
will preserve the screen in mint condition and guard it against all kinds of accidental damage, save for lighting the darn thing on fire. So, we present you with five screen protector offers that cover all necessary bases without breaking the bank.
The Moto Droid Turbo is a Verizon exclusive, thus the choice of protectors is limited compared to a globally available flagship, where you have hundreds of options. But this only makes the phone more exclusive, we reckon!