5 of the best slim cases for the Galaxy Note 7
4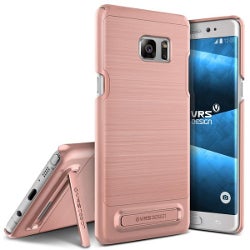 So, Samsung's newest high-powered phablet, the
Galaxy Note 7
, is already out in all of its S Pen-toting, eye-scanning glory. Some of you early adopters out there are already running around happily with it, while others are waiting for the right time to pull the trigger.
Yeah, $850 is a daunting investment for a smartphone — a gizmo, which you may clumsily drop in a variety of creative ways. Not that we wish that upon you, but most smartphone owners have had this happen to them at least once and know the scorching pain that runs through one's soul as soon as the handset meets the cold, cold ground. That's why most of us own one or more cases — you know, for those crazy nights out, that road trip or hike, when our hands may get a bit too shaky, or the phone may end up in the wrong pocket at the wrong time.
But the Note 7 is already a pretty large smartphone, despite the amazing screen-to-body ratio that Sammy managed to achieve with the Edge screen. And it's a beautiful piece of industrial design – the thought of hiding it behind an unsightly rubber armor could easily make you cringe. Well, thankfully, there is a middle-of-the-way solution — slim cases! These usually follow the phone's curves tightly, letting its beautiful profile show through, and can either have a solid finish that enhances the handset's looks or can be transparent, putting the phone's shiny surface on display. Here are 5 of the best slim cases for the Note 7 that we found on the Net!
Spigen Neo Hybrid Crystal
Let's be honest, slapping a TPU case on a premium smartphone is nobody's favorite thing to do. Sure, they let the handset's design shine through in its full beauty, but the case itself feels and looks cheap, ruining the aesthetic and premium touch experience. Spigen's hybrid may remedy that a bit for you. The case has a transparent TPU back, letting the Note 7's beautiful reflective finish shine through, and a solid polycarbonate frame, which provides better protection, a firmer feel when held in the hand, and the possibility to choose from multiple, stylish-looking finishes.
Spigen Thin Fit
OK, so the rubbery TPU is absolutely not your thing. Then, you can try Spigen's fully polycarbonate-made Thin Fit case. It fits snug around the Note 7, adding minimum bulk, a good amount of scratch protection, and has openings for the volume and power buttons, so your hand interacts directly with them, retaining that premium clickiness.
VRS Design Simpli Lite
Just edging on being a bit too thick, this VRS case looks gorgeous, has openings for you to have access to the Note 7's original buttons, and features a kickstand. It's made of polycarbonate, but has a faux brushed aluminum finish applied to it for extra style, and comes in a variety of colors.
Poetic Affinity
If you want to get a bit more serious with protection, but still don't want to add too much bulk, you could try a slim bumper-equipped case. The Affinity is made out of TPU, letting your Note 7 be entirely visible, but covers it with a grippy bumper, raised TPU lines on the back for extra guarding, and inner ridges that dissipate shock when that dreaded drop happens.
Incipio Carnaby
What do you do when the once-premium metal and glass construction has now become somewhat cliché? Well, what about a nice fabric material for your phone's back? The Carnaby is made of a hard shell case, TPU button covers, and a nice cotton texture on top. It edges on being not-so-slim, but looks undoubtedly stylish in any of its three colors.