5 of the best Android and iOS games set on Mars
1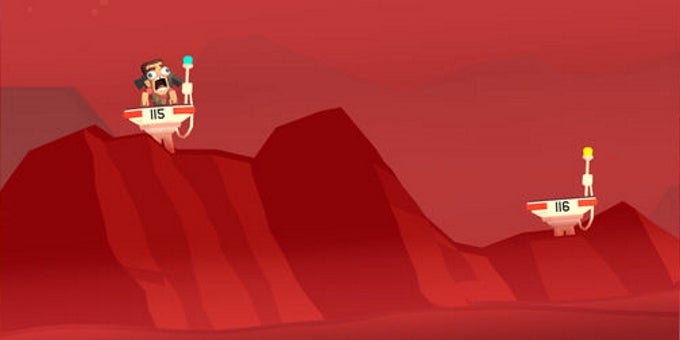 The distant Red Planet is a fascinating setting for a sci-fi adventure. That's why it has been the subject of countless films, comics, video games, novels, and real-life space missions. Even if you don't get to experience Mars travel in your lifetime, there are plenty of ways to get your imagination there. The five games we've rounded up will take you to the Red Planet's surface and below, trying to land safely without wasting fuel, mining for precious items while battling giant bosses, and even nurturing an elaborate floral ecosystem inside the planet's vast caves.
Mars: Mars
As MarsCorp is ready to take the first group of volunteers on a mission to Mars, you'll get to fly around the Red Planet in a brand new jetpack and discover what's out there. So-called "professional" astronauts say things like "No sane person would travel across space on that thing" or "The fuel on that jetpack lasts about 30 seconds," but the game will give you the chance to prove them wrong and make history! Oh, you'll also get to take selfies on Mars's greatest sightings, and avoid as many Rapid Unscheduled Disassembles as you can.
Mines of Mars
Mines of Mars is a procedural atmospheric RPG mining game, inspired by games like Metroid and Motherload. Its story is filled with dark secrets, advanced weapons, a variety of different items, and there's a gorgeous world for you to explore. Since the game world is procedurally created, the setting will be a little different every time you play. Nevertheless, you will meet lots of different enemies and a large variety of fauna and ambient creatures lurking in the dark corridors. There's an RPG system for character progress, night and day simulation system, and there's an original ambient soundtrack made by Evan Gipson, too.
Waking Mars
In 2097, life is discovered on Mars. When your mission of first contact becomes trapped by a cave-in, you are forced to master the alien ecosystem to survive. As time is running out, you must make decisions that will determines the fate of the lost planet. During the adventure, you'll get to explore an open-ended network of exotic caverns, decode mysterious signals, and discover long-lost ruins as you survive in the unearthly world of strange creatures and hazardous terrain. As part of your efforts, you will get to grow a vibrant ecosystem of exotic plants and alien creatures, learning the diet, habits, and vulnerabilities of each new lifeform you encounter.
Mars Lander
Featuring realistic physics and hours of fun, Mars Lander lets you take control of the lander module to try and land on the Red Planet's surface! You must use the thrusters to slow down to decent speed, otherwise you'll go too fast and you'll crash. Otherwise, land the Mars lander module on the target by carefully controlling the thrust, angles and landing legs, taking into account the limited amount of fuel. The game offers a Single Game mode where you land the lander on the target, along with an Arcade mode where you save the astronauts and land them safely on different levels.
Survive on Mars
As you arrive on Mars at the end of a long 6 month trip, you receive the cheers of all, but a sudden fire occurs on the spaceship as if to celebrate your arrival. Now, left alone, disconnected, and with a broken spaceship, you must escape Mars! Use turrets, shields, mines, and various tactical items to defend yourself from monsters and make your way through days, nights, and sandstorms.
ALSO READ