5 must-have mobile accessories for smartphone-friendly camping
5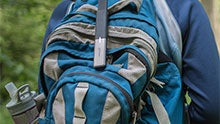 Bring up the subject of mobile tech and what it can mean for a weekend spent backpacking in the great outdoors, and a lot of people can start getting very defensive: "But … but isn't the point of a camping trip so that you can get
away
from it all – the incessant glow of smartphone screens included?" If you need a break from your handset, that's all well and good, but the idea that there's simply no place for a smartphone while you enjoy some hiking, fishing, or whatever leisurely activity strikes your interest is just
so
close-minded.
The fact is, there's plenty of outdoor-friendly hardware designed with smartphone use in mind. With summer approaching, and the call of the wild sounding that much more attractive, we're taking a look at some of the best accessories you can bring along to make your next camping expedition just as tech-fueled as you want it to be.
Last time we talked about
smartphone accessories that you didn't want to leave behind on a camping trip
, we were all about power: whether by way of solar panel, manual hand crank, or even extracting electricity from a roaring campfire, we brought you some of the best tools for keeping your portable gear powered while far from the convenience of outlets.
This time we're assuming you've got that power issue all sorted, and instead are looking more at gadgets you can use to help your phone enhance the rest of your trip.