5 lyrics apps for Android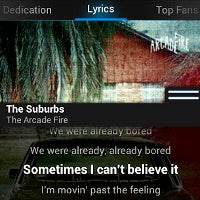 Having a favorite song's lyrics ticker on the screen while listening might not be a big deal for you, since you know them by heart anyway. But just discovering an awesome new album, and knowing you have the ability to run the lyrics along with the tunes in there is a rewarding experience.
Carrying a treasure trove of songs' poetry with you at all times is as important for soaking in the true message of the tunes, as it is for those improvised drunken karaoke sessions at 4am with your buddies.
With the rise of the smartphone developers have leveraged this possibility to a whole new level, and the best tune lyrics apps now seamlessly integrate with a variety of music players, and some of them provide easy access to no less than a few million rhyming (or not so) pieces of lyrics to enhance your listening experience. We've rounded up a few of them to try on your Android handset.