5 great language learning apps that are not DuoLingo
8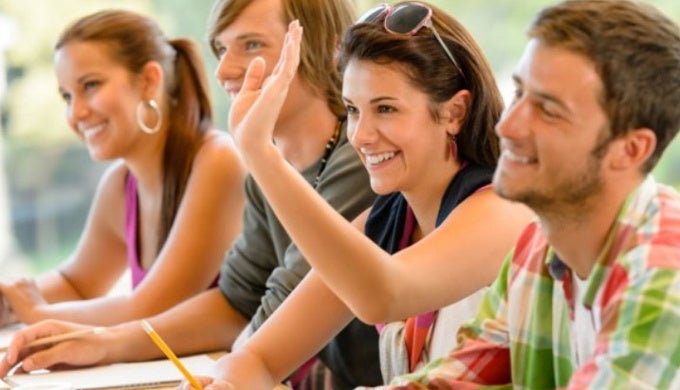 Learning a new language is a process that might not sound like immediate fun, but it opens new horizons and possibilities to learn about and see different cultures.
With a powerful smartphone in your pocket, you have one more aid in the learning process, but what are the right apps to use? These days, DuoLingo is all the rage for many reasons: it's a well-structured system to learn a language that touches upon not just one, but the multiple elements of learning, including speaking, listening, reading and writing.
It is not the only one worth noting, though. In this round-up, we have selected some great alternative apps that will speed up your language learning. Take a look at them right below.
English Lesson with Gymglish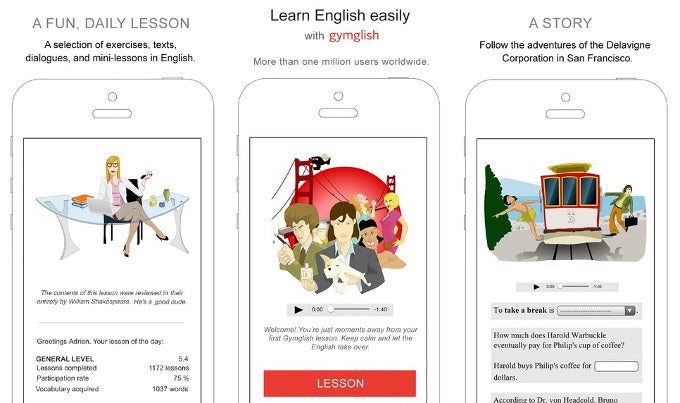 Most PhoneArena readers are English speakers, but for the great many across the world who are trying to learn English, this app by Gymglish is a fun new way to get the grips of the language in a few simple steps with plentiful graphical clues provided along the way. The app serves knowledge lesson by lesson, in dozes of one lesson served every morning so that you can make constant, steady progress, and it also shows you scores at the end of the lessons. The whole language course is based around the story of the Delavigne Corporation and features both reading and listening exercises, with varied access and some elements of business English. Each lesson takes around 10 minute to complete, a small time investment that could yield great results in the longer term.
French Lessons by Fantastique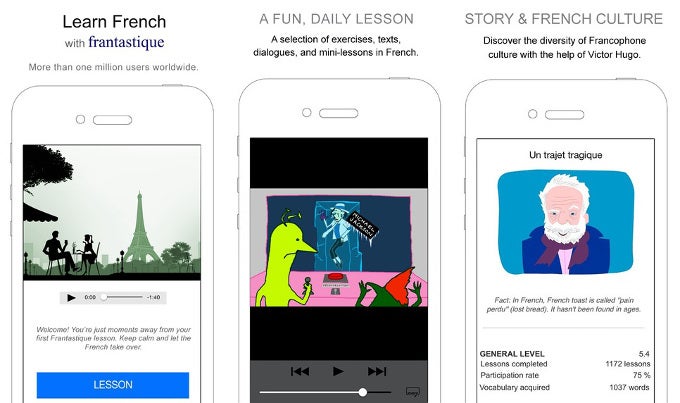 When the focus of a language app is just one language, this provides a much more focused way to learn a language and the French Lessons by Fantastique app is a brilliant example. Dedicated solely to learning French, it follows a similar model as the previous app: daily lessons served in the morning that take around 10 to 15 minutes to complete. Infused with French culture and humor, the stories in the lessons are easy to digest and the narrator in many of them is no other than a virtual Victor Hugo. The app features various accents, a daily score and - quite importantly - explanations for your answers.
Chinese Skill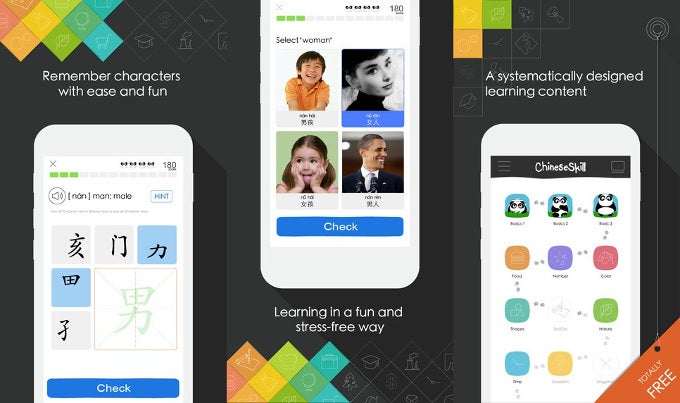 Chinese Skill is the only app you need if you are a total beginner who wants to learn Chinese, and here is why: it guides you gently in a DuoLingo-like play-based approach with words, it has native pronunciation that you can also slow down, and this will save you a lot of the boring theory about pinyin pronunciation and the four tones, it displays both characters and pinyin along with actually well translated English equivalents, and it is miraculously, mind-bogglingly, completely free (as in ad-free and in-app-purhcase free).
We've tried multiple other apps and they are a waste of time, especially for beginners. Spare yourself this lost time searching and the trial and error, and just focus on mastering the knowledge summed up in Chinese skill before you dive in further into Chinese.
Learn Languages Rosetta Stone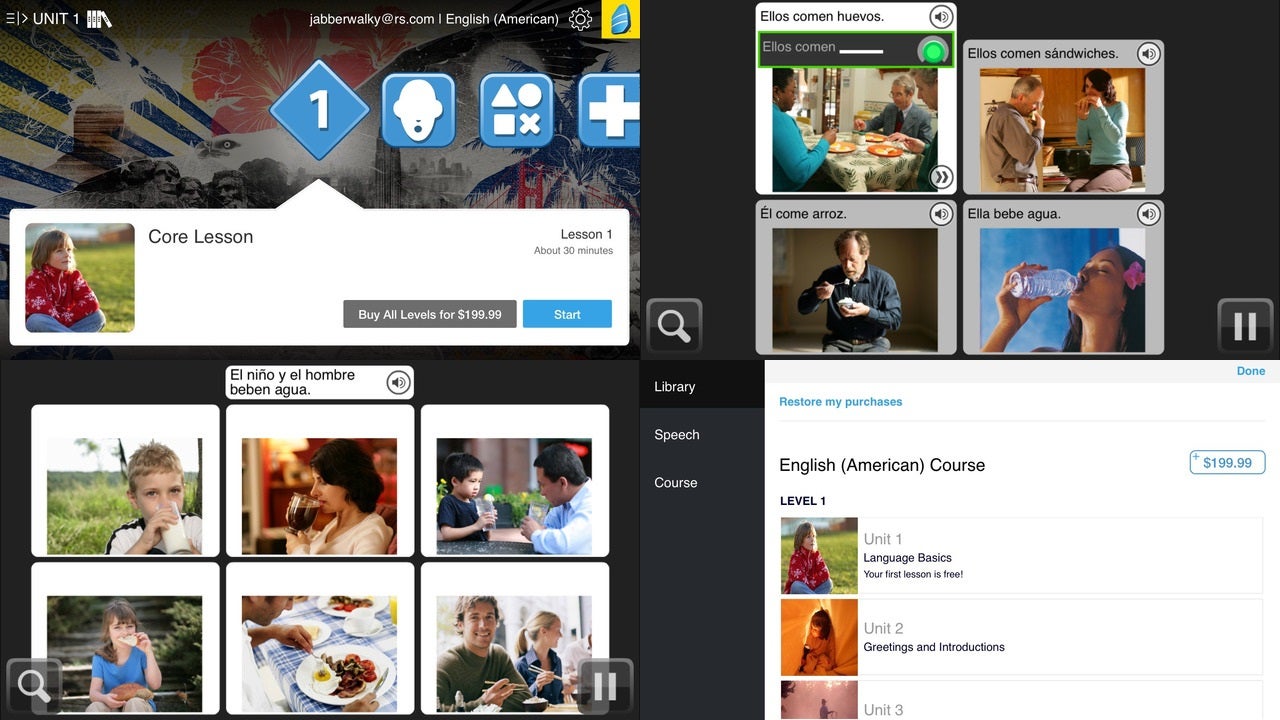 The Rosetta Stone system has been crafted and perfected over time, so it comes with a reputation that not many others can match. The app, however, requires a hefty $200 in-app purchase for each of the 19 languages it supports (you have free access only to the first lesson, so you can try it). If you decide to spend the money, though, you are getting a comprehensive language learning system. The full course takes you on a journey through the basics, common greetings and introductions, vocabulary used during shopping, travel topics, past and future expression, and words in the area related to friends and social life.
busuu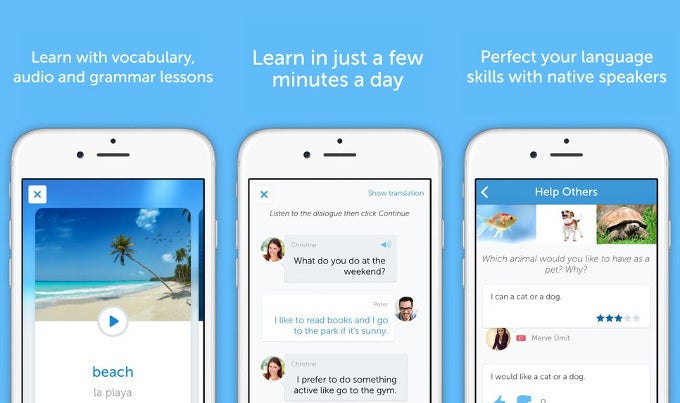 busuu is an app that comes with a unique premise: learn a language with the help of native speakers, who will help you get exercises right. The app focuses on getting you right up to speed with the most commonly used 150 topics and 3000 words that you will need, and it allows you to set personal learning goals and strive towards reaching them. It covers all the important aspects of language learning: vocabulary and grammar lessons, audio dialogues and interactive tests. busuu costs $11 for a 1-month subscription, $50 for a 6-month sub, and $65 for a 12-month subscription (all are automatically renewed until cancelled), but you can try it and see what it's all about for free.