5 glorious iOS VR apps and experiences for the iPhone
6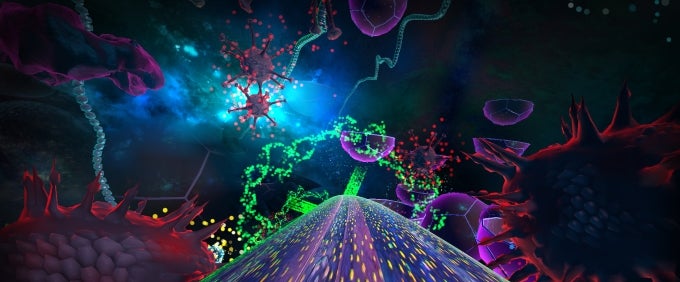 Mobile VR is anything but an Android exclusive. The fact that the most popular mobile VR headset is the Android-only Samsung VR and Google is talking a lot about making the operating system a VR domain with Daydream doesn't mean iPhone owners are left behind. Not at all – Apple hardware is powerful hardware and iPhones have everything it takes to offer compelling mobile VR experiences. Just obtain a comfortable headset that's compatible with your iPhone's screen size and check out any of these five VR experiences if you haven't already. There are plenty more inside the App Store for your enjoyment, so when you are done with these, you are welcome to discover more! Some will even let you pair a Bluetooth controller so you can enjoy smoother controls
End Space VR ($0.99)
This is a first-person arcade shooter set in space. It lets you jump into a space fighter's cockpit and engage in intense space battles where you defeat progressively tougher waves of enemies. The game features gorgeous graphics and uses 3D positional audio to deliver an immersive VR experience. There are three beautifully crafted space environments to fly around in. The highly detailed space ships feature damage modeling and destructible pieces. The game can be controlled with Bluetooth peripherals if you don't like the other alternatives, such as using your headset's buttons or relying on head tracking alone.
InCell VR
InCell is a biologically-inclined action/racing game that happens to feature a bit of strategy and bio science for good measure. In it, you will get to experience the fascinating world of the human cell. Although the game is designed for virtual reality, it lets you turn the VR stuff off and play without a headset. Lots of microbial fun is to be had here!
DinoTrek
This virtual reality experience shows you what life in the era of the dinosaurs must have been like. A full 360-degree field of vision is supported and your head movements are tracked in the virtual realm. You will see a variety of dinosaurs and prehistoric locations, but you won't get to claim one as a pet and name him Dino. Maybe in an upcoming update? Oh, and don't worry if you don't own a headset. The whole thing can be experienced in widescreen, though without the VR immersion.
Romans From Mars
A colorful and stimulating fame, Romans From Mars lets you become a Roman soldier and face off against the invading Martian army with your peers. Launch arrows from your crossbow, or use elemental powers like Fire, Ice, Earth, and Lightning to take down the extraterrestrials. Don't forget to upgrade your crossbow ballista over time, or you risk losing the Earth to the alien fiends!
Roller Coaster VR
Hop on the roller coaster and enjoy the ride amidst a tropical island! It's a lonely experience, because the roller coaster is a deserted ride, but the island is fabulous and the lack of screaming people makes for a serene, though still engaging experience. The graphics are colorful and vivid, the sound makes you feel you are actually there, and the tracks are very fun. To activate the ride, don your VR headset, and look at the lever in the start of the game.
ALSO READ
Recommended Stories