5 feature phone alternatives to the new Nokia 3310 to consider, before the behemoth returns
7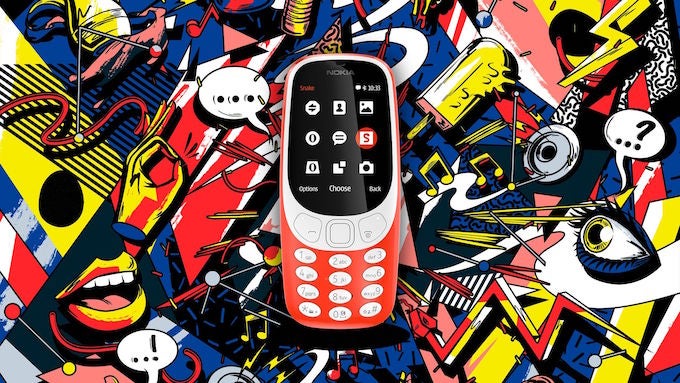 We are not too far from the release of a revamped version of the Chuck Norris of phones, the new Nokia 3310, which is due to
launch in Europe in the next days
. Whether they actually need it or not, we bet quite a few people would order it, just to display in their memorabilia. Or just to drain more hours playing Snake. I mean, why not, since it will only cost about $60 – well worth for a Snake console, right?
In case, however, you have not been mesmerized by its, let's admit it, slightly mundane design, the 'rehab' phones market already offers great 3310 alternatives. Summer is coming, people are looking to ditch the work cycle and head to the beach, with many of us already looking for a basic cheapo phone to take to the sand with us. Touch screen smartphones don't play well with sand and sun, unfortunately. Others might be looking for an ultra-budget handset that will relieve them of their Facebook and Instagram, and help them remember what real life is.
Here is our take on 5 great basic 'rehab' phones that you should consider before the iconic Nokia 3310 returns and (possibly) regains its historic rule in the tier.
Remember when flip phones came out and everyone felt like a special agent flicking theirs out? No? Yes, that was a little after the Stegosaurus went extinct.
Samsung Convoy 4
packs everything you could need from a basic phone, in a 165g, water-resistant body. The front of the shell features a notification display (128 x 128 pixels), a speaker and a 5MP camera with LED flash. The camera is better than most competitors, while the display is a pretty standard for the tier 2.4", 240 x 320 pixels TFT unit. The phone should run quite smoothly on the dual-core Qualcomm chip inside, also taking advantage of 256MB RAM.
The cellphone supports both CDMA and GSM signal, which makes it useable in most parts of the globe. The phone features email, web browsing, social media and some multimedia apps. The battery should be good for up to 8 hours of talk and 20 days of standby. Convoy 4 is a great choice for anyone, who wants a comparatively durable basic handset, which packs a little more features than an average 'rehab' unit. It sells at $139.99, but packs a lot for this price tag. Even though you can get an entry-tier smartphone for that much, the flip build just can't get old, no matter how many slick smartphones the industry produces.

When
Nokia 150
was announced last December, there were many unhappy comments of people who lusted for an announcement of a smartphone range. However, the 150 is a great, $26 Nokia piece, that will blow you away with 3310-like battery life.
The device is as simple as basic phones can get, with a small plastic body of 81g. The concept is clean and straight, slightly leaning onto the boring side – an edgy rectangular shape, 2.4" of display with 240 x 320 pixels. A basic 0.3MP VGA unit on the back is supported by a LED flash, so don't expect anything extraordinary.
The phone comes with a 3.5mm headphones jack, MP3 player features and FM support, meaning you virtually get an old-school MP3 player for $26. Ok, brace yourselves. The 150 can blast through your earbuds for up to 40 hours between charges, and will let you talk for up to amazing 22 hours. The stand-by time is about 31 days, which is also among the best on the market. The new 3310 is rumored have the ability to live up to these same metrics, meaning that HMD Global might be looking to use 150's battery in new 3310's body. The 150 has a dual SIM version that has a slightly weaker battery, with up to 25 days of stand-by. Customers will be able to play Snake Xenzia and Nitro, which are pre-installed. The phone is not available in the US, sadly, but can be bought and used throughout Europe, Asia and Africa. This is anything but unfortunate for the American market, as the device seems to fulfil perfectly the definition of a reliable 'rehab' phone.
215
is a great simple Nokia phone pick that delivers exactly what it promises, for very few pennies. The plastic 79g body comes in three colours and is a lot slimmer than Convoy 4, but slightly thicker than Nokia 150. The display is about the same, except for LCD replaces TFT, making it a little blurrier than Samsung's. The cam is only 0.3MP and the shots cannot be expected to be quite disappointing. The phone, however, compensates well with other, more useful for its purpose features.
Nokia 215 comes with an Opera Mini browser with Bing search installed. True addicts, who can't withstand the 'rehab' phone experience, can check up on Facebook and Twitter, thanks to pre-installed apps. The phone is also FM enabled and can play music for up to 50 hours. Offering up to 20 hours of talk time on GSM carriers only, and 29 days of standby, 215 certainly delivers good value for money. It is excellent for anyone who doesn't care much about the camera and looks for a reliable $30 handset.
Ok,
Alcatel GO FLIP
is not your typical 'rehab' phone, for it is LTE enabled and allows quick web browsing and efficient Facebooking. It packs quite a lot in its simple, classic build, which means that we can't omit it from the list.
The flip body is small and slick – nothing out there in terms of design, but the 1.44" front display certainly perks up the overall image. It weighs at below-average 116g and you have 2.8" of primary display to surf the Internet on. The camera is features a 2MP sensor and 720p of video recording, meaning you should be able to shoot clips with satisfactory quality. Pretty decent for a 'dumb' phone.
GO FLIP houses a 1.1 GHz Quad-Core Qualcomm Snapdragon chip and 512MB RAM that should be quick enough for most things you can do on the Kai 1.0 OS inside. The OS features basic apps, such as calendar, email, web browser, and others. The device comes with 4GB of inbuilt storage and a microSD slot (up to 32GB). The battery should be good for up to 8 hours and go for about 11 days between charges in standby mode. 4G capabilities also mean that you won't have to worry about signal beyond what's reasonable for your carrier's coverage. The $109.99 price tag makes GO FLIP quite a good pick, if you need a basic feature phone that can still do this and that, beyond the very minimum of functions.
Punkt MP01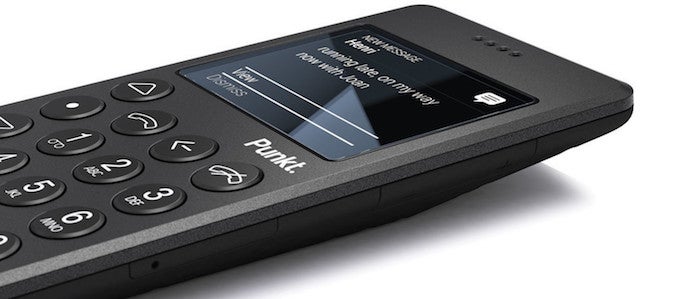 We didn't say that this is going to be a cheap feature phones pick. Swiss-made Punkt MP01 is the ultimate 'rehab' pick for people with deeper pockets. The device looks nothing short of a small calculator and is as simple as a phone can get. The phone is intended to completely relieve you of your relationship with modern technology, as you can pretty much call and text from it, and… that's it.
Punkt certainly aims for the luxurious tier of 'dumb' phones with this gadget, bringing you a feature build by UK designer Jasper Morrison. The MP01 weighs mere 88g, has no camera and sports a soft-touch texture, with moulded pattern on the back. The 2" TFT display is just large enough for what the phone can do and benefits from Gorilla Glass. The display has no colours and everything is in black and white. You also get an alarm clock, monthly-view-only calendar, and original ringtones, composed by a Norwegian sound artist. With up to 6 hours of talk and 20 days of standby, the phone's battery is a bit of a disappointment, given the lack of energy-consuming features. Quite a unique concept, hands down, but the price tag of $295 really plays with your nerves.