5 Apple Watch clones that range from visually offensive to "can fool an Apple employee"
22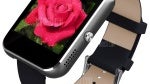 iPhone clones? We've seen 'em all. The Chinese craftsmen have turned cloning the Apple flagship into a national technological sport, perfecting their prowess into producing 99.9% percent accurate replicas. These days, it comes as no surprise whatsoever when an enterprising smartphone vendor catapults a clone of the next iPhone at the market months before Apple announces the real thing at its annual keynote. It is merely
trivial
.
Cloning the Apple Watch, though? Surely, copying the wearable's all-new design and its many intricacies — many of them in-obvious to the uneducated eye — must pose a challenge to the thieving artisans! Well, it turns out the Chinese's experience in cloning the iPhone gave them an impressive headstart. The market is practically flooded with copies of the Apple timepiece, many of them of wildly varying quality. You have to see them for yourself - so here are five of our favorite copyshop works!