5 Android weather widgets
9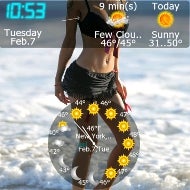 If you are humming "Oh, the weatheroutside is frightful" when you wake up in the morning, thenprobably your first action is to grab the smartphone and look at theweather widget on your homescreen. Same if you plan to go surfing, skiing, or simply hike Shenandoah.

There is no shortage of those widgets inAndroid Market, but some are more functional than others, and someare more beautiful than the rest. We even have quite a few decked-up ones that can follow things like the earthquakes and geomagnetic storms situation, and alert you in the notification bar.

Choice is what matters, so we round up a few ofthose nifty little weather helpers to help you choose if you just got an Android phone, or even if you've never thought of using a weather widget before. Click on the slide show section titles on the right to go to Android Market for the respective widget, or to GetJar for the Beautiful Widgets freebie, and take them for a spin.