4G SIM cards arrive on Verizon
30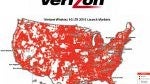 December is right around the corner and you know what this means – Big Red is coming in town with its bag of 4G-ish LTE launches. As that moment approaches, Verizon's first 4G SIM cards have hit some stores, according to leaked images.
Until then, however, Verizon still has to bring some LTE-capable handsets to work on that network. The company's 4G arsenal is limited to only two 4G USB modems at the moment, both of which appeared on Verizon's website in the beginning of the month. What is 4G bringing in terms of speed? Big Red promises average speeds ranging from 5 Mbps to 12 Mbps, so get ready for real-life download rates from 625 KBps to 1.5 MBps. Actually, the technology is capable of delivering much more, with initial tests showing download rates boom to 28 Mbps, but traffic congestion will slow it down significantly.
Verizon's LTE is expected in 38 major metropolitan areas by year-end, which would cover some 110 million Americans. Do you expect 4G to deliver as much as it promises?
source:
Electronista