36 hours of battery life from the iPhone 6? It's possible with the Fat Battery mod!
36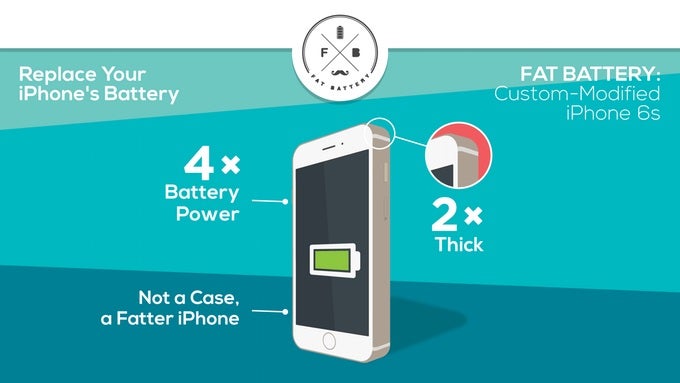 In February, we wrote about a project which boosts the iPhone 6 and 6s' battery life in
a rather dramatic fashion
. Fat Battery literally replaces the handset's back panel with one that looks true to the original, but is much thicker in order to fit a large, nearly 7000mAh battery. In comparison, the iPhone 6s has a 1715mAh unit. Back then, the product was to cost $300 and customers had to send their iPhones to the FatBattery team to have the modification installed.
Just before launching this version, the project's inventors saw an opportunity to make a cheaper and more convenient one. So they took a couple of months off and tomorrow, April 28th at 9AM EST, you will be able to back a $129 FatBattery mod that lets you install the battery upgrade yourself, or simply take it to a tech shop. To get an idea of the overall benefit, a regular iPhone 6 lasted 13 hours of video playback, while the upgraded one held on for an impressive 36 hours and 24 minutes. That's constant on-screen use, mind you.
Despite that, how is turning your iPhone into a brick a better solution for improving its battery life than simply installing a battery case? The team at Fat Battery boasts that their invention gives more than double the punch of bulkier charging cases, yet it doesn't waste physical space on a plastic casing. 95% of the Fat Battery mod's added volume is used for improving battery life, which is very efficient. And unlike them, Fat Battery leaves the Lightning port open.
At first glance, it may not seem like it, but Fat Battery is, technically. a more elegant solution than a big ol' battery case. However, the installation does involve removing your iPhone's back panel – yourself or at a shop – which might scare a few people off. Still, if the campaign succeeds, the team at Fat Battery will introduce a version for the iPhone 7 and the iPhone SE next year.