Someone's working to increase the iPhone 6s' battery life by four times and needs your support on Indiegogo
62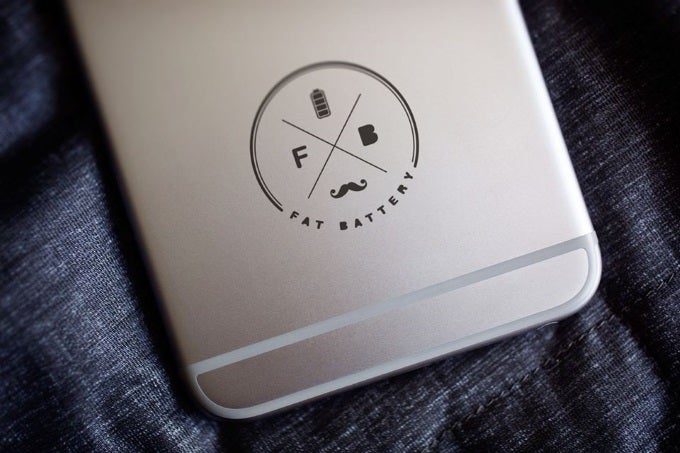 For the longest time, battery life has been a hot potato of a topic among Apple fans and haters alike. It's not that the iPhone doesn't last long enough, but truth be told, it could last a bit longer, and maybe charge a little faster. The many battery cases available on the market have largely solved the issue, but they introduce their own set of inconveniences. They are unsightly in general (with the official one by Apple arguably the ugliest, if still practical), and they constantly occupy the iPhone's 30 pin or Lighting port. For those fed up with charging cases, an inventor by the name of Justin Leader has came up with a different way to tackle the problem, and we think his solution is well worth the attention.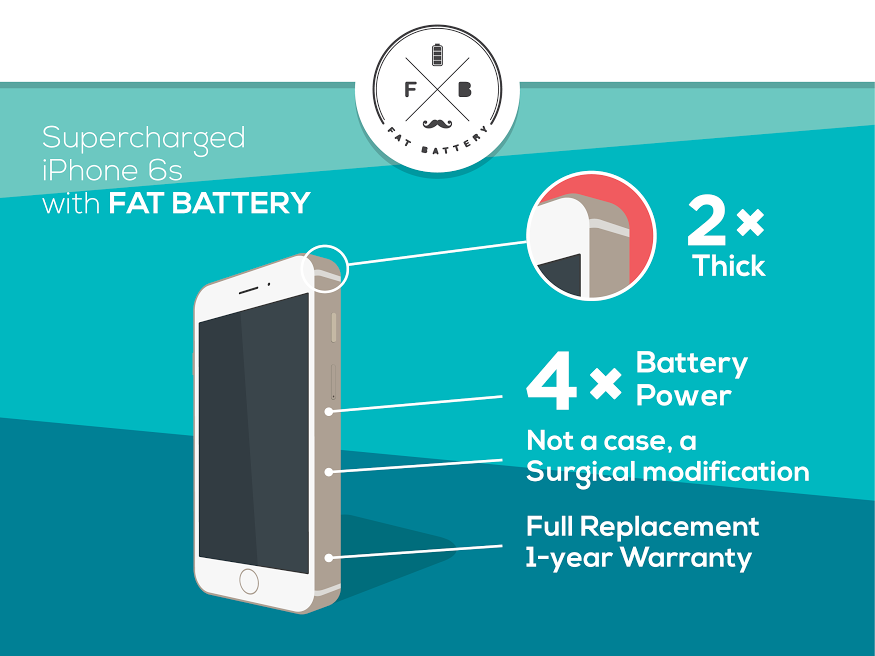 Superjuiced!
Justin launched an Indiegogo campaign to fund his creation, called Fat Battery. This is a fully custom modification for the iPhone 6s that promises up to four times the stock device's battery power. Comparatively, cases such as the Apple Smart Battery Case and the familiar Mophie juice pack offers up to 2.6X the battery power. Now, check this out – instead of a removable battery case, Fat Battery is an actual physical upgrade to the iPhone. The Fat Battery team will take your iPhone, remove its back, insert a brand new, larger battery, and send the upgraded device back to you with a new, custom-fit back.
your iPhone will gain a few pounds in the process.
Now, Justin doesn't glance over the fact that your iPhone will gain a few pounds in the process. That's because the phat, 6860 cell (the iPhone 6s' has a 1715mAh one...) gets inserted right under the smartphone's skin, which makes the end result far sleeker than a charging case. But wait, how is it possible to fit a large battery inside the iPhone's slim bod? Leave it to an ambitious inventor to find a way! Justin designed a new back for the iPhone, which is two times thicker, but otherwise goes just fine with the smartphone's unmistakeable appearance.
For the truly pin-point types among you, here's how the modification changes the iPhone 6s' dimensions – the 6s grows from 5.04oz (143g) to 8.4oz (238g), and its thickness increases two times, from 0.28in (7.1 mm) to 0.55in (14mm).
Originally, the Fat Battery Mod was supposed to cost $300 for early birds, which is a fair price considering there are $150 juice packs on the market. However, Justin has put the Indiegogo campaign on hold, as he managed to find a way to reduce the price. The campaign is about to re-launch soon, so keep an eye on the Indiegogo page, which is linked below.
source:
Indiegogo