35% of smartphone owners use them while driving
17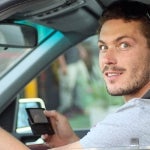 A new survey done by McKinsey called "Mobility of the Future" reveals that 35% of smartphone owners
drive while using their smartphone
. Of that total, 39% use their phone for texting while driving. 89% of those using their phone while driving are making calls while 68% of those driving while engaged with their smartphone, are using a navigation app for directions.
Mobile Communicators
. This group made up a leading 27% of those surveyed and it turns out that while 96% of them own a car, 24% of them drive while using their smartphone and 70% have the need to be reachable while traveling.
We urge you to consider AT&T's "It can wait" campaign that is trying to put a dent (ugh!) in the number of auto accidents that occur each year with injuries or fatalities due to someone texting while driving. That number is now 100,000. AT&T says
no text is worth dying for
and the nation's second largest carrier is spending millions to get the word out. We would hate to lose any of our loyal readers over something as unimportant as the average text message.
source:
AllThingsD