3 days before deadline, either the U.A.E. or RIM blinked
This article contains unofficial information.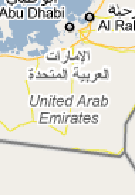 Back in August, the United Arab Emirates gave RIM a deadline. The Canadian based manufacturer of BlackBerry devices had until October 11th to allow the government to monitor messages coming to and from BlackBerry phones or else the country would not allow certain features to work. Other nations in that region, including Saudi Arabia, fell inline with the U.A.E. although, as we
reported
6 days later, the Saudis and RIM struck a preliminary agreement.
The problem is that unlike other handsets, e-mail and text messages are encrypted by RIM when they are sent to or from overseas locations. Local governments are concerned that this level of security would allow terrorists or anti-government radicals to secretly make plans to attack the country. As a major oil exporter, the U.A.E. does have a valid fear of getting involved in demonstrations against the West. The government is so consumed by fear that last year the government owned carrier, Etisala, told 145,000 BlackBerry owners to upgrade to software required for service enhancements. RIM later found out that what was downloaded was spyware that could allow outsiders to get information stored on a phone. RIM told those involved how to remove the software from their 'Berry.
With the deadline just 3 days away, someone had to blink as RIM is now "compliant with the U.A.E.'s telecommunications regulatory framework." Neither side will talk. "RIM cannot discuss the details of confidential regulatory matters that occur in specific countries, but RIM confirms that it continues to approach lawful access matters internationally within the framework of core principles that were publicly communicated by RIM on August 12." On that date, RIM said, "...the security architecture is the same around the world and RIM truly has no ability to provide its customers' encryption keys."
The bottom line is that either RIM gave in and handed over the encryption keys, or the countries involved figured that it wasn't worth it to continue the hard-line paranoia stance considering how businesses in the area rely on BlackBerry devices.
source:
ReadWriteWeb