20MHz x 20MHz LTE coming eventually to all T-Mobile metro areas
15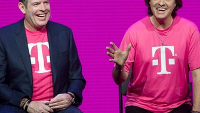 T-Mobile CFO Braxton Carter, speaking at the Oppenheimer Technology, Internet & Communications Conference on Tuesday, said that the carrier will eventually employ LTE spectrum in configurations wider than 20MHz x 20MHz. According to Carter, several metro areas will have 20MHz x 20MHz set ups by the end of the year.
While Carter says that it will require engineering work to offer configurations larger than 20MHz x 20MHz (like 30MHz x 30MHz and 40MHz x 40MHz), the executive says that the operator's pipeline will eventually expand past the 20MHz X 20MHz configuration. With wider spectrum, the capacity of the pipeline is larger and it allows T-Mobile to offer faster speeds.
T-Mobile currently uses 15MHz x 15MHz in 17 markets, and that number is expected to rise to 26 before the end of the year. T-Mobile calls this configuration "Wideband LTE". The carrier also plans on adding more 700MHz A Block spectrum through purchases, but Carter notes that T-Mobile will be "
very disciplined and opportunistic
." The mobile operator is in talks with sellers of the spectrum, but might have to put these deals on hold to avoid regulations against collusion, with the AWS-3 auction scheduled to start in November. The other deals might have to wait for 2015 to be completed.
Meanwhile, T-Mobile will start releasing smartphones that support A Block handsets in Q4. This year,
the operator has purchased $2.365 billion of 700 MHz A Block spectrum from Verizon Wireless
along with $50.5 million A Block 700 MHz spectrum from others.
source:
FierceWireless