17.7-megapixel CMOS sensor by Sony promises 120-fps video at maximum resolution
13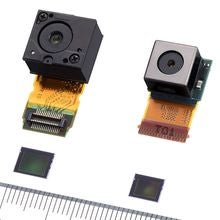 According to
Nikkei
, Japan's biggest business news source,
Sony
has announced it has successfully developed a new
17.7-megapixel CMOS sensor
intended for use in future mobile phones and digital cameras. Such resolution isn't something one can find on a smartphone today, but that isn't what stands out in this case. The new sensor is Sony's first, which is capable of capturing and transferring data at a rate of 34.8 Gbps – making it about five times faster than previous models, and it does it without stressing the battery either.
Thanks tho the greatly improved transfer speeds, the new sensor is theoretically capable of capturing video with a resolution of 17.7 megapixels (with 1080p video being a bit over 2 megapixels) at the impressive 120 frames per second, considering the device it has been attached to has the necessary processing power and storage capacity. Sony states this has been achieved by applying a new technique, which enables the sensor to "convert multiple pixels into signals simultaneously" resulting in the final image being generated up to four times faster than before. We can expect to see the 17.7-megapixel shooter appearing on cameraphones, as well as on Sony's CyberShot series of point-and-shoot cameras, but finding out when is only a matter of time.
source:
Nikkei
(reg. required) via
Engadget