14% would buy a $350 Apple iWatch according to a Piper Jaffray poll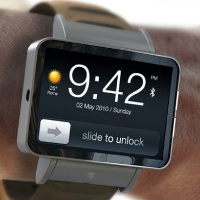 14% of those polled by a securities house, said that they would buy an Apple iWatch that was priced at $350. Piper Jaffray conducted the poll, which actually showed a small gain since October. In the earlier poll,
12% of those asked said that they would purchase the iWatch at the same price
. Teenagers showed a little more interest in buying the wearable, as 17% said that they would be a buyer of the timepiece at $350. Earlier rumors have the watch selling in a range between $250 and $350.
The Apple iWatch is expected to include a number of health-related sensors that would capture readings such as blood pressure, heart rate and possibly even blood glucose levels. The readings would be sent to an iPhone or iPad
running Apple's new Health app on iOS 8
, where the numbers could be analyzed and stored. In that vein, the Piper Jaffray poll revealed that 18% of those surveyed already own a fitness band, with half of those owning one of the devices made by Fitbit. 56% of those who own a fitness band wear it every day, and 18% of those who don't own one, plan on purchasing a fitness band over the next year.
The longer Apple waits to introduce the iWatch, the more competition the device will face when launched. Pebble has gone from Kickstarter project to successful smartwatch manufacturer. Samsung has also released a trio of timepieces
and is expected, along with LG and Motorola, to reveal smartwatches running Android Wear, at Google I/O
. The developer conference starts on Thursday.
Piper Jaffray surveyed 100 people in North America last month for its smartwatch poll. The average age of those questioned was 32, with an average annual income of $130,000.
source:
CNET