13.3" Toshiba AT330 tablet caught on camera at Toshiba World 2012
7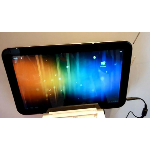 The overall trend has been that if you're planning to stray from the relatively standard 10" tablet size, it's best to go lower, especially to that 7" target. Toshiba has another idea, a pretty big idea really, for an Android tablet. We saw this tablet before
at CES
, but we didn't really get much of a sense of it because it was never turned on. Now, there is some hands-on video of the tablet from the Toshiba World conference.
The Toshiba AT330 looks like you'd expect an Ice Cream Sandwich tablet to look, but obviously, quite a bit bigger clocking in at 13.3". The tablet also has a bunch of ports, full size ports actually. There's an SD card slot, SIM card slot, and full HDMI port. Also, the model shown off had a built-in TV tuner and a retractable antenna as well. This feature makes it seem that this tablet is not designed for the USA since a TV tuner is not a feature we see much on devices that come here. Maybe there is another variant of the tablet made for a US release, but there's been no word on that.
Of course, the tablet still sounds pretty solid, packing a Tegra 3 processor, a 5MP rear camera and 1.5MP front camera. It looks pretty good, but would you go for a tablet this big?