13 funniest autocorrects of 2013: damn you, smartphone!
20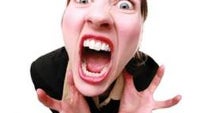 Ah, the smartphone! The little tech wonder in your pocket that can do miraculous things… like read your mind when you text. Yes, we're talking about auto-correct, of course. The little handy feature that would
atuoamitcalyl ifx yuor tpyos
… but not just them.
Sometimes, a smartphone just takes over. It remembers things. Like that time when you engaged in some
steamy texting with your girlfriend
. Or that not so funny nazi joke you decided to crack via a text message. Oh, it'd remember all the dirty curse words and insert them right when you text your mom or dad. Or boss.
The result? It might get you fired or grounded, but it will be written down in the annals of internet history, the archive of texting's epic failures, the Damn You Autocorrect website. We've grabbed the 13 funniest auto-corrects of last year for a good laugh, but also - as a warning. So don't rush it and take a look at that message before you send it, okay?