100 million people globally are tapping a mobile payment terminal with their phone or tablet
4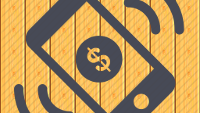 With the early success of Apple Pay, mobile payment services are in vogue. Softcard, founded by Verizon, AT&T and T-Mobile, is available on a number of Android phones with NFC. Last week,
Verizon and AT&T added Softcard support for the Windows Phone 8.1 powered HTC One M8 for Windows
. That is the first phone running the Windows Phone platform that supports the service. With
Apple Pay motivating many people to use a mobile payment service for the first time
, we should see a large increase in the number of people willing to tap their phone on a terminal. Softcard CEO Michael Abbott said about Apple Pay, "
It's a rising tide that has lifted all boats
."
According to an estimate by Juniper Research, this year we should see 1.6 billion people use a phone or tablet for at least one financial transaction. But another report by Juniper shows that there are only 100 million mobile wallet users around the globe that are willing right now, to make payments using services like Apple Pay, Google Wallet or Softcard.
The goal for these mobile payment services is to get more people feeling comfortable using a mobile wallet. It all comes back to security. As more people use Apple Pay or Softcard without a problem, the more the word gets around about how secure they are. Another point to consider is that these mobile payment services all require a phone or tablet
with NFC connectivity
. Only two iPhone models, the
Apple iPhone 6
and
Apple iPhone 6 Plus
, qualify. If Apple Pay continues to be successful, you can count on Apple to load NFC connectivity into all future iPhone models.
source:
JuniperResearch
(SubscriptionReq'd) via
GigaOm