10 romantic (and not necessarily pink) iPhone cases to surprise your Valentine with
4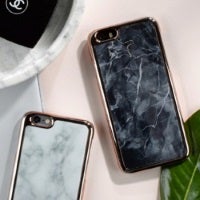 Hey there, lovebirds! Looking to get your significant other something nice for Valentine's Day? Great! Do they have one of the newer, big-screened iPhones? Hook them up with a cute romantic case that will protect their smartphone and also show the world they are loved by someone special.
We did the seek and select process so you don't have to, and we believe we have collected a cheerful, varied bunch of cases for you to enjoy! They are primarily for the 4.7-inch
iPhone 6
/6s, but most of them are also available for the Plus-sized models. In addition to lovely, inspired artwork, the cases offer basic protection against impact damage and the elements, fit the iPhones very well, and bring un-interrupted access to its ports and features. We really hope you like them and make someone very happy this Sunday!
More stuff for this year's Valentine's Day: