10 HTC One cases: the best body wrappers for your catwalk star
33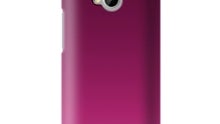 The
HTC One
has certainly got it in terms of design. Its slick and toned aluminum unibody just begs to be flaunted, and is one of the best Android phone designs around.
Still, a flagship phone comes with a flagship price, and if something happens to your precious, you'll be set back quite a few Benjamins, so wrapping the HTC One in a case sounds like a good idea, no matter how heartbreaking it might be.
Moreover, the phone itself feels a bit slippery in the hand precisely on account of the polished aluminum chassis, and the edgy sides, while looking great, don't help the grip much either. That's why we are gathering some of the best cases manufacturers are already coming up with for the HTC One, to help you pick a wrapper for that sexy body.