10 Android apps that you wouldn't expect to work
9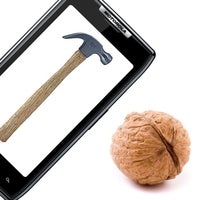 Have you ever stumbled upon an application that made you think to yourself:
"There is no way for this to work!"
? So have we, yet despite our disbelief, some of these dubious apps do seem to do whatever their author claims.
Well, we have handpicked a list of ten such applications. Some of them are meant to be practical, others are mostly for grins and giggles, yet surprisingly, all of them serve their purpose fairly well. They are all pretty fun to experiment with too, so feel free to check them out if they spark your interest.
Before we start, Metal Detector is not an app for treasure hunters as its range is quite limited. But that aside, it actually detects metal very accurately, as long as the object is close enough to your smartphone. What it uses is the device's built-in magnetometer to detect slight changes in the surrounding magnetic field – changes that metal objects in proximity are capable of introducing.
Traditional dog whistles work by emitting a high-pitched sound that a human's ear cannot detect, yet man's best friend is well capable of hearing. In a similar fashion, Dog Whistler synthesizes a high frequency sound wave that can attract a dog's attention. Be aware, however, that it might require some time and patience before your dog learns to respond to the sound emitted by the app, but some good old
classical conditioning
should do the trick.
Super Hypnotherapist is an app that is meant to help people who have troubles falling asleep. By using a very specific set of audio tones called binaural beats, it stimulates the brain in attempt to induce feelings of relaxation. The thing is that while the app helps some, it seems to act in an opposite way for others. The ones who have felt the effect, however, appear to be pleased with the app.
Anyone who has ever visited the Cleverbot web page knows what this one is all about. For those who don't – Cleverbot is an artificial intelligence program, and a very good one, we must add. Sometimes, it can really make you think that it is a real human you are talking to. However, it is just clever programming no matter how convincing it may seem. Nevertheless, it can be lots of fun to spend some time talking to a machine, so feel free to try it out.
In a nutshell, 20 Questions is a game, in which one of the players thinks of an object and the other or others have to guess it. And in order to do so, they are allowed to ask 20 questions about it. Well, here is the mobile version of the popular game where your smartphone is the one asking the questions. Those of you who are feeling skeptical about the program's ability to guess pretty much anything you can think of – prepare to be surprised.
Think of TweepsAround like a radar for Twitter users. With the help of some augmented reality magic, it shows you the ones who tweet nearby and projects their location on the smartphone's display, along with their profile picture and their tweet itself. Before you try it out, however, make sure you have Layar installed on your device.
ReconAge is an application that can determine a person's age with the help of a single photo. Sounds pretty cool, doesn't it? Well, unfortunately, it isn't what we would call precise, and its accuracy tends to drop drastically when the subject is below 15 years of age. Nevertheless, it works fairly well with adults, and even if it doesn't, it is really fun to try out with the guys at the office. Hopefully, future versions of the app will work better.
Want to trick your eyes into seeing weird stuff? Twister Illusion can give you the perception of objects warping before you in a matter of seconds. It projects a moving image on the phone's display, and after staring at its center for half a minute, you start experiencing the effect once you look away. Be aware, however, that it might get you dizzy after a while, so don't overdo it.
Having fun while exercising? Sounds impossible at first, but Zombie, Run! sure can make that happen. It is a game that displays a map of your surrounding area and projects flesh-hungry zombies on it. You appear on that map as well as the app tracks your current location via GPS. Your goal is to run away from them before you get caught, and believe us when we say that you will be sweating by the time you reach shelter.
As silly as it may seem, Face Blender is an app that can swap faces on photos. Yes, really. All it takes is a clear shot and that the subject's head is not leaning sideways, but if you get it right, the result can be hilarious.