Best Oculus Quest 2 deals: experience VR on a budget
We may earn a commission if you make a purchase from the links on this page.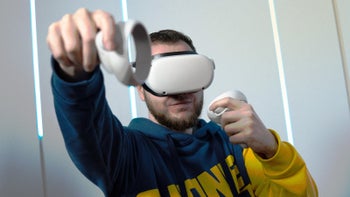 The Meta Quest 2, which remains way better known as the
Oculus Quest 2
, is one of the
best VR headsets
available right now, and by far the most popular.
One of the main reasons for that would be its affordable price, and the fact that it needs no expensive gaming computer to play games; it's completely standalone! So the already affordable Quest 2 saves you extra money by not having that requirement.
Whether you want to explore exciting virtual worlds, connect with people in a new way, or perhaps even do some work in VR - the Quest 2 is a great, budget virtual reality headset that can get you one step towards the future today.
But even a "budget" VR headset can be found for cheaper, so if you wish to get into virtual reality for a low cost, we're here to help with that! In this article we'll continuously add and update the best Quest 2 deals and discounts for you. Let's see what's available right now!
Best Oculus Quest 2 deals
Get a renewed Quest 2 with 256GB of storage for just $399.99.

If you want a Quest 2 with more storage than the base 128GB, then here's an opportunity to get twice the storage for just $399.99!
Get a renewed premium Quest 2 with 128GB for $50 off its usual price.

This Amazon deal gets you a renewed Quest 2 with 128GB for $50 off. Jump right into virtual reality on a budget right now! You can also get it in 6 monthly payments, which is even easier on the pocket.
Best Oculus Quest 2 bundle deals
Get a new Quest 2 and play Resident Evil 4 VR right away for $50 off!

The VR version of Resident Evil 4 is one of the most exciting games you can play on your Quest 2 right now, so jump right into the survival horror action by getting your new virtual reality headset with the game in question! Just $349.99 at Best Buy right now, $50 off the original bundle price.
Get double the base Quest 2 storage for just $30 more, plus 2 free games, even!

This Walmart deal gets you the 256GB Quest 2 for a much lower price than its usual $499, and on top of that epic discount, you get two games to start you up with! Those are GOLF+ and Space Pirate Trainer DX. Hey, variety is the spice of life!
Get a 256GB Quest 2 + 2 games for a clean discount on Amazon.

Similar to the deal above (so you have more choices!) Amazon is currently offering the 256GB Quest 2 with the same two games, with a discount!
Get a 256GB Quest 2, along with 2 games and the Quest 2 Elite Strap, all for $70 off!

If you want extra storage and a more serious strap for your Quest 2, this awesome deal here gets you the VR headset with an Elite Strap, and the aforementioned two games, all for just $489.98!
Travel a lot? Carry your next VR headset with confidence, get a Quest 2 with a carrying case and two games for $70 off!

This awesome Best Buy deal is perfect for those who plan on using their VR headset on the go!
Are Oculus Quest 2 deals worth it?
Taking advantage of a Quest 2 deal is definitely worth it, even if it doesn't net you a huge discount, as whatever cash you save can go towards cool new accessories for your VR headset, or perhaps a few games to start you with!
Many of the most popular Quest 2 games can cost anywhere between $10 and $40, so if the opportunity arises, why not get your new VR headset with a discount, and get some awesome games for it technically for free?
Can I get a discount if I buy the Oculus Quest 2 bundle with accessories?
Yes! You can indeed find a new Quest 2 along with some cool and practical accessories, such as a carrying case or an Elite Strap, for a discount! And we have deals like those included above! Of course, do keep in mind that it's obviously much cheaper to get just the headset, with nothing extra. Occasionally you may find it with free games, but any accessories do add some extra cost to the package, even if it has been discounted.
Will the Oculus Quest 2 go down in price?
It's reasonable to expect that the Quest 2 will go further down in price later this year, as Meta launches its successor - the Meta Quest 3. So if you don't mind waiting a few more months, and you're not sold on the current deals, it's worth checking in later to see how the prices for the Quest 2 are going.
But for most people, it's probably best to go ahead and pull the trigger on a Quest 2 purchase right now, as the headset is already quite affordable, so why delay dipping into the exciting world of VR?
What is the best time to buy the Oculus Quest 2?
As mentioned above, if you want to catch it for the lowest price possible, buying a Quest 2 after the Quest 3 gets released later this year would arguably be the best time to do so. But if price isn't your main concern here, the best time to get a Quest 2 is right now! No need to delay getting into VR any further, as this is a polished virtual reality headset that's been out for a couple of years and seen plenty of improvements through updates already. So if you can - get a Quest 2!