OnePlus Nord N10 5G review
7
We may earn a commission if you make a purchase from the links on this page.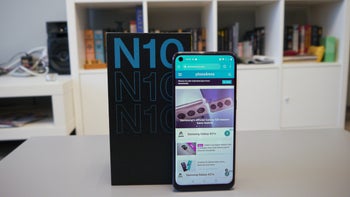 The
OnePlus Nord N10 5G
is meant to offer the OnePlus experience at a lower price since the company's flagships have slowly moved out of reach for many fans of the brand. To bring the price down, OnePlus was forced to make some compromises, but they were made with the aforementioned fans in mind. The Nord N10 has all the essential features of a OnePlus phone: 90Hz display, Warp charging and snappy software. Yes, it's not a performance powerhouse, but expectations have to be tuned according to the price. What matters is that it manages to deliver great value, which is what OnePlus was originally all about.
In the States, the Nord N10 comes with a killer price tag: $299. That will surely force other manufacturers to rethink their budget phone strategies.
In the box:
OnePlus Nord N10 5G
USB-C charging cable and 30W wall adapter
SIM tool
Quick start guide and warranty
Best OnePlus Nord N10 alternatives
If the Nord N10 isn't your cup of tea, there are some decent alternatives available. Samsung's
Galaxy A51 5G
is perhaps the best overall among them with the Google
Pixel 4a 5G
closely behind. Both have OLED displays but lack the higher refresh-rate. The Pixel, of course, benefits from Google's camera app, which is not something to glance over. And if you're looking for something cheaper, the
Motorola Moto G 5G
is a decent budget phone with 5G capabilities.
That being said, let's get back to the phone at hand, the OnePlus Nord N10. Starting with...
Design & Display
In terms of design, the OnePlus Nord N10 is quite unremarkable. At the front, we have a standard hole-punch camera and a slightly thick bottom bezel that's perhaps the biggest sign that this is a budget device. It doesn't look great but it's not a massive eyesore either so it's easy to get used to it.
Meanwhile, the back is just as unexciting. A rather boring-looking camera bump and a fingerprint reader that's placed a bit too high for my taste and requires an extra movement of the hand to reach.
Volume rockers on the left, at the same level as the power button, which isn't ideal in my opinion but at least makes for easy screenshot-taking. No alert slider, something we love on OnePlus phones as it makes it super easy to turn off your sound and vibration.
The phone feels well-built and has a good heft to it. Overall, if it wasn't for the OnePlus logo, you'd be hard-pressed to recognize that this is a OnePlus phone, as its design is pretty generic.
The display isn't that generic, however. It's a 6.4-inch IPS LCD one with a 2400x1080 resolution and a 90Hz refresh rate, which isn't something you see often in that price range. The extra smoothness is always welcome, but if you prefer to extend your battery life instead, you can switch to 60Hz at any time.
The quality of the display is quite good, the images are sharp, the colors are vivid and it gets plenty bright if you need it to. There is some color distortion when you're not looking at it exactly perpendicularly and there's the slight shadowing around the edges that's typical for LCD panels, but in most use cases those aren't even noticeable.
Display measurements and quality
Camera & Audio
The OnePlus Nord N10 has a quad-camera system but as you've probably guessed, that's slightly misleading. Not that there aren't really four cameras on the back, there are. But one of them is a 2MP macro camera and another is a 2MP black and white camera that has no real purpose as far as we could tell.
The good news is that the main camera has a 64MP sensor and the ultra-wide-angle one has an OK 8MP one.
But how do the cameras perform? Well, let's take a look at some samples:
Unsurprisingly, the daytime photos look respectable. These days most phones do a good job of taking photos when the lighting is good. Yes, the color accuracy in some scenarios is not amazing, but considering the class of this phone, we can't really complain too much.
When it comes to zoom, the phone relies on cropping photos taken by the main camera and digital zoom. Thanks to the 64MP sensor, the result is fairly decent up to 5X zoom. At 10X, things start getting ugly, but if you're in a pinch, it's better than nothing.
As for the macro camera, well, it does allow you to shoot objects from a very close distance but that's mostly negated by the small 2MP sensor. In most cases, you're better off taking a 64MP photo and cropping the part you want to focus on.
At night is where things get interesting. OnePlus has a dedicated mode called Nightscape that you can use for low-light shots with both main and ultra-wide cameras. In Nightscape mode, the frame is slightly narrower than it is in a normal mode and the colors are visibly enhanced. Take a look:
It's safe to say that the OnePlus Nord N10 takes night shots that you'll be happy to post on social media. Sure, maybe they're not quite on par with those of the iPhone 12 and the Note 20 Ultra, but we have to remember that this phone costs about half of what flagships are these days.
To get a better idea of what Nightscape mode does, here is the same photo taken with Nightscape off and then with it on:
< Nightscape mode ON
Nightscape mode OFF >
Nightscape makes the photos look much more dramatic. Sharpness and saturation are upped significantly compared to the regular photo. Which, it must be said, is not a bad one either, you can definitely use the phone without Nightscape even in low light.
The 16MP selfie camera was a nice surprise. Even in challenging conditions, the HDR handled bright spots and darker areas quite well. In low-light, you get the unavoidable softness but with the flashlight on (which is just the display getting as bright as possible) the situation is much better and you'll be happy with the results.
When it comes to video, we don't have many superlatives to share. The video stabilization isn't great and the microphones appear to be extremely sensitive to how you're holding the phone, basically ruining the audio unless your fingers are just at the right spot.

Speaking of audio. Time to mention the Nord N10's speakers. The good news is that it uses the earpiece for stereo sound and combined with the bottom speaker, the volume can get quite loud. The sounds is clear but can get a bit tinny depending on the song. Don't expect deep lows either.

There are no headphones bundled with the phone, but the good news is that it has a headphone jack, so you can plug any pair you might have laying around.


Software & Performance

As you can see from the benchmark results below, the OnePlus Nord N10 is far from its flagship cousins in terms of performance. That doesn't mean the phone is slow, however. You can still easily play heavy 3D games like Call of Duty, just on slightly lower settings.

Perhaps the best thing about this phone is that it's running OxygenOS, which many consider to be better than "stock" Android. In daily use, the N10 feels perhaps a fraction slower than the premium OnePlus phones but there's no reason for frustration at all. The OS allows you to customize your menus, icons, even choose between an app-drawer or just a row of home screens for your app collection.



Battery life
The Nord N10 has a 4,300mAh battery and it provides an excellent battery life. If you're not a heavy user, it will easily last you through two days. It's truly shocking how long this phone can last on a single charge. Easily one of the best things about this phone.
And when it's inevitably time to charge the N10, the included 30W charger will do the job in a jiffy.