id America TouchTone Portable Wireless Speaker Review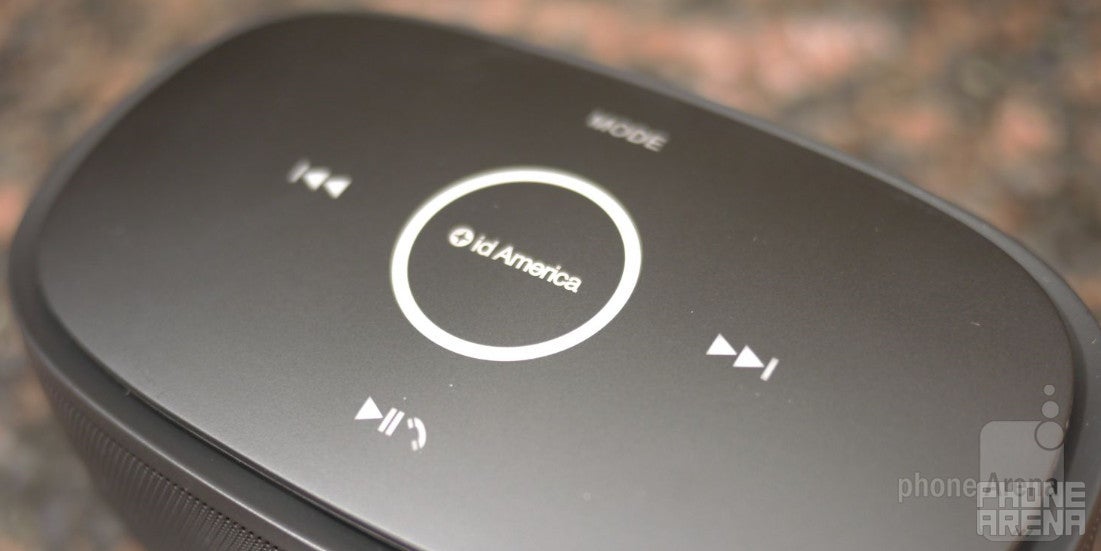 id America's TouchTone Portable Wireless Bluetooth Speaker is yet another option to think about if you're in the market for portable speakers that have wicked power for the road. At first glance, it looks as though it rivals many of the entry-level models we've been seeing within the $50 range, but id America is kind enough to offer the Bluetooth speaker in a rainbow of colors to give consumers more choice.
Generally speaking, the design of the TouchTone doesn't scream fresh or original, since its shape is all too familiar. Luckily though, the overall construction of the speaker is fairly sturdy, thanks in part to its stainless steel and rubber casing, which is further strengthened by its somewhat weighty feel. Similar in shape to a large stone, the TouchTone's facade is predominately dominated by its rugged speaker grill, which wraps around the entire thing.
Along the top surface, there are several touch sensitive buttons and a circular middle one that lights up in that distinctive Bluetooth blue color when it's on. With that circular middle touch button, it actually acts as the speaker's volume controls – where moving our finger in a clockwise motion increases it, while a counter clock motion will decrease it. Surrounding it are function buttons for track forward, track reverse, pause/play/pickup/end call, and mode. With the latter, it's used to switch from Bluetooth to its line in mode, or activating/deactivating the auto answer feature.
Pairing it up to a
Samsung Galaxy S4
, we'll admit that its audio quality is pretty decent. Challenging the speaker by placing it at the loudest volume setting, the TouchTone is able to maintain a pleasant level of audio – while being accompanied with some thumping bass tones. Indeed, there's a subtle amount of strain with the output, but at least it doesn't crackle tremendously. Overall, the audio output is undeniably commanding enough to fill small rooms. Stuffed with a rechargeable lithium-ion battery, it's rated to provide 4 hour of continuous playback from a full charge.
Alright, the TouchTone isn't afraid to show other Bluetooth speakers its commanding audio quality. Sporting a sticker price of $79.95, it's just a little bit higher than we'd like to fork over for a portable speaker of this caliber – though, some people will be sold alone by its sturdy build quality and great audio.
Recommended Stories