Xiaomi Mi 10T Pro 5G Review
3
We may earn a commission if you make a purchase from the links on this page.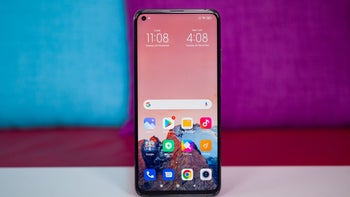 Xiaomi has designed the Mi 10T Pro 5G with the following goal in mind – to deliver a flagship camera, display and speed for the price of £599. The result: goal accomplished, expectations exceeded.
The Xiaomi Mi 10T Pro proves that you don't need to overspend on a flagship smartphone. With its beautiful, sharp and super-smooth 144Hz display, fast performance, strong battery life and versatile cameras, the Mi 10T Pro 5G is the perfect choice for pretty much anyone who's looking beyond just Apple, Google and Samsung.
What's in the box
The Xiaomi Mi 10T Pro comes in an understated box. Inside, with the phone itself, we get a clear case which is about one third transparent and two thirds foggy. It has obnoxiously huge Xiaomi branding on it, which definitely discouraged me from using it, but other than that, it is a high-quality free case that will protect the phone's back and sides from scratches.
Inside the box is also a SIM ejector tool and a USB Type-C-to-headphone jack adapter, which is highly appreciated, considering some manufacturers won't even give you a charger nowadays.
Speaking of chargers, we also get a 33W fast charger and a USB Type-C charging cable.
Design
The front and back of the Xiaomi Mi 10T Pro, including the camera lenses, are all covered by Gorilla Glass 5. But the back does feel plasticky, and really shows smudges and fingerprints, so things could have been better.
In any case, the Mi 10T Pro feels solid and its build quality is fantastic. It's not super light or thin, as it packs a huge battery – 5000mAh. Thus, the phone weighs 218 grams and is 9.33mm thick, so people coming from thin and light phones will notice a difference. In contrast, those who often use big-battery phones should be fine with this weight. It's the perfect balance between a nice-looking design and high battery capacity.
The phone features round edges and feels good in the hand, with the power button (also a fingerprint sensor) positioned on the right side of the phone, where your thumb would naturally rest, at least if you're right handed. The volume keys are just above it and feel reliable and clicky.
The only notable design element at the back of the phone is the camera module, which is quite large. But if the cameras inside are great – I'm sure most of us will be fine with it. We'll get to camera quality and samples soon. But because of that camera module, the phone does rock when you're using it as it's laying on a flat surface. It's no issue in any other use cases, and in fact, the camera module is designed in a really cool and distinctive way, adding character to the Mi 10T Pro.
The Mi 10T Pro 5G comes in three color variants – Cosmic Black, Lunar Silver and Aurora Blue. No crazy color patterns or anything like that.
Display
The Xiaomi Mi 10T Pro sports a 6.67-inch display. It may not be OLED, but it's quite the impressive LCD panel. With its pixel resolution of 2400 x 1080 and pixel density of 395 pixels per inch, everything on it looks nice and sharp.
The display also has Xiaomi's AdaptiveSync technology, which dynamically regulates the screen refresh rate, which can go up to 144Hz. Thus, the MIUI interface, as well as games and apps that support high refresh rates look super smooth. It's definitely a notable upgrade from a standard 60Hz display.
And if that's not impressive enough, the display comes with HDR10 (high-dynamic-range video) support, and according to our testing, can reach up to 673 nits of maximum brightness.
What does this mean in regular usage? The Xiaomi Mi 10T Pro's screen looks fantastic, with realistic colors, great contrast, sharpness, and is well visible even in direct sunlight. And last but not least, if you dislike curved displays, you'll be happy to know that this one is flat. It would've been nice if there was the option of always-on display, though, but it is missing. However, we have a notification light next to the earpiece.
Display measurements and quality
Camera
The camera module at the back of the Mi 10T Pro holds three cameras. Those are 108, 13 and 5MP (megapixels) respectively.
The 108MP main camera is a Samsung sensor with optical image stabilization and up to 30x digital zoom. The 13-megapixel camera is ultra-wide angle with an FOV of 123°, while the 5-megapixel one is for macro shots.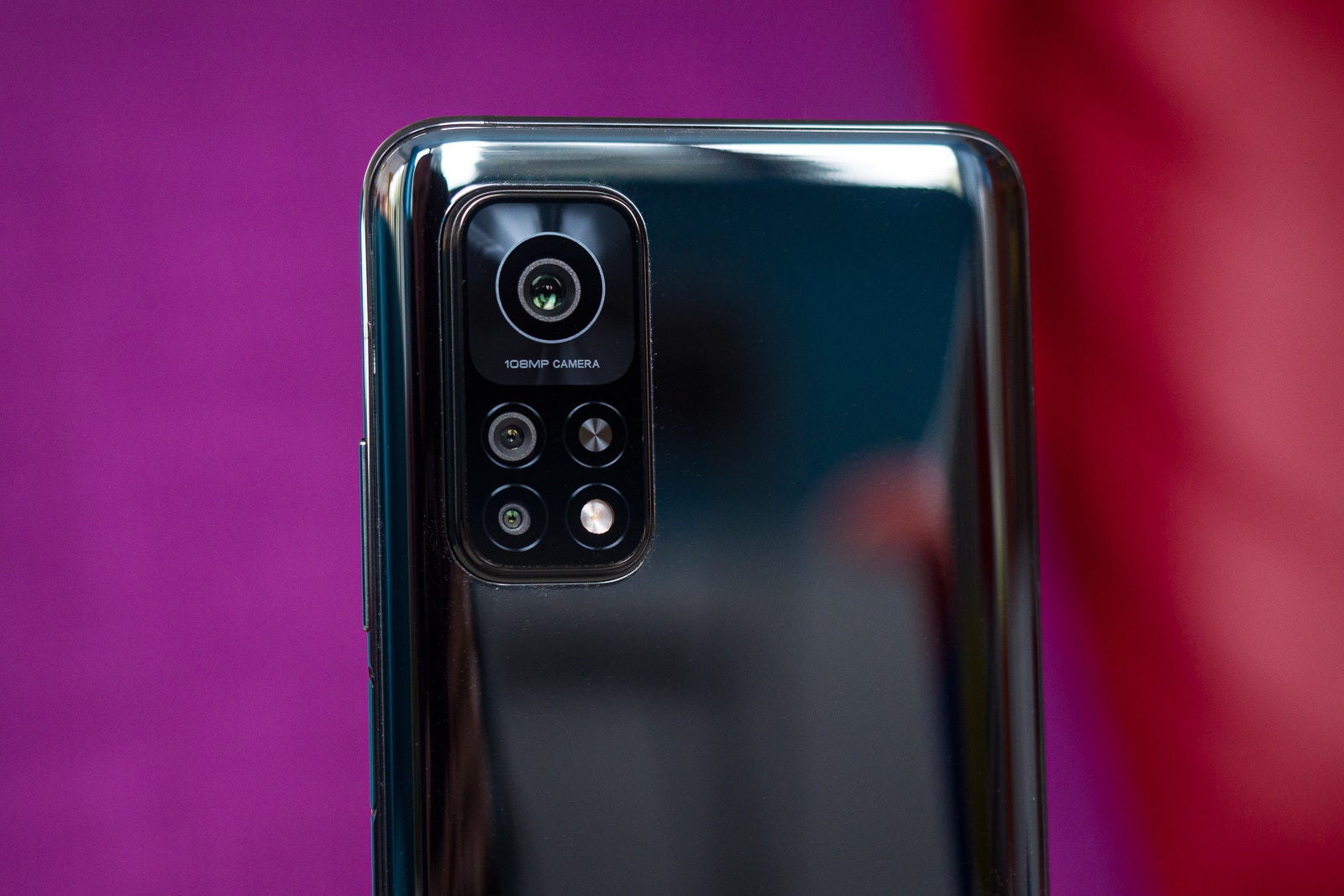 The selfie camera we get is a small and absolutely unobstructive punch hole one, placed at the top left of the display. It never gets in the way and I often forgot that it's even there.
The camera app on the Mi 10T Pro is bursting with features and customizations. Automatic HDR is enabled by default, and you can also enable an AI camera feature, which aims to adjust your photo according to the scene. We have color filters as well as "Beautify" – a feature capable of reshaping your face a bit or smoothening your skin. It was on by default, which is an odd choice for a phone sold in western markets, but makes sense for China, where such filters are highly popular.
The camera app also has a "Pro mode", which lets you manually adjust white balance, ISO and such, and a "Portrait mode".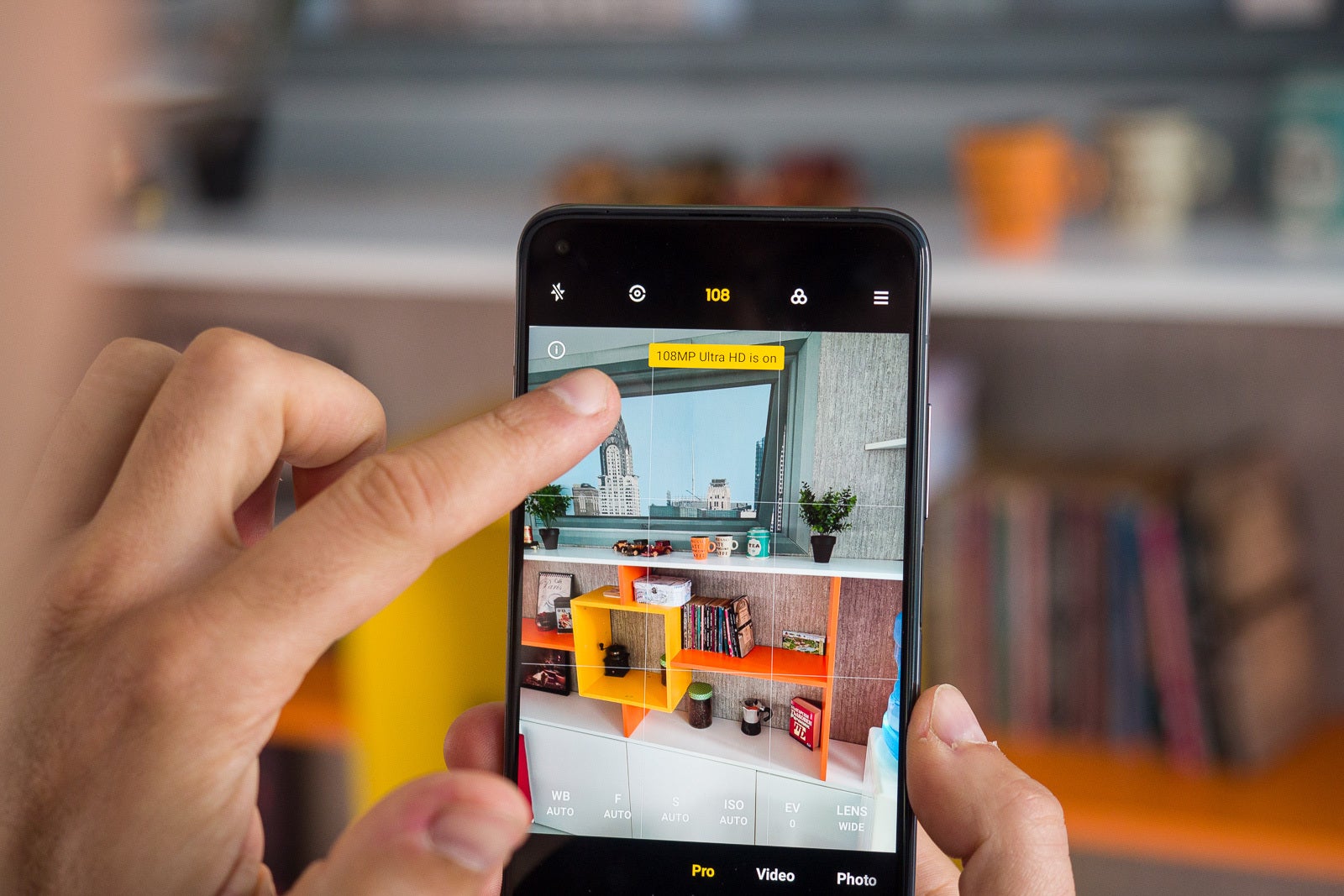 From the right distance, meaning close, portrait shots look pretty great, with the subject near perfectly separated from the background, which itself gets blurred. However, as you can see in the sample portrait photo here, part of the background that's between my arms and body isn't blurred. This often happens on phones where portrait shots rely solely on a single camera and AI processing, but this phone has several back cameras, so you'd think it should have enough data to avoid this mistake.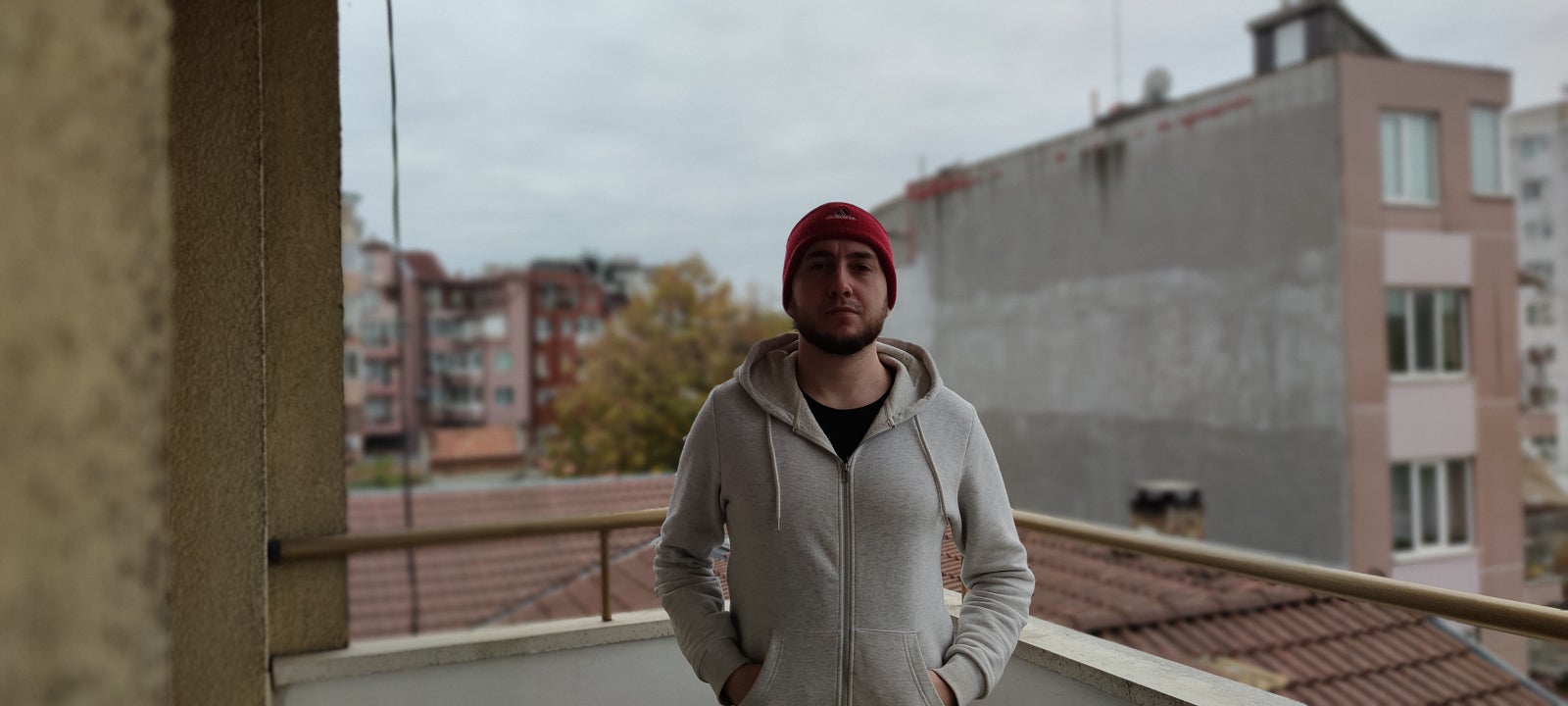 Photos from the main camera with default settings look generally nice and sharp, with natural colors and good automatic HDR, which makes sure the bright sky isn't overblown in contrast to the landscape, for example.
At night, the phone will ask you to hold it steady for a bit when capturing photos, in order to take in as much light as possible and process the scene. The results were pretty impressive in my usage. Those night mode samples you see here were taken during a very dark and cloudy night, yet the Mi 10T Pro still managed to produce bright photos. Most night scenes photographed with this phone come out significantly brighter than they appear in real life, and with good colors too.
There's up to 30x digital zoom available when taking photos, which starts getting blurry after 5x. This is to be expected, as what the phone does is simply enlarge the photo. 2x zoom looks impressively sharp though, likely a testament to those 108 megapixels.
Photos from the ultra-wide angle camera come out with similarly natural colors, but aren't as sharp as photos from the main shooter. This seems to be the case with many phones, actually. In any case, the ultra-wide angle camera captures a whole lot more than the main camera, and the results are well above adequate for social media use.
And lastly, let's talk about the macro camera, which has the least megapixels and it shows. I couldn't quite capture a stunning photo with it. In good lighting, you can really get close to a tiny flower or any small object, really, and take a decently sharp close-up shot. But you need a bit more distance from the subject than with other macro cameras I've tried, so you can't capture things that are too tiny without blurry results. At a distance, macro shots come out sharper, but then why wouldn't we just use the main camera? So, the macro camera here was likely an afterthought, only here for the few people who may want it. For outdoor shots, it does the job.
On the other side of the phone we have the single selfie camera, which should satisfy most users. Your face will be captured with a good amount of detail, especially in good lighting. There's a bit of blur applied to far-away backgrounds, which is a hit or miss. On one side it adds more focus to you as the subject, on another, I'd rather have a sharp-looking background. But again, for social media use, the selfie camera is well capable.
Let's talk video. You can record video at up to 4K, 60FPS (frames-per-second) on the Mi 10T Pro. By default, video recordings are clearly being stabilized, which works well if you don't move the camera too much, but if you're walking or running, for example, the resulting stabilisation can be way odd and unnatural-looking. At least that's the case when filming at 4K, 60FPS. At the default 1080p, 30FPS video recording the stabilization is impressively competent though, resulting in footage that looks as if recorded with a gimbal. The camera's auto-focusing on objects on the fly is particularly impressive too, very quick.

As for colors, in videos they once again appear natural. Footage is sharp and detailed at both 4K and 1080p. Videos from the ultra-wide camera also come out sharp, although with stronger contrast and slightly muted colors. For optimal wide angle recordings, you will need a clear, bright sky for good natural lighting.



It's also worth mentioning that this phone can capture 240FPS slow motion video, which won't be the sharpest, but the results look almost universally captivating. I would venture to guess many will find it a fun feature to play around with.


Audio
The speakers on the Mi 10T Pro could have been better. There's a tad of bass, but barely any mids, and very strong highs that get overpowering and even a bit screechy at high volumes. On top of that, sound vibrates the back of the phone a bit, which you can feel with your fingers while holding it, and it's not a good feeling. The phone doesn't rattle or anything like that, though. It's a solidly built phone, but sound doesn't seem to be escaping it ideally.
In any case, the sound is loud and in stereo, thanks to the earpiece doubling as a speaker. Surprisingly, there's no headphone jack on the Mi 10T Pro. Xiaomi was among the last standing champs to still include it until recently, but apparently, the time has come to join Samsung, Apple and the rest in excluding it. I still appreciate how long Xiaomi held on to it, but it's now odd that this phone still has an IR (infrared) blaster, yet no headphone jack.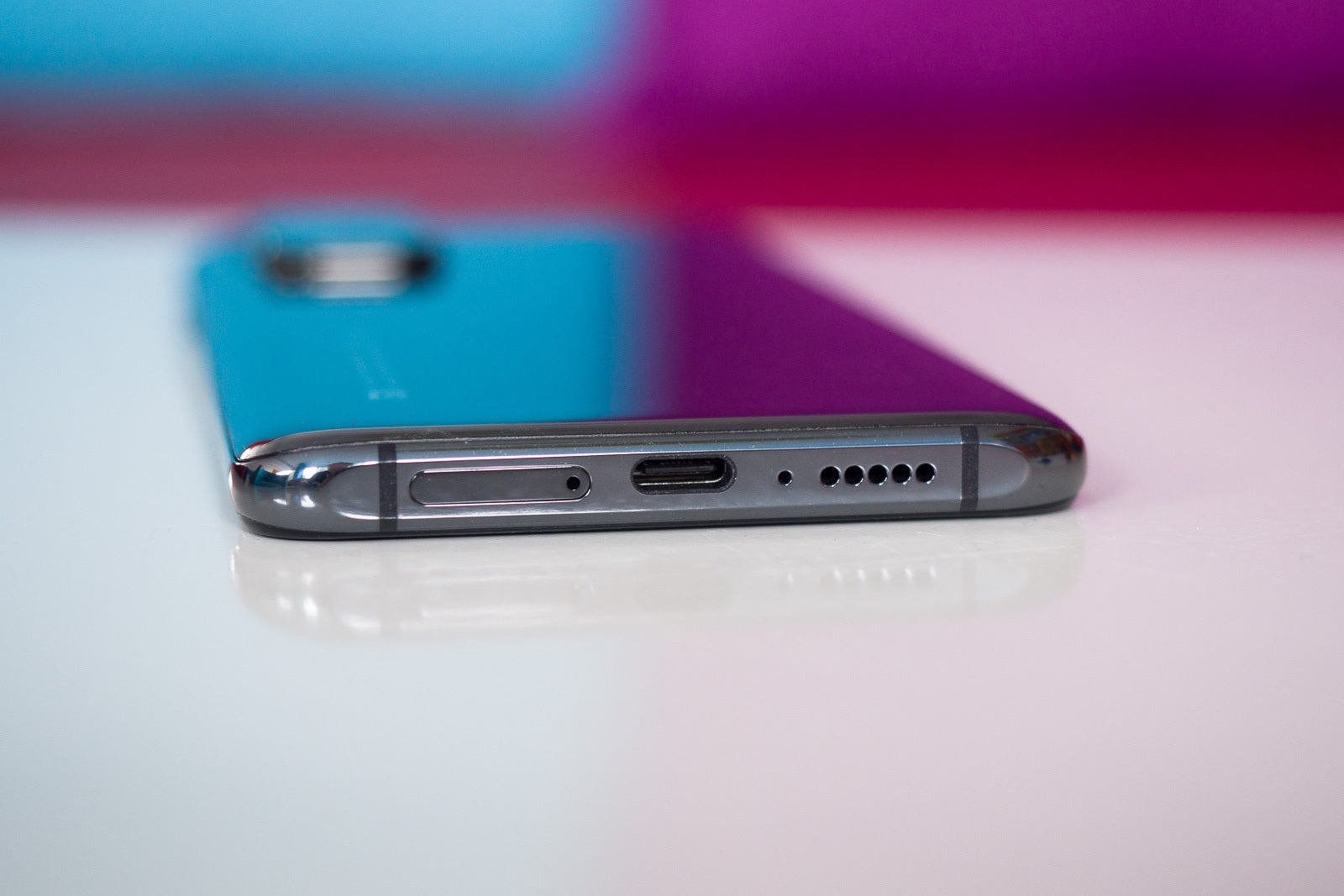 But hey, we get a USB Type-C-to-headphone jack adapter out the box, so plug that in and you'll be enjoying loud and clear sound from your favorite wired headphones. And once you plug in (or Bluetooth connect) your favorite headphones, additional "Sound effects" options get enabled in Settings. From there you can change your maximum volume level or open an equalizer and tune the sound to your liking. I cranked up the bass as I always do, and the results were mindblowing. Not only did the bass get significantly stronger, but it didn't muddy up the overall sound or cause the mids and high frequencies to bounce around in volume. Such are the many high quality MIUI features I've always appreciated, and will further talk about in the next section. I am using balanced studio headphones though, so if you plug in already bass-heavy ones and further boost the bass, the resulting sound could get messy, but it won't be the phone's fault.
As for call quality, the earpiece sounds clear and can get loud, and you will sound similarly loud and clear on the receiving end of a phone call or Zoom meet.
Software & Performance
At the time of this review, the Xiaomi Mi 10T Pro 5G is running Android 10 with MIUI 12.0.10 on top. The Android security patch is dated September 1st. And since we're talking numbers, the phone has 8GB of RAM, 128GB of non-expandable base storage, and is powered by the Qualcomm Snapdragon 865 processor (with 5G). What this translates to in normal day-to-day usage is really snappy performance.
Xiaomi's MIUI 12 interface is very pleasing, and we can see just how much consideration was put into it, with the user's convenience in mind. For example, MIUI really makes sure you read a warning, twice, before agreeing to erase all of your data from your phone during a factory reset. And with its smooth, fast and elegant design, MIUI is definitely my personal favorite Android skin. Plus, it comes with a screen recorder, video and image editors - pretty much anything you may need. Also, past MIUI users will be happy to know that notifications arrive on time now, and important social media apps aren't being killed in the background to save on battery life, as was once the case with Xiaomi phones.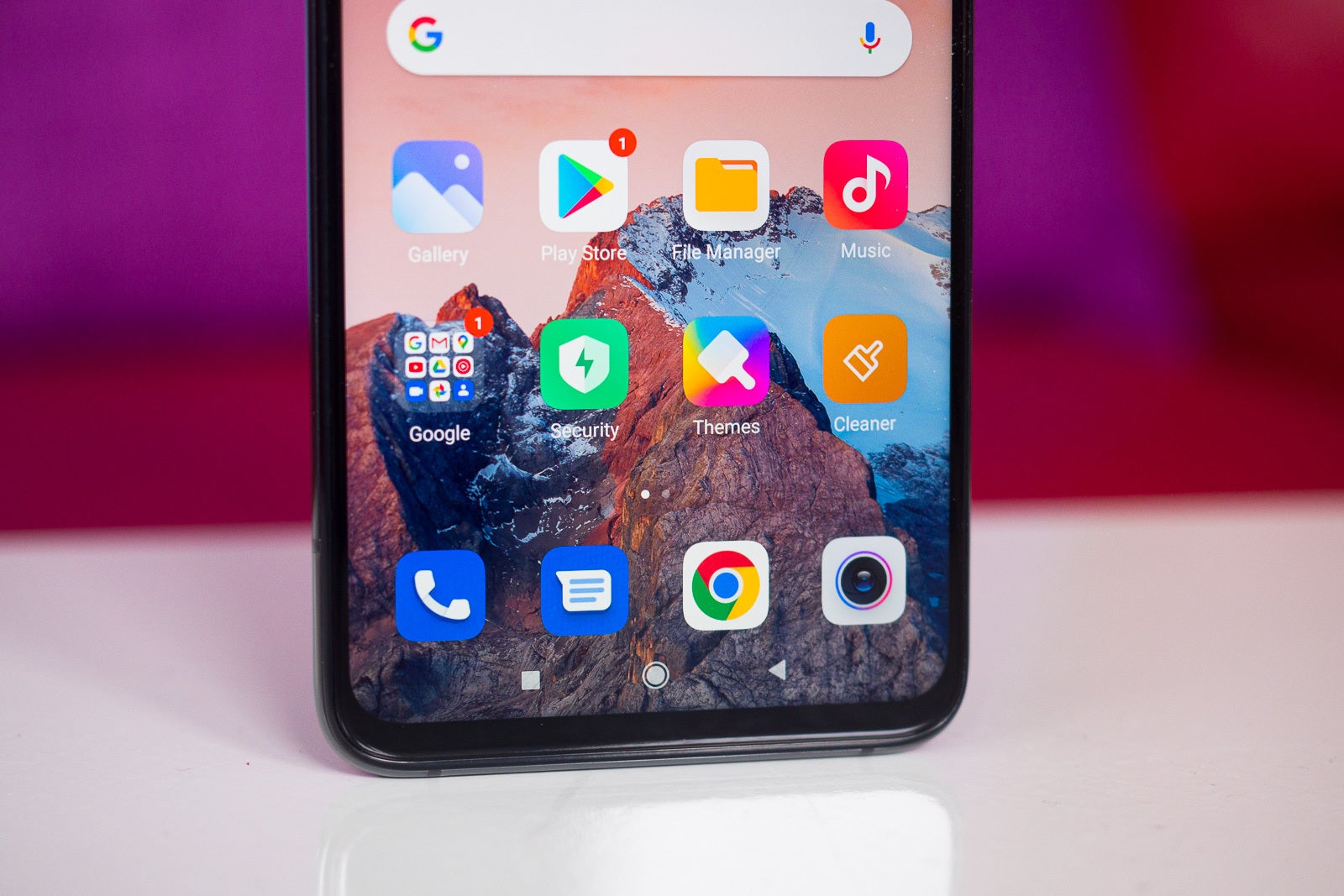 The launcher itself is clean, fast and customizable. It doesn't have an app drawer by default, but it can be enabled. Similarly, the phone uses on-screen navigation keys by default, but you can switch to Android 10's gesture navigation, which is what I did, and it works fantastic. MIUI even shows a little tutorial helping you understand the gestures.
MIUI also has something I wish my Samsung tablet had, and that's "Dual apps". What this does is allow you to run two instances of the same app, with two different accounts logged in. For example, you can run two instances of Skype, with both your personal and work accounts logged in, which also works for Instagram, Facebook and most other apps.
Fingerprint sensor and security
For unlocking your Xiaomi Mi 10T you can use face recognition, which is the less-secure and basic type that most Android phones support. But you'll probably want to use the fingerprint sensor instead, itself embedded into the phone's power key.
The fingerprint sensor is super fast and accurate, among the fastest I've ever used. And with that 144Hz screen refresh rate, it feels like the phone is unlocked and ready for you almost the exact instant you touch the sensor. Very impressive!
MIUI 12 also has a handy "Privacy protection" menu in Settings, where you can clearly see which apps have permissions to access your sensitive data, such as your location, contacts, call logs and microphone. In that menu you can, of course, choose to deny such permissions.
Battery life
As mentioned earlier, like many Xiaomi phones, this one packs a hefty battery (5000mAh) and in turn has great battery life. Despite its super-smooth adaptive 144Hz display, this phone lasts me nearly four days of medium usage. It's safe to assume that even the heaviest of users will be able to squeeze two days between charges from the Xiaomi Mi 10T Pro.
And those charges are fairly quick, too. With the 33W fast charger the phone comes with, charging from 20% to 100% took me just about 50 minutes, which is pretty good for such a huge battery.