Xiaomi 12S Ultra vs Samsung Galaxy S22 Ultra
4
We may earn a commission if you make a purchase from the links on this page.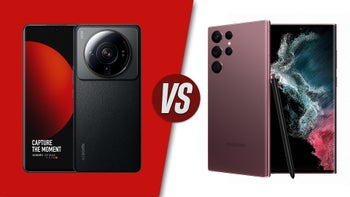 Intro
The Xiaomi 12S Ultra comes with a giant camera system and aspirations to beat all other phones in the camera game, so what better phone to compare it to than the Galaxy S22 Ultra, Samsung's very best camera phone out there?
Both are large phones with cameras that can shoot well at night, as well as zoom in, but the Xiaomi brings a larger sensor that gives it an advantage in low light, plus it has a single 5X zoom camera vs the dual zoom camera system on the Galaxy.
In this comparison, we will compare not only the camera quality, but also the performance, battery life, charging speeds and all the other interesting details to help you find which of these two extraordinary smartphones is better for you.
Xiaomi 12S Ultra vs Samsung Galaxy S22 Ultra in a nutshell:

6.7"+ screens with 1440p resolution and 120Hz refresh rate on both
Larger main sensor on Xiaomi
Galaxy has a 3X and 10X zoom cameras, Xiaomi only has 5X zoom
Xiaomis has faster chip
Galaxy has bigger battery
Xiaomi has faster charging
Samsung Galaxy S22 Ultra pros and cons

Xiaomi 12S Ultra vs iPhone 13 Pro Max
Design and Display Quality
Large screens, beautiful styling
These two are big phones with large screens, but they also differ slightly. The Galaxy is a bit wider, whereas the Xiaomi is narrower and a bit easier to grip.
Both have slightly curved screens, a 6.7" one on the Xiaomi and a 6.8" one on the Galaxy. No compromises have been made: 1440p resolution on both for perfect clarity, 1-120Hz adaptive refresh rate thanks to LTPO tech, and all that jazz.
One slight advantage the Galaxy has over the Xiaomi is the peak brightness which can reach a whopping 1,750 nits vs 1,500 nits on Xiaomi.
Both lack a headphone jack, but are well protected from the elements with an IP68 dust and water resistance rating.
The pair also use in-screen fingerprint scanners, an ultrasonic one on the Galaxy and an optical type on the Xiaomi. We will be testing and comparing this soon.
One thing the Galaxy has and the Xiaomi does not is an S Pen. Having this built-in stylus can be very useful if you are an artist or an architect, or just like to tinker around with handwriting and drawing things on your device.
Performance and Software
Being newer, Xiaomi 12S Ultra gets a "plus" for performance
Being launched later in the year, the Xiaomi 12S Ultra benefits from using the latest and most powerful Qualcomm Snapdragon 8+ Gen 1 chip, while the Galaxy S22 Ultra runs on the slightly less capable regular (non-plus) version of the same chip. Worse yet, Galaxy users outside the United States will get a totally different processor, the Samsung Exynos 2200 which has even lower speeds and also affects camera performance too.
Xiaomi officially claims the plus version of the chip is 21% smaller, with both CPU and GPU getting a 10% improvement in speed and a 30% boost in energy efficiency, so the 12S Ultra uses significantly less power in standby. We'd have to test that, but it sounds promising.
The rest of the components on both Ultras match: LPDDR5 fast RAM and UFS 3.1 type storage.
One area where Samsung has really impressed us lately is its software update policy that ensures its phones will stay relevant for years to come. Here is how these two companies compare in that regard:
Xiaomi - 3 years of major OS updates, 4 years of security updates
Samsung - 4 years of major OS updates, 5 years of security updates
Camera
A revolutionary new sensor makes all the difference for Xiaomi
Smartphone cameras are inherently limited by their size that just don't allow them to use large camera sensor that usually correspond with higher image quality.
The Xiaomi 12S Ultra changes that as it is the first smartphone equipped with the Sony IMX989 1-inch camera sensor, a revolutionary sensor that for the first time matches in size sensors on powerful compact cameras.
| Specs | Xiaomi 12S Ultra | Galaxy S22 Ultra |
| --- | --- | --- |
| Main Camera | 50MP, 23mm, f/1.9 lens, 1" sensor | 108MP, 23mm, f/1.8 lens, 1/1.33" sensor |
| Ultra-wide | 48MP, 13mm, f/2.2 lens, 1/2" sensor | 12MP, 13mm, f/2.2 lens, 1/2.55" sensor |
| Telephoto | 48MP, 5.2X zoom, 120mm, f/4.1, 1/2" sensor | 10MP, 3X zoom, 70mm, f/2.4, 1/3.52" sensor |
| Telephoto #2 | - | 10MP, 10X zoom, 230mm, f/4.9, 1/3.52" sensor |
| Front Camera | 32MP | 40MP |
As you can see, the Xiaomi has larger sensors on all cameras, but the Galaxy has a secondary telephoto camera that is missing on the Xiaomi. We are curious to see how the singular 5.2X zoom camera on the Xiaomi compares to the 3X + 10X zoom camera combo on the Galaxy.
Audio Quality and Haptics
Both phones feature a dual loudspeaker setup with a bottom-firing main speaker and a secondary speaker embedded in the earpiece. That gives you a stereo sound effect and louder sound. We are yet to test the two side by side, and will update this section with impressions soon.
Same goes for the vibration motor quality on both. Expect flagship-level haptics, but we can only give you more details after these two undergo our testing procedures soon.
Battery Life and Charging
Xiaomi's larger sensor limited its ability to put a bigger battery
With a 4,860mAh battery on the Xiaomi 12S Ultra and a 5,000mAh battery on the Galaxy S22 Ultra, the Samsung phone has the upper hand.
Xiaomi explains that with such a large camera sensor, space for battery was limited, and that is why it went with a slightly lower battery capacity, but to be honest, the different of 140mAh is merely 3% less than the Galaxy.
Where Xiaomi differs is in the use of a new power controller chip that ensures the battery doesn't overheat and lasts longer.
Charging speeds are also significantly faster on the 12S Ultra at 67W vs a max of 45W on the Galaxy.
Both phones also support wireless charging with again, a significant difference in speed: 50W on the Xiaomi vs only 15W on the Galaxy.
Specs Comparison
And for a quick summary of the differences between the two, check out the table below. Don't forget that we also have the full Xiaomi 12S Ultra vs Galaxy S22 Ultra specs comparison over at our dedicated page.
Specs
Xiaomi 12S Ultra
Galaxy S22 Ultra
Size and Weight
163.17 x 74.92 x 9.06mm, 225g
163.3 x 77.9 x 8.9 mm, 228g
Display
6.73" OLED, 1440p, 1-120Hz
1500 nits max brightness
6.8" OLED, 1440p, 1-120Hz
1750 nits max brightness
Processor
Snapdragon 8+ Gen1, 4nm
Snapdragon 8 Gen1 in US
Exynos 2200 ROW
RAM and Storage
8GB+256GB
12GB+256GB
12GB+512GB
LPDDR5 RAM, UFS 3.1 storage
8GB+128GB
12GB+256GB
12GB+512GB
12GB+1TB
LPDDR5 RAM, UFS 3.1 storage
Software
Android 12 with MIUI 13
Android 12 with One UI
Cameras
50MP wide camera, 23mm, f/1.9 aperture, 1" sensor (Sony IMX989)
48MP ultra-wide camera, 13mm, f/2.2 aperture, 1/2" sensor (IMX586)
48MP 5.2X zoom camera, 120mm, f/4.1, 1/2" sensor (IMX586)
108MP wide camera, 23mm, f/1.8 aperture
12MP ultra-wide camera, 13mm, f/2.2 aperture
10MP 3X zoom camera, 70mm, f/2.4
10MP 10X zoom, 230mm, f/4.9
Battery Size
4,860 mAh
5,000 mAh
Charging Speeds
67W wired
50W wireless
10W reverse wireless
45W wired
15W wireless
4.5W reverse wireless
Price
from $900
from $1,200
Summary and Final Verdict
The Xiaomi 12S Ultra challenges the Galaxy S22 Ultra for the best phone camera title, but does it succeed?
It's too early to tell, but it definitely has the upper hand when it comes to the technology with more capable camera sensors used, plus it beats the Galaxy in the speed department and charging speeds. The Galaxy has the advantage of a built-in S Pen, as well as that long-range 10X periscope zoom lens, but it's a very close call between the two.
Which one would you go for?