Verbatim Wireless Bluetooth Mobile Keyboard Review
10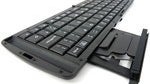 Introduction and Design:
With no end to it, we're always seeing manufacturers pushing the envelope in trying their best to pack on larger sized displays with our modern smartphones, but despite their best efforts in making the typing experience a bit easier on the fingers, some people would rather resort to using something with a physical response. Obviously, there are quite a few solutions out there available to customers, such as QWERTY based smartphones, but their layouts can be too cramped to comfortably type. Well, that's where the
Verbatim Wireless Bluetooth Mobile Keyboard
comes to mind as it offers a practical solution with its portability and functionality. Flaunting an average price tag of $79.99, will this be something that's significant enough to be a complementary accessory?
In its
closed form
, the Verbatim Wireless Bluetooth Mobile Keyboard is still seemingly large enough to bulge prominently from our back pockets. However, considering that it features a full sized layout that can be used with smartphones and tablets, it's decent enough to trot around without being too overbearing. Moreover, its glossy plastic exterior is solid enough to withstand most bumps and bruises, but it will more than likely show some blemishes if it's dropped severely.
Getting the keyboard exposed
requires us to push down on its latch, which then enables us to pull open the keyboard so that it's layout is fully exposed. On the left side of the keyboard, we find the
battery compartment
that accepts two tripe A batteries to operate, which touts offering 80 hours of usage. Meanwhile, there's a
latch
positioned on the top edge of the keyboard that locks the keyboard into place so that it doesn't wobble while typing. Lastly, Verbatim manages to tuck in one useful
adjustable stand for smartphones
into the top edge of the keyboard. Naturally, it'll accommodate just about any smartphone out there, but don't expect it to prop something with a screen size larger than 5-inches.
Almost similar in size to what we find utilized by most laptops, the layout of the Verbatim Wireless Bluetooth Mobile Keyboard follows accordingly for the most part – though, some
buttons
like the delete key are placed elsewhere. Thankfully, we find directional keys that aid us in placing the cursor into its proper position, but we find the backspace and spacebar reduced in size compared to what we're normally accustomed to using. As a whole, buttons have a good amount of depth to them, while being placed very close to one another. Luckily though, it isn't much of a problem due to the sheer size and tactility of each key.
Showing off its increased functionality, there are
secondary buttons
lining the left edge of the keyboard, which allow us to execute media functions in Android and iOS – like pausing a song or getting back to the homescreen. Furthermore, we also find the keyboard's dedicated power switch, LED notification lights, and its embedded initial pairing button all placed towards the
left side
of the keyboard.
Recommended Stories