T-Mobile myTouch 4G Slide Review
26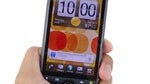 Introduction:
Rejoice! The
T-Mobile myTouch 4G Slide
is upon us! Well, we can rejoice in possibly seeing an HTC branded Android smartphone excelling in the photo-taking department, where other high-caliber HTC devices have failed in the past. Without question, we're seemingly excited about this one because its camera is heavily touted as possibly being one of the best out there, which is interesting considering that photo capture isn't one highlight you'd expect out of a QWERTY based handset. Nonetheless, the T-Mobile myTouch 4G Slide isn't a slouch in any way because it packs some beefy hardware under the hood to give its rivals a good run for their money. Sporting that all too sentimental golden price of $200 on-contract, the recently released
HTC Sensation 4G
on T-Mobile's lineup might have something to be scared about.
The package contains:
T-Mobile myTouch 4G Slide
microUSB cable
Wall Charger
Start Guide
Terms & Conditions
Design:
On the surface, the handset retains that recognizable design footprint featured amongst the myTouch family line and essentially looks like an exact facsimile to the myTouch 4G, which we can tell with its ornate looking earpiece grill and placement of physical buttons beneath its display. Compared to its predecessor, we like the fact that it feels remarkably polished with its more solid construction, sturdier plastic exterior, and less bulky appearance (0.54" thick). Still, it packs quite a bit of weight in the hand, but it only contributes to its refined outlook. Overall, it's undoubtedly a better product than its predecessor, but doesn't come off as something more appealing in design compared to some other QWERTY based smartphones – like the
T-Mobile G2
or
Motorola DROID 3
.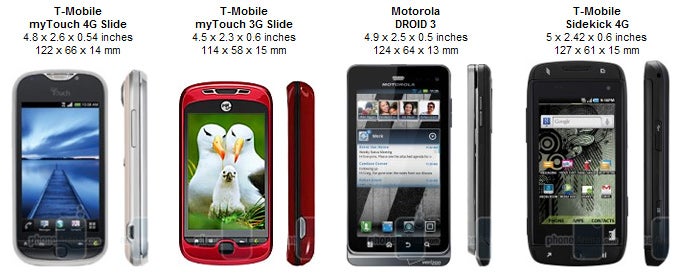 You can compare the T-Mobile myTouch 4G Slide with many other phones using our
Size Visualization Tool
.
This time around, it receives a larger
3.7" WVGA
(480 x 800)
Super LCD display
that manages to capture our attention with its sharp details and vibrant color tones – though, it's not as rich as a Super AMOLED Plus panel. Nevertheless, it's vibrant enough to retain its glistening color production at all viewing angles. However, its brightness level is rather reserved in output because we're still finding ourselves needing to shield it from the sun in order to visibly see anything on screen.
Becoming more extinct nowadays, it's refreshing to find an
optical trackpad
still in play with the handset, which allows for an easier time in placing the cursor. Also, this HSPA+ enabled handset features that ubiquitous
front-facing camera
for video chatting. However, we don't like the fact that its dedicated
power button
and
volume rocker
are extremely flat looking – making it very difficult in feeling them out.
Already, we've seen devices like the T-Mobile G2 and Sidekick 4G kicking butt with their fantastic keyboards, but sad to say, the one on the myTouch 4G Slide is a step backwards. First and foremost, there isn't much resistance with its manual sliding mechanism, which locks into place when it's completely opened. Once that's done, we're greeted to its
4-row QWERTY keyboard
that employs some rectangular flat buttons. Although we're still able to feel them out with our fingers, we're not thrilled with the stiff response we're greeted with when pressing down on them. In fact, it actually inhibits our ability to speed type effectively seeing that it requires a firm press to get it to recognize anything.
Prominently featured in the
rear
, we find its elevated 8-megapixel auto-focus camera and dual-LED flash that's arguably the center piece of the entire phone. With its backside illuminated sensor and F2.2 lens, it provides for a wider aperture to excel in low lighting conditions, which should hopefully translate to producing downright beautiful looking photos. Yanking the soft touch rear cover, we gain access to its 1,520 mAh battery, SIM card slot, and microSD card slot – the latter of which is occupied with an 8GB card.
T-Mobile myTouch 4G Slide 360-degrees View: