Sony Xperia ion vs HTC One X
9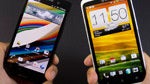 Introduction:
Alrighty people, we're back with yet another comparison between two high-end Android powered smartphones for AT&T, which interestingly enough, has built itself one eclectic lineup of late. Reigning mightily for some time now, the
HTC One X
has been a bona fide hit for the carrier thanks to its chiseled looks and comprehensive Sense 4.0 experience. Oppositely though, the
Sony Xperia ion
is attempting to establish its presence by hinging on its contemporary hardware, combined with a killer price point right out of the gate. So without further ado, let's find out how these two stack up face-to-face with one another!
Design:
Showing off their sturdiness, there's no arguing that the two are solidly built all around to withstand even some of the harshest of punishment. However, we're drawn to the HTC One X's design for all the obvious reasons. Unlike the sharp feel and easily dirtied brushed metallic body of the Sony Xperia ion, the HTC One X exudes a more calm demeanor thanks to its clean unibody polycarbonate construction and rounded corners. In addition, HTC's beauty is lighter and skinnier than Sony's offering, therefore, it simply feels easier to handle in the hand.
As we're constantly frustrated trying to activate any of the Xperia ion's
capacitive buttons
, it's actually not a concern with the HTC One X, since its trio of capacitive buttons are spaced far away from one another. However, we're not fans of the barely raised power buttons and volume controls of both devices – plus, they're not all that responsive either.
Indeed, there are no removable batteries with either handset, but we find that the Xperia ion benefits from having a separate microHDMI port and expandable memory via its microSD card slot. In contrast, we can still get video-out with the One X, but it requires the use of an MHL adapter.
Display:
Technically, the
Sony Xperia ion
boasts the higher pixel density thanks to its
4.6" HD Reality Display
with Mobile BRAVIA Engine – whereas the
HTC One X
flaunts a
4.7" HD S-LCD 2
display. No doubt, it's a win on paper for the Xperia ion, but when it comes down to it, the difference is nearly undistinguishable since both are exquisitely detailed when viewed close up or far away. Overall though, the HTC One X captivates us more thanks to its the punchier colors and wider viewing angles – even more, it's easier to view in outdoor settings over its rival in direct sunlight.
Recommended Stories