Sony Xperia L2 Review
19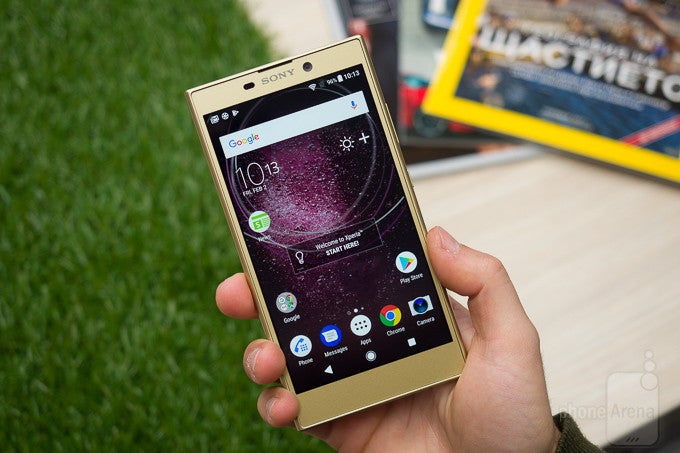 Earlier this year, Sony introduced one of its most affordable phones in recent history. The new
Sony Xperia L2
is an entry-level offering that folows the company's familiar styling principles, but also one that carries some new bells and whistles, such as a 120-degree wide-angle selfie camera and a fingerprint scanner that works on the US model as well.
The Xperia L2 is launching on February 9th for the retail price of $249.99, which puts it in the same category with low-tier devices, and well below the more shiny offerings like the
Xperia XA2
. Now let's take a look at it and see if it is worth getting one!
Design
Looks okay and feels solid, but won't turn any heads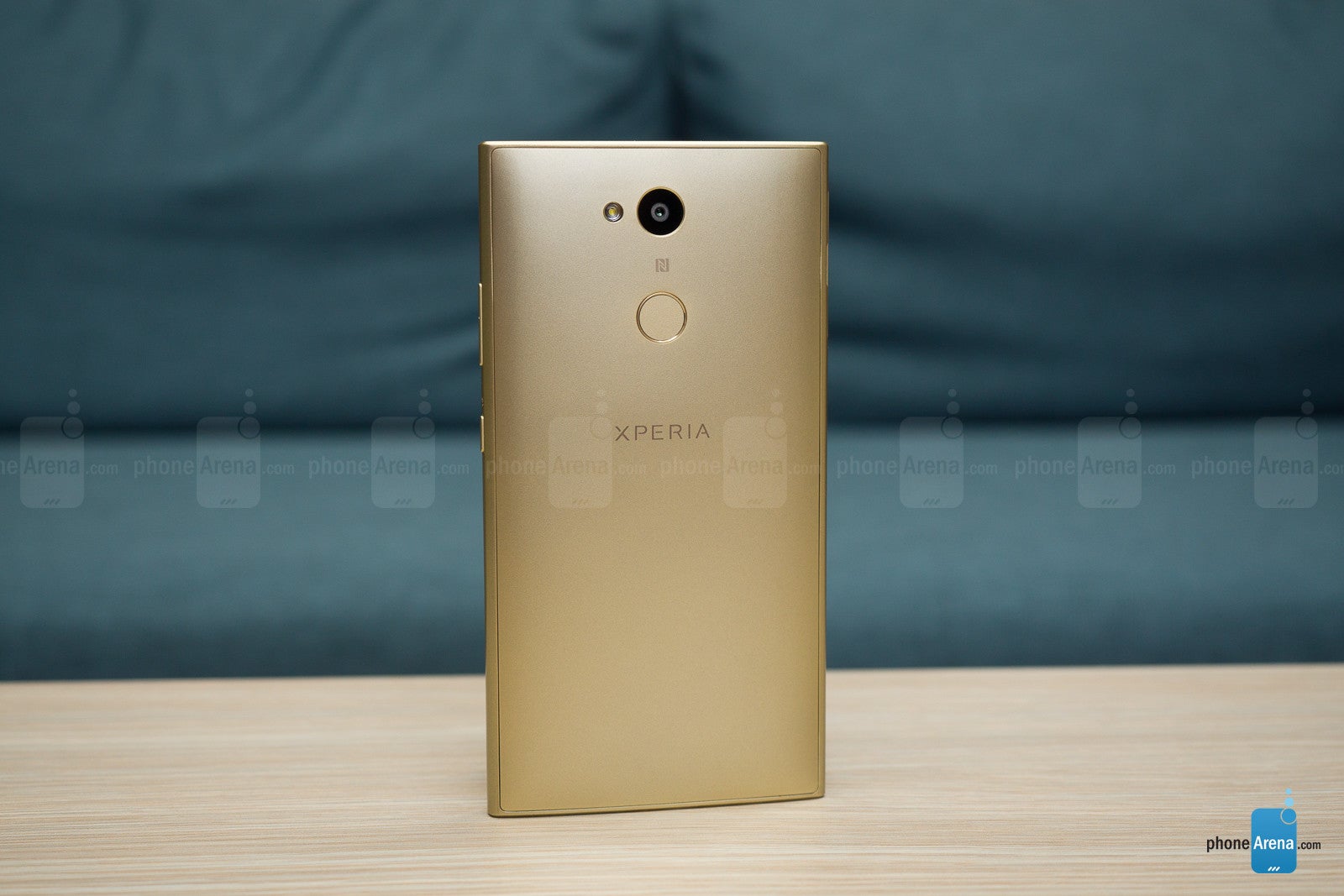 The Xperia L2 sports the typical Sony look, but with a twist — the stark rectangle on the front, the softly rounded frame, and the flap-drawer for the SIM and microSD cards on the side are all familiar, but we now get a curved back as well, allowing the device to rest better in our palm. It's a plastic build, but a matte finish gives it a very convincing metal look. The device won't be turning any heads, and its thick side bezels are a telltale sign of a budget offering, but that's not to say it's ugly. It falls perfectly in the "It's OK" category.
In terms of hardware controls, we have the plastic power button and volume rocker on the right side. They feel quite nice — with no excessive wobble, and a solid click gives us all the feedback we would need from a button. On the back we have the fingerprint reader, which does its job plenty fast. There is no hardware button for the camera, which upper-range Xperia phones do have, but fret not — a quick double-press on the power button acts as a camera shortcut.
Display
Bland, blue, and dim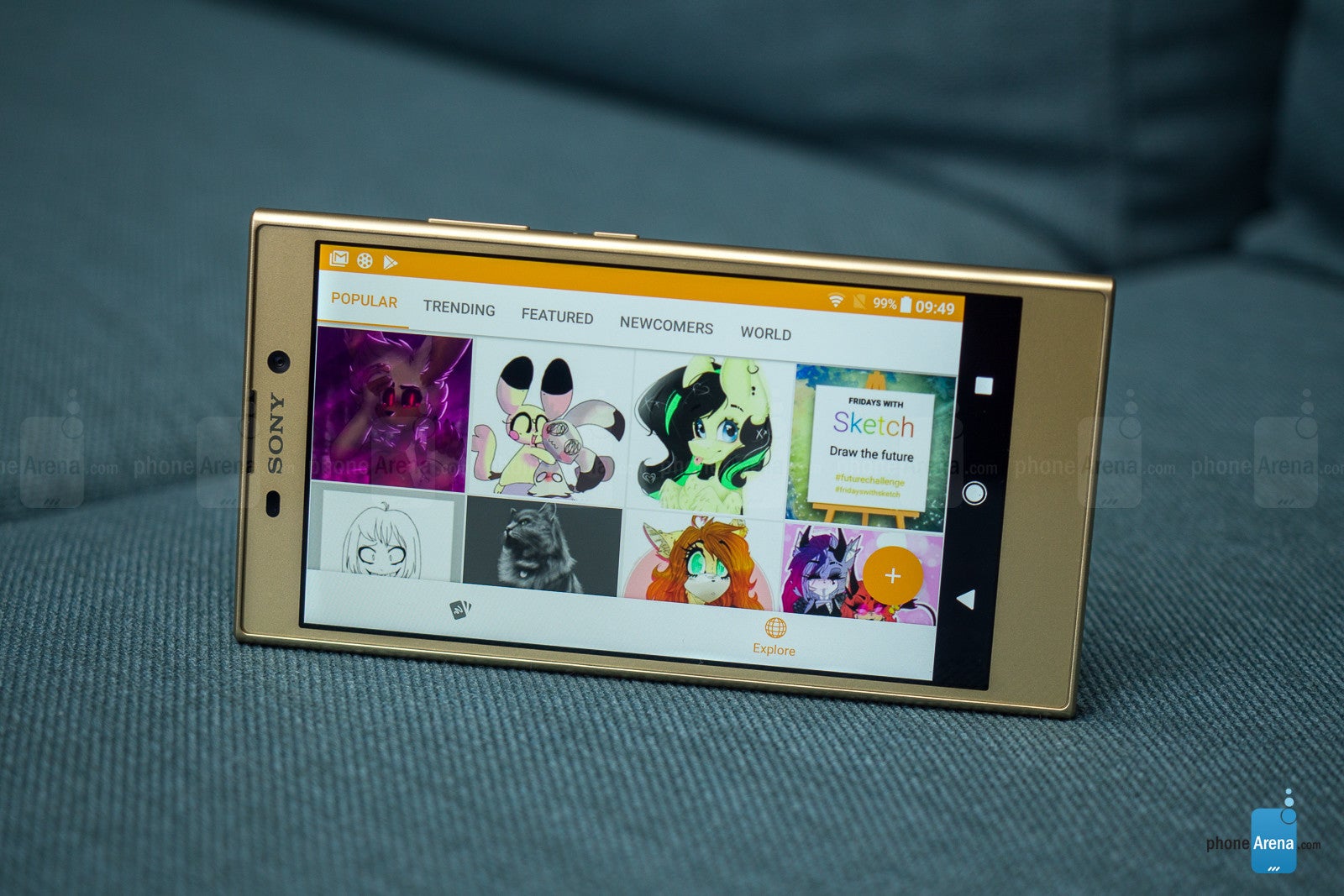 The Xperia L2 sports a 5.5-inch screen with the good-old 16:9 aspect ratio. Its resolution is 720 x 1280 pixels, which means we've got a density of about 267 pixels per inch. This doesn't sound great on paper, but we found that if we didn't go pixel-peeping, we weren't bothered by the resolution.
We've often seen Xperia phones with screens that are way too cold for our liking, and the Xperia L2 is no different. We measured its color temperature to be 8102 K, far from the 6000 reference value, and the blue tint is certainly visible. Thankfully, there are RGB sliders in the phone's settings, allowing you to tinker with the color balance. Once that's been fine tuned, you will be met by a display with tame colors that don't try to melt your eyes.
The screen's brightness is disappointingly low — we measured 370 nits at maximum brightness, and that showed in our real-world use. Consuming media when the ambience around you is bright is a tough task. But content is still visible enough under the sun if you need to answer a phone call or take a picture.
Display measurements and quality
Interface and Functionality
A Sony is a Sony
Sony's interface has been built on the same principles for years now — a light reskin of Android with no extreme amount of added features or background processes to bog the device down, a few new visuals and widgets, and Sony's signature apps.
So, aside from the stock Android apps, we've got the Movie Creator which allows you to choose a bunch of photos and clips and have the phone generate a highlights video for you, we've got the PlayStation app pre-installed so you can sync with your console profile, we've got the Xperia Lounge which sends you vouchers, offers, and app suggestions, and a Theme Store.
The Xperia X2 ships with Android 7.1.1 out of the box — disappointingly, not Android 8 Oreo — and makes full use of the stock features in Google's operating system. We've got split screen, we've got the Google feed screen on the left, and we've got the Google Assistant, of course. The app shortcuts, which appear when you tap and hold on an app, are present as well.
Hardware and performance
The Xperia L2 is powered by a MediaTek 6737T — a quad-core SoC that ticks at 1.5 GHz — and has 3 GB of RAM. For day-to-day tasks, the hardware performs well. We had no issues with chats or browsing. Some choppiness is observable when using Snapchat Lenses or when caching a 60 FPS YouTube video, but nothing to make the phone unusable.
As for games, it depends on what you're playing, really. A simple tap-action game like Break Liner ran great on the Xperia L2. Shadow Fight 3, which is a round-based fighter with 3D models, also ran smoothly. Then, we upped the ante to Rules of Survival — a PUBG-like massive online survival shooter. Here, the phone showed its low-end nature by dropping some frames and disadvantaging us in fights.
Our impression is that the Xperia L2 does the basic smartphone tasks well enough and can entertain you as long as you respect its limits. Just don't expect to throw heavy games and apps at it and have it perform flawlessly.
You get 32GB of built-in storage with the Xperia L2, but only about 23GB are actually available for your apps and media. For those who need extra gigs, a microSD card is available.
Camera
The Xperia L2's Camera app is kind of a barebones edition of what you'd find on the more powerful Sony phones. We've got the signature Sony Intelligent Auto mode, a rather limited Manual mode, and Video mode. There's also object tracking when you tap on the screen, which is quite nice to see on a phone of this class.
The camera on the back has a 13 MP sensor with 1.12μm pixels and an F2.0 lens aperture. It does a fine job at capturing details without too much grain, which we appreciate. Still, don't expect a super-sharp image.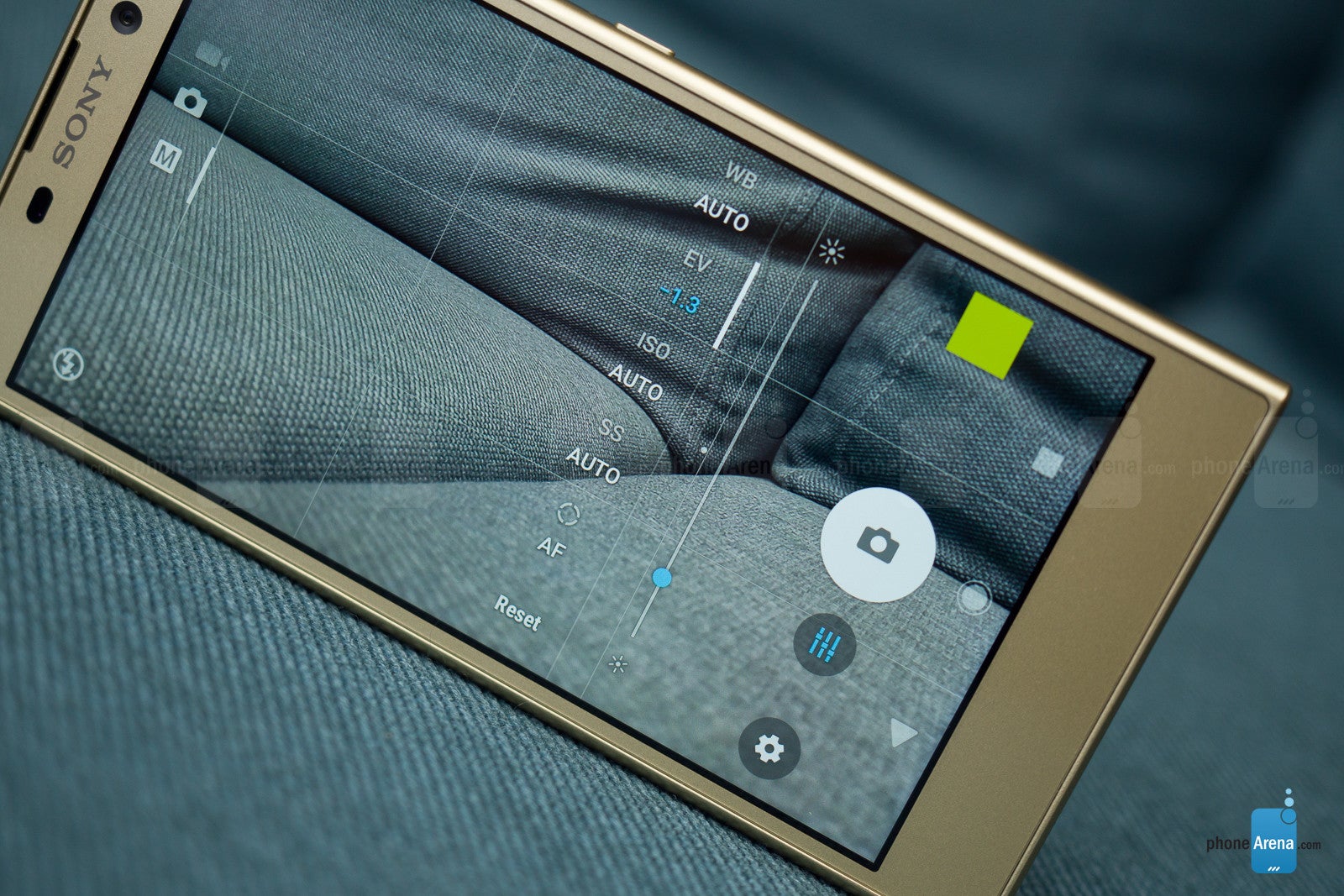 Colors are balanced and fairly accurate. We'd say the camera only seems to have an issue with some shades of green, as can be seen in the grass on photo 6. However, dynamic range is noticeably narrow as we will often lose parts of a photo either to overburned highlights or blacked-out shadows. This is very noticeable indoors, but can also be an issue outside on cloudy days — photos 3 and 28 are good examples.
As far as nighttime photography goes... well, don't expect miracles (photos 30, 31, 32).
The selfie camera has a 120-degree wide-angle lens to allow you to fit more stuff in your selfies. There is a normal mode, which zooms into the middle of the image, cropping out the fisheye effect around the sides. Behind this lens, we have an 8 MP sensor, which we find to be doing a good job when it comes to details in both wide-angle and regular modes. Its colors are a bit skewed, but that's nothing too dramatic. The issue with overblowing highlights remains here, but as long as you keep your face in the shade, you can take well-acceptable selfies.
Now, while the Auto mode can recognize backlighting and try to compensate for it in some way, if you really need to squish the dynamics with HDR, you need to go into Manual mode, open its settings, and turn on the HDR toggle. Yeah, it's a bit annoying that it's hidden behind two different taps.
As far as video capture goes, the continuous focus can help if you are recording an action scene. But keep in mind there's next to no stabilization on the clips, so try not to move around too much. The maximum video quality the phone can go to is 1080p at 30 FPS. But hey, it gets the job done for Facebook clips.
Connectivity
The Xperia L2 sports a USB Type-C port, which is nice to see on such an affordable phone. Some manufacturers still skimp here, putting the old Micro USB port on their devices, making them feel less modern.
On the cellular end, we've got LTE support over a broad range of LTE bands, though there's no CDMA support. If you are buying the phone unlocked in the US, you'll be only able to use it with GSM carriers, such as AT&T or T-Mobile.
Multimedia
As we mentioned earlier, the phone's display is a bit weak on brightness and not the best in colors, so it won't be blowing you away when watching clips and pictures. But we've found that, depending on the media viewed, it can still be an enjoyable experience.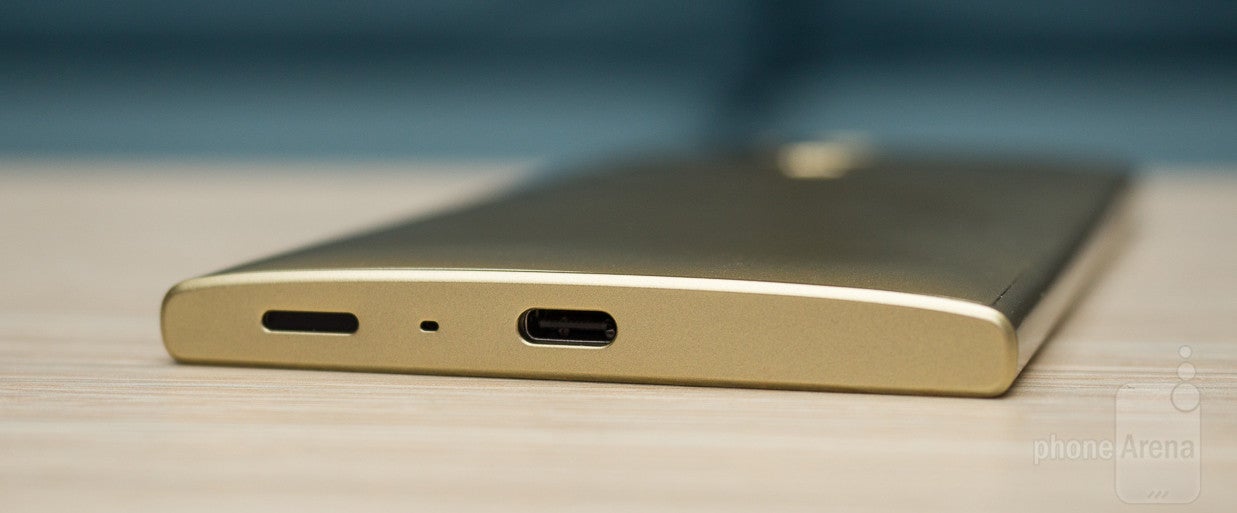 On the audio side, we've got a single speaker on the bottom of the phone, and it just sounds tinny. It does the job for ringtones and alarms, but not so much for media. But Sony has installed a software EQ on the phone, which we appreciate, especially when we connect the phone to a Bluetooth speaker or a set of earphones.
FM radio fans will be happy to know that there's a radio app on the Xperia L2, which is accessible even in Ultra Stamina Mode (power saving). Which brings us to...
Battery life
Sony keeps passing the 1-day threshold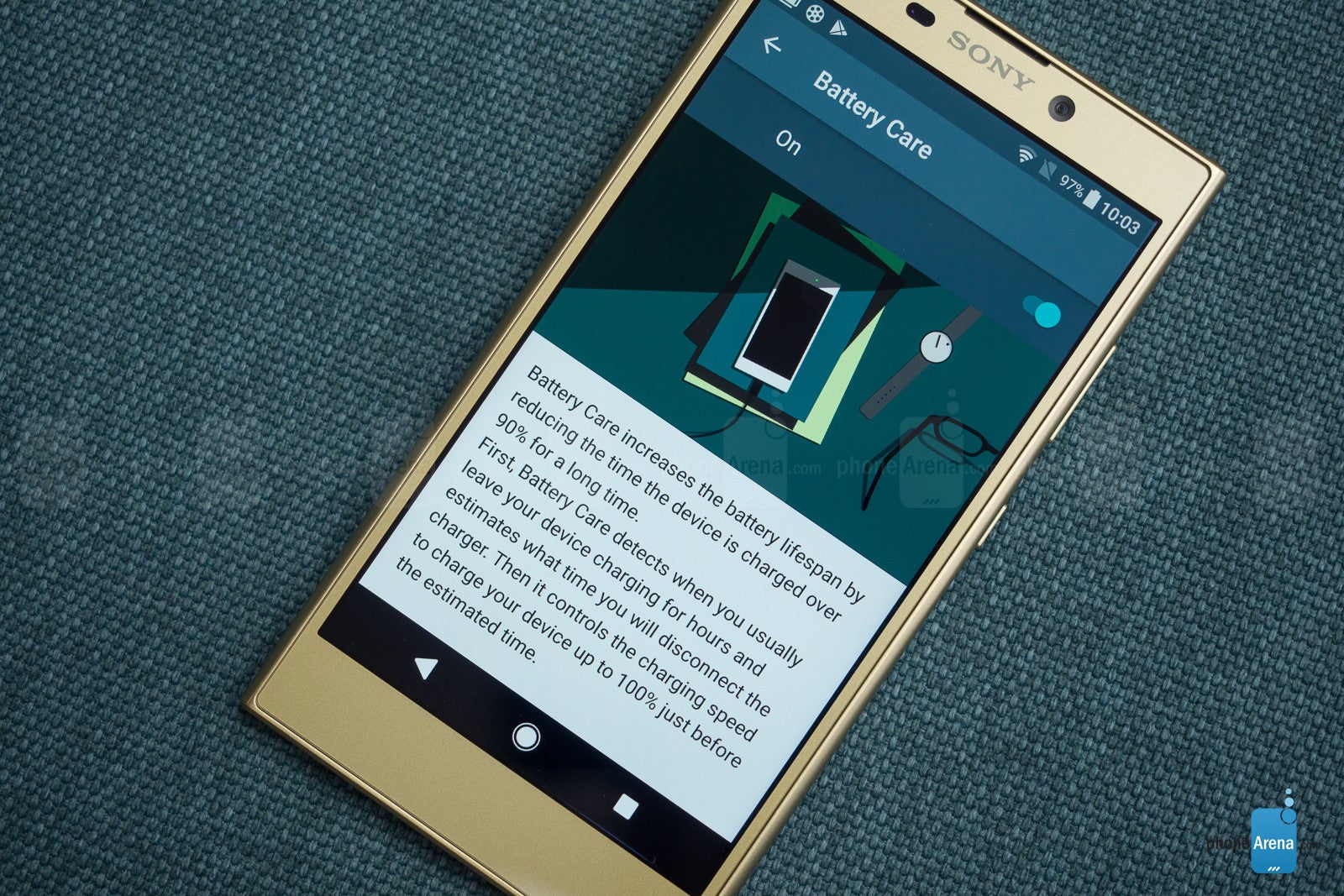 Sony made a name for itself as a battery life king in 2014, with the Xperia Z2 and Xperia Z3. The signature Stamina Mode was well ahead of its time, putting power-saving features on the phone well before Android got them as a stock feature. Nowadays, Stamina Mode is quite simplified, which is not necesarrily a bad thing. Sony also adds an extra tier of power saving called Ultra Stamina. It basically turns off most features and disables most apps, making the L2 more like a feature phone. But that extends the battery life tremendously.
The Xperia L2 held out for 7 hours and 50 minutes on our battery life test, which is not a champion's result, but still a serviceable one. Combine that with Stamina Mode and we'd say one can reach a day and a half of battery life with this device. That goes especially if it is used as the modest phone that it is — basic tasks, no 3D gaming.
Conclusion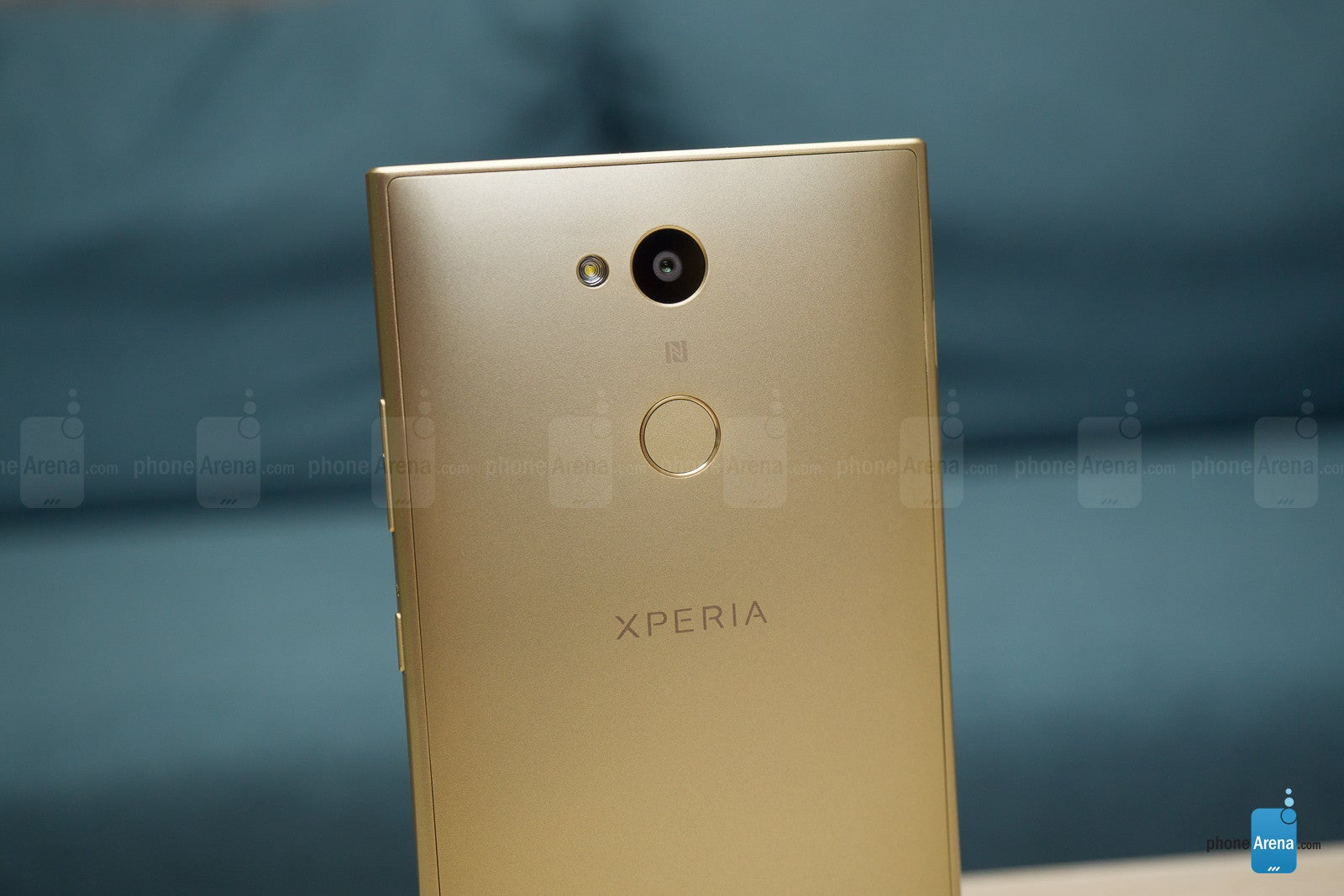 So, let's sum this up. What do $250 get you? First and foremost, the
Sony Xperia L2
is an affordable, entry-level Android phone that covers all of the bases a phone of this class should, but it has its drawbacks and limitations. For instance, it offers a large display, but has a cheap-ish look due to its thick bezels and unimpressive display qualities. Its performance with everyday smartphone tasks — from connectivity to watching clips — is solid, but heavy gaming could be a challenge. The back-mounted fingerprint scanner is nice having and it works as fast as the competition. The camera gets the job done, but is nothing to write home about. All in all, the Xperia L2 performs well enough for that kind of money.
But just to throw a curveball out there — the
Motorola Moto G5S Plus
starts at $280. It sports a metal body, a no-less-capable camera on the back and a selfie camera with a LED flash, a more powerful Qualcomm Snapdragon 625 chip under the hood, and a battery that performed better in our battery life test. So, that's something to consider.
All that said, if you are looking for a low-cost, entry-level phone, be it a Sony or not, it looks like the Xperia L2 could be it, or at least until better options come out on the market in a few months.