Sony WF-SP800N review
5
We may earn a commission if you make a purchase from the links on this page.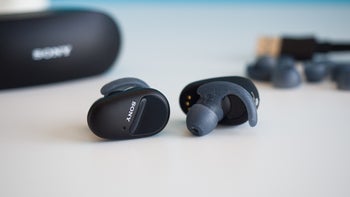 The
Sony
WF-SP800N headphones are truly wireless and conveniently feature adjustable noise cancelling. They particularly impress by having an IP55 rating, meaning not only vague water and dust resistance, but that you can literally rinse them when needed.
And with up to 18 hours of battery life and clear sound and bass, they are quite the good purchase, particularly for use at the gym. But if you want the prettiest headphones with the most portable case, the Sony WF-SP800N are probably not going to attract you.
Design and fit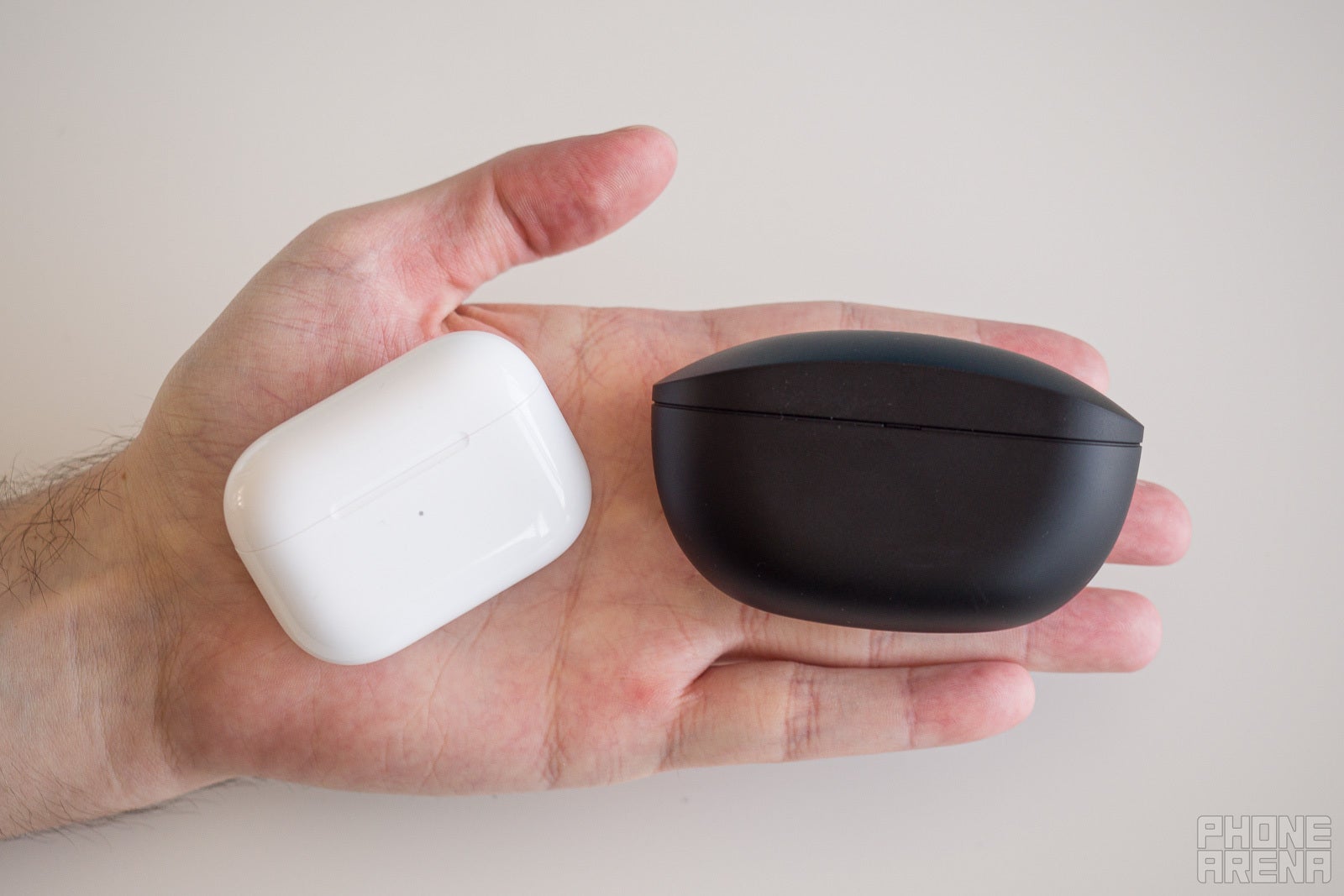 The AirPods Pro case (left) compared to the Sony WF-SP800N case
Starting with the design of the headphones' case which houses and charges them – it's notably larger than the case of Apple's Airpods or Samsung's Galaxy Buds Live. It's made out of nice matte plastic and has an LED light which lets you know when the case is charging and if the headphones are properly placed inside of it. Speaking of charging, the case quick-charges via a USB Type-C port it has on the bottom.
The headphones themselves are fairly traditional in design and not too flashy. Except for their capability to flash in red or blue through a semi-transparent part of their upper body, to signify pairing, for example. The headphones' top outer side is glossy and touch-sensitive, while the bottom is matte plastic.
For a good snug fit in your ear, the headphones have a soft-cushioned arc supporter and a rubber earbud. Out the box, you get two sizes of arc supporters to choose from and four sizes of rubber earbuds, so you can truly adjust them to your comfort.
I personally found the Sony WF-SP800N quite comfortable with the default earbuds and arc supporters, even after long periods of use. But it's great to know Sony made sure people of all ear sizes and ear shapes are covered, thanks to those additional options.
Water and dust resistance
As mentioned in the beginning, the Sony WF-SP800N sport an IP55 rating, meaning they can withstand splashes of water, or dust and sweat. Due to this and their general design, they truly seem like the perfect gym headphones to get.
Knowing you can safely give them a rinse after an active gym session, or after any physical and outdoorsy activity, is a major plus.
Pairing process and companion app
Initial Bluetooth pairing with your phone is quite standard and straightforward. Sony directs you to download its Headphones Connect app, available for both iOS and Android, although you can also pair to any device without it. The app itself has handy usage tutorials and allows you to adjust the sound and noise cancelling to your liking, so you'll probably want to get it.
Settings and noise cancelling
Within the aforementioned companion app you can adjust both how the headphones sound and how strong their noise cancelling is. Starting with the most expected feature – an equalizer – the companion app lets you boost or reduce different frequencies to your liking, such as the bass. There are a few presets, but you can create your own ones manually.
Just above the equalizer is the Ambient Sound Control toggle, which, when enabled, allows you to adjust the Sony WF-SP800N noise cancelling. You can either have full on noise cancelling, which is really effective, or use a slider which will progressively let you hear more sounds. There's also a convenient option for allowing you to hear voices in particular.
At its strongest setting, noise cancelling on those headphones is very effective, although not quite on the level of Apple's AirPods. Sounds of engines, for example, are well muted, while you may still hear higher pitched noises near you, at least until you actually play some music. Overall, we have solid, adjustable noise cancelling here, which is something everyone should be looking for in modern headphones.
In the app is also an option for what Sony calls 360 Reality Audio. This is meant to enable "an audio immersion experience as real as a live performance." It basically boosts the stereo separation of your music, making it sound more spacious, somewhat similar to what Dolby Atmos does, which is a feature you may have seen on Samsung phones and tablets. But 360 Reality Audio works with very few music streaming apps, most notably Tidal, requires you to take a photo of your ears "for analysis", and is just plain not worth the hassle. Still, it's a bonus something to try if you wish to experience your favorite songs differently.
A significantly helpful feature called Adaptive Sound Control can also be set up, which can detect if you're sitting down, walking, running or riding a bus, and can automatically adjust your ambient sound controls based on your preferences for when performing those actions. The same automatic adjustments can be applied based on your location also. Say you're on a bus and you want full noise cancelling, or you're walking through your favorite park and you wish to be able to hear people's voices – Adaptive Sound Control can automatically do those adjustments for you.
Sound quality
The sound from the Sony WF-SP800N is clear, with excellent, yet non-overpowering bass. Even at the loudest volume levels, those headphones won't distort or sound screechy, which normally happens on lesser headphones.
As previously mentioned, the noise cancelling is quite excellent (and adjustable to your liking), and so is the sound itself. As I normally do, I boosted the bass a bit and lowered the highs, as I'm too sensitive to those, but you may want the opposite. In any case – you can make the headphones sound as you prefer, and fiddling with the equalizer doesn't impact the sound clarity or cause distortion, so no worries there.
Gestures
Each headphone has a glossy part just above a Sony branding, and that glossy part is touch-sensitive. The touch gestures those headphones support aren't unusual or hard to understand. You can tap the right headphone once to play or pause, double-tap it for the next song and triple-tap it to replay the current one, or go back a song.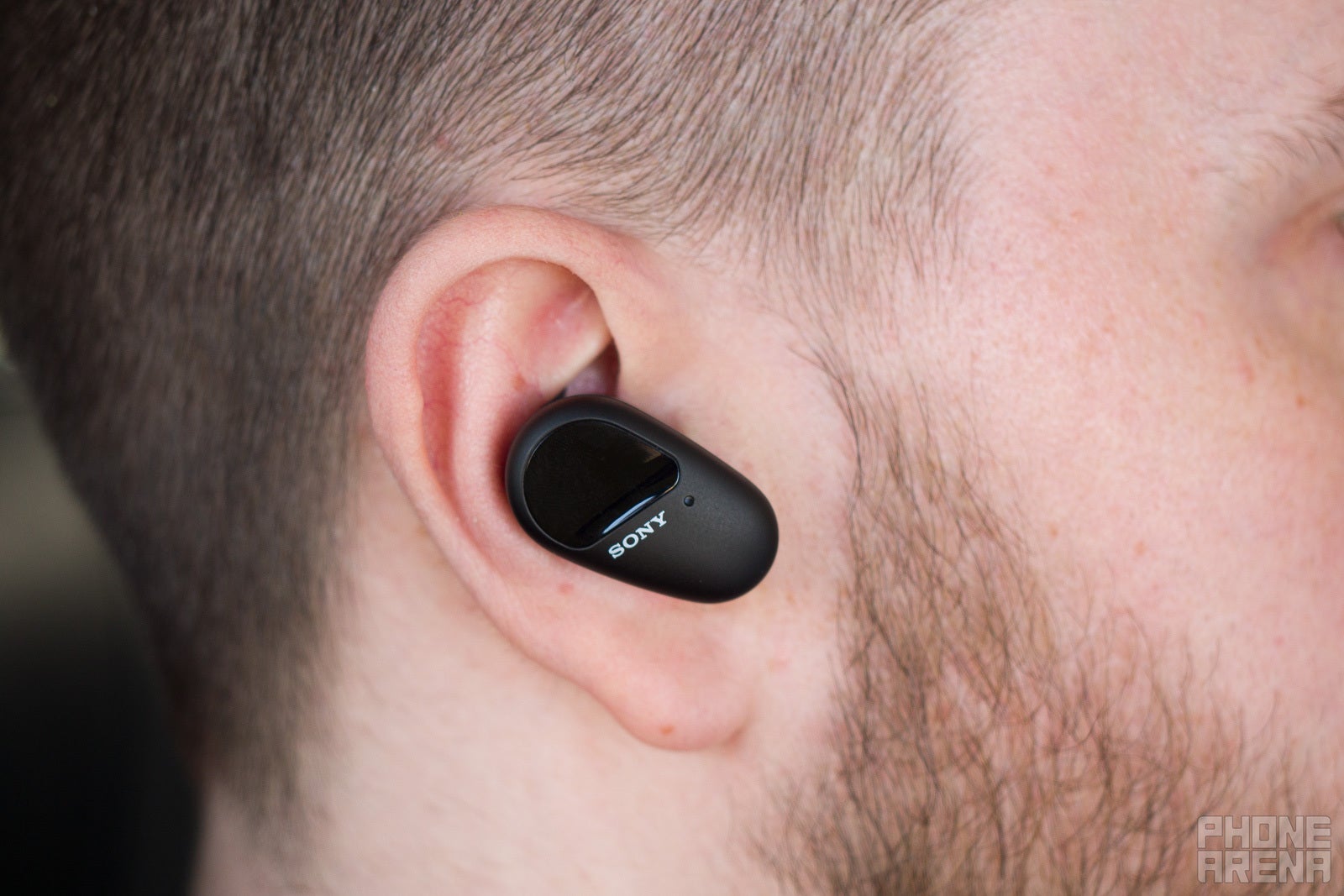 Single-tapping the left headphone switches between noise cancelling modes, with the three options being noise cancelling, ambient sound, and ambient sound off. The difference between noise cancelling and ambient sound is that the latter lets some sounds in, which you may find useful when walking outside in the city.
Pressing and holding the left headphone's touch area will lower the music and noise cancelling until you let go, so you can have a quick listen to your surroundings, or a conversation, without actually pausing the music.
And something I wish I found out earlier – pressing and holding both headphones' touch areas for about 7 seconds puts them in pairing mode, which you'll need to do if you wish to pair the Sonys with another phone, tablet or computer.
As for how well the headphones detect your gestures – their glossy, touch-sensitive part isn't too easy to feel for at first, but you'll eventually figure it out. Your tapping shouldn't be too light, or they may not register it. When you get used to where to tap and how hard to do it, all gestures are registered properly with no issues.
Speaking of gestures, as mentioned earlier, the headphones can detect when you place them on, and at that time, each one of the two will tell you of its battery charge level. When you take them off – your music will be paused, and once they're in the case, they'll disconnect from your phone, which is highly convenient.
Connection stability and range
At first, I had some issues when playing music from my Samsung tablet, as the music was cutting occasionally. Maybe the problem was with the tablet, as I didn't have such connection drops when using both an iPhone and an Android phone. Very rarely, and only twice in the week I've been using them, one headphone would cut for a second, then start again, while the other one is playing. Those are very minor issues but I can't say the connection has been flawless throughout my use.
As for the connection range – it's impressive. I've been able to walk around an entire apartment and away from my smartphone without experiencing music drops. The Sony WF-SP800N's Bluetooth connection range is definitely a strong point.
Battery life and charging
According to Sony, the headphones are supposed to last you up to 18 hours if using their case to recharge them, or up to 9 hours on their own, without the case. And with noise cancelling on! Those are absolutely fair estimates, as I haven't charged the case a single time in the last week and they still come out of it fully charged. With the case, the Sony WF-SP800N battery life is plenty sufficient for weekend trips or an entire week of daily gym visits.
And it's worth noting again that the case of the Sony WF-SP800N supports quick charging. Sony says that 10 minutes of quick charging is enough for up to 60 minutes of music playback with noise cancelling on, which is great to know. Overall, you needn't worry about battery life.
Recommended Stories