Sony Vaio Tap 11 Review
17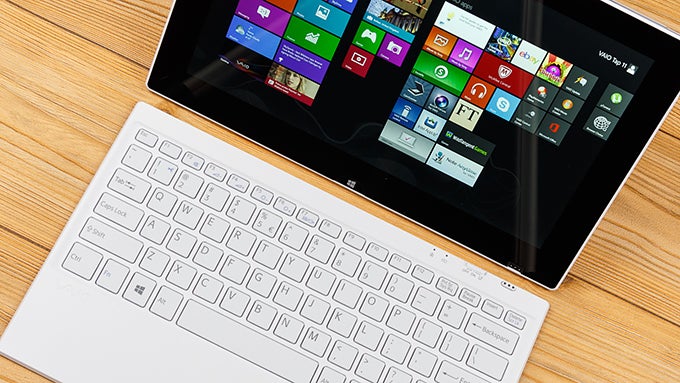 Introduction
Sony's engineering chops are really showing this year, across its phones, tablets and convertibles portfolio. The
Vaio Tap 11
is just the next in the line of slim, sexy looking devices Sony churns out, and as far as Windows tablets go, it can brag with "the thinnest" title, too.
Despite the record for a full-size Windows tablet 0.39" (10mm) thickness, the Tap 11 manages to pack a Haswell processor line, 11" 1080p display, and plenty of storage. It also comes with an Active Pen stylus, and a completely detached keyboard that snaps on magnetically to serve as a screen cover, and charges from the tablet itself then.
Surprisingly enough, given the specs and the fact that it runs fully featured Windows 8, not the RT version, Sony managed to keep the Tap 11 pricing competitive, starting it at $799. If it sounds too good to be true, there's the inevitable catch, as this slim body fits a smaller battery, and the Tap 11 battery life is half of said iOS or Android tablets. Will this turn out to be just an inconvenience compared to the tablet's other virtues? Read on to find out...
Design
Sony's creation here is one of the prettiest Windows tablets out there, period, and not only because it is so slim and comes at just 1.7 pounds (770 g). Sony has dressed the soft-feel magnesium alloy slate in white, and has included a kickstand to prop the display when using the tablet as a laptop, as the keyboard is not attached to it with hinges, or a dock connector. We can't say we dig the "unhinged" concept, with anything larger than 10", as the screen part becomes somewhat uncomfortable to hold while watching videos on a long flight, for example. Sony's execution with the thin kickstand doesn't help in that respect, too, though it is good for desk work.
When we saw the relatively thin kickstand initially, we had qualms about its rigidity, but the weight is very well balanced, and the tablet doesn't wobble even when you poke at the touchscreen. Moreover, it allows you to adjust the screen at any angle in an 85-degree range, unlike Microsoft's new Surface line, which limits you in two positions. You still have to keep prodding the back and adjust the kickstand each time you need a simple screen tilt, unlike a laptop where you simply push back or pull forward the screen part.
The tablet and the keyboard only come together when the keyboard plops keys down on the screen, attaching itself with magnets as a protective cover, and only a small connector at the top goes into the tablet part for charging.
You can tell a real Windows tablet from the bevy of ports and slots around it, and the Tap 11 doesn't disappoint here. Since the goal has obviously been to make a standalone slate, the screen part houses all the ports and slots, and the keyboard only serves for typing and screen protection. You get a full-size USB 3.0 port and mini HDMI under a protective lid on the left, as well as a SIM card and microSD slots up top, again with a protective flap, and next to a Sony Assist key that enters the BIOS and troubleshooting mode.
The USB port has a sleep charge regime, so you can top off your electronics from it even when the tablet is not active. The very short and stubby plug of the wall charger feels a bit insecure, though the purpose of this has been to prevent the tablet from flying off your desk when you trip in the power cord. The power brick has a separate USB port, too, so you can charge a phone, for example, while juicing the tablet.
The power/lock key and the volume rocker on the right are easy to feel and press, with nice clicky feedback. The circular metallic lock key is done in the Omnibalance design tradition of recent Xperia phones and tablets, immediately implying this tablet is a Sony, regardless of the operating system. We get a physical home key with the Windows logo on it underneath the display, which is a bit too recessed and hard to easily press, with shallow tactile feedback.
Magnetic keyboard
The keyboard is rather thin in its turn, and with brushed aluminum looks on the back. It snaps magnetically onto the display, serving as a screen protector. The keys are recessed, so you needn't worry they'll scratch the panel, and there is a nice touchpad in the middle of the palm rest, with clicky one-piece mouse keys underneath. The touchpad dots are slightly elevated to mark its existence, but otherwise patterned in the palm rest's color, giving the keyboard an uninterrupted look.
The Bluetooth keyboard is just 4.5mm thick, so even when it's tacked on, the Vaio Tap 11 is still thinner than an ultrabook. Decked up in white with aluminum back, it looks rather nice with its chiclet buttons, and despite the thin frame, we get decent 1mm of key travel, making it very suitable for some serious typing. There aren't any charging ports around it, which probably contributed to the slim profile, and the keyboard latches onto a small three-prong dock connector in the tablet itself, juicing up from it when it serves as a display cover. It has an on/off slider at the top, along with an LED charging status indicator.
Active Pen input
The other input method Sony provides with the Tap 11 is a metal Active Pen stylus, powered by a small AAAA battery inside. It doesn't have a silo to become integral part of the tablet, but rather a clip-on holder, which can be a bit flimsy, so you have to keep it in mind always. Sony's responsive digitizer allows you to preview content such as titles, messages or pics, by just hovering the stylus over, similar to Samsung's Air View feature on the Note line. Sony has preinstalled apps like Note Anytime, which are meant for stylus use and let you quickly jot down notes, annotate with VAIO Paper, clip pics and web site content with the VAIO Clip app, or straight out draw on the display.
Display
The 11.6" Triluminous LCD display of Sony is with the pretty 1920x1080 pixels of resolution, returning 190 pixel per inch count. Granted, there are tablets with much higher pixel density out there, but for most every need 1080p is more than enough on such a screen size.
The panel sports flashy, somewhat oversaturated colors, especially when running media, and deep enough black levels for an LCD screen, which make video playback a joy. Brightness levels are pretty high for a tablet, and screen reflections are kept in check, so when you need to take it outside, the Vaio Tap 11 won't disappoint.
Viewing angles are also great, with barely a shift in brightness and contrast, even at extreme angles. High-res tablets like the Vaio Tap 11 are worth it for their screen alone, especially if you are coming from a crappy laptop HD display of yesteryear, where a movie can be watched by only one person, for example, as the slightest screen tilt deteriorates the picture badly.