Sony Ericsson txt pro Review
45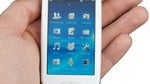 Introduction:
The
Sony Ericsson txt pro
is a compact feature phone with a full QWERTY slide-out keyboard. The physical keyboard is its most attractive feature as the phone comes with a dedicated Friends application for sharing Facebook and Twitter updates. The txt pro is social at its core – it was even announced on Facebook to Sony Ericsson's fan audience of 5 million. The phone aims to keep heavy texters content with its 4-row physical keyboard, but also with an affordable price and Wi-Fi connectivity.
The struggle and agony of the txt pro lies in the fact that it's a feature phone with a touchscreen, one of the few left out there and it will inevitably face comparisons with low-end Androids. And it will inevitably lose them. Despite that, Sony Ericsson has equipped the phone with the Touch user interface, on a 3-inch capacitive touchscreen.
Design:
The Sony Ericsson txt pro
looks very compact
, but not in terms of its waist line. It weighs 3.53oz (100 g) but it's as thick as a brick at 0.71" (18mm). The
3-inch scratch-resistant capacitive touch screen
comes with a resolution of only 240 x 400 pixels. The screen is responsive to touch, but we wouldn't say that translates into smooth flicking and tapping - the problem seems to originate in the interface or the slow processor. Otherwise, it has average viewing angles, but it attracts fingerprints, smudges and all kinds of human finger debris at an alarming rate.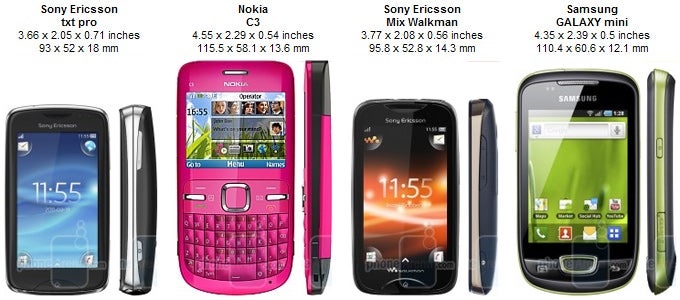 You can compare the Sony Ericsson txt pro with many other phones using our
Size Visualization Tool
.
Apart from the screen, the design of the device is very
toyish
, a feeling conveyed by the plastic materials used to build the phone, but also by its miniature dimensions. Except for that cheap feeling, it looks well built and we were particularly happy with the nice soft touch coating on the back cover.
The
side sliding mechanism
is sure to take a hit as the common user would pop it open and close it multiple times throughout the day. That's why we were happy to report that it felt solid in operation. Popping the keyboard in and out happens with a distinct loud clicking sound (a bit too loud, actually). We found it to be just a tiny bit harder to slide it in and out than we would like to, but you get used to it.
The
4-row QWERTY keyboard
on the Sony Ericsson txt pro is definitely small, but it doesn't feel packed - buttons are well spaced for most hands, but bigger thumbed users still might have difficulties operating them. The big majority though won't have a problem using it. The buttons are slightly tough to press, but you get used to it in a matter of minutes.
On the
front
, a half-circle home button, a signature feature of Sony Ericsson's latest handsets adds instant brand recognition, but is also very big and easy to press, overall a welcome addition.
Sony Ericsson txt pro 360-degrees View: Recommended Stories