Sony Ericsson W350 Review
0

This is an unlocked GSM phone which can
operate in the US on AT&T and T-Mobile.
Introduction:
The package includes:
Sony Ericsson W350
Memory Stick Micro (M2) 512 MB
Charger
User's manual
Handsfree
USB cable
Software CD
Design:
The W350's design is quite youthful, but the only "WOW" effect is the opening lid. The size of the phone is really compact and it weighs only 2.6 oz (75 g). Sometimes, when it is in your pocket, you may get the feeling that you've lost it. Unfortunately, the small size is what makes the W350 inconvenient for use by people with big hands. It simply is too small, which can cause some discomfort for them. The device has been made of plastic, which feels like rubber-coated and prevents it from sliding.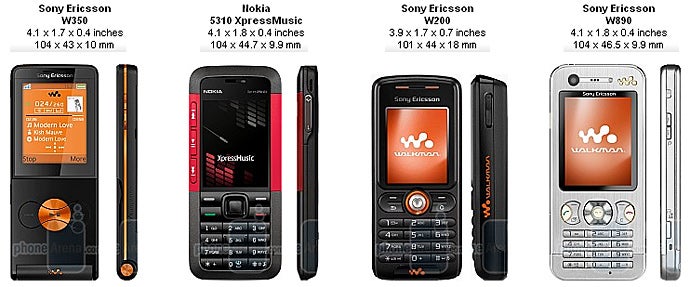 You can compare the Sony Ericsson W350 with many other phones using our
Size Visualization Tool.
The TFT display
is 1.9" with a resolution of 176 x 220 pixels and supports up to 262k colors. The picture quality will immediately remind you that you are using an entry-level phone. However, in contrast with the competition it can even be defined as an average display since now, you can find a good picture even in the entry-level phones. Nevertheless, we are happy that even though the image is faded, the screen is still usable.
Over it, we have the speaker, and below it, the light sensor with the music controls. They are not electronic and simply press the keys from the numeric keypad, which remain underneath them. The music controls are easy to operate
The flip mechanism is stable and the lid is opened very easy manually. Unfortunately, the microphone has not been placed on this element but remains below the numeric keypad. Because of that, you cannot accept incoming calls with the phone closed, but you can at least reject them or silence the W350, by using the music control button.
Lifting the lid reveals all standard keys (numeric and navigational). They are very easy to distinguish and pressing them is easily felt. Even though the "up" on the D-pad is too close to the
edge
, operating it doesn't create discomfort.
Walkman button and the charger slot
. The also unfriendly
music controls
are located on the opposite side. The only thing in the upper part is the
slider
, locking the keys on the front lid.
The loudspeaker and the camera are located on the back of the phone. The M2 card slot is also here, but it's hidden underneath the battery lid. Replacing the card is done very easy.